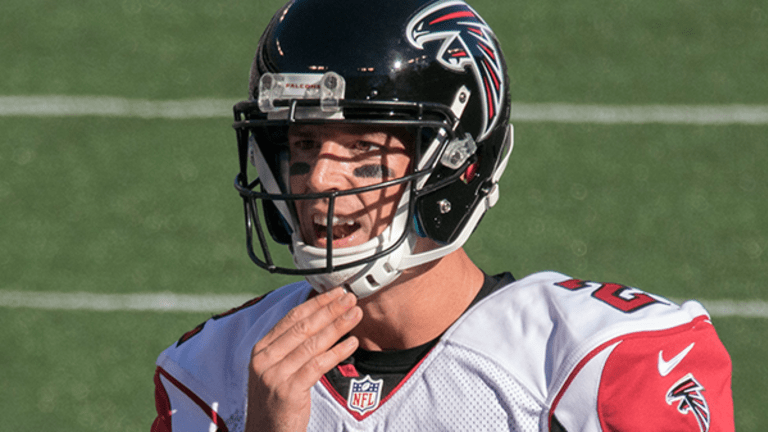 Carolina Panthers QB Cam Newton Is Among 10 Highest-Paid NFL Players Of 2017
Tom Brady doesn't have one of the highest salaries in football this year.
If you're a football team with $167 million to spend in a season, you'd best pick your big-ticket players wisely.
Even in a time of advanced statistics and myriad metrics, National Football League team owners still have no issue throwing more than $20 million at a player they deem the core of their franchise. That's 12% or more of your total salary spending going toward just one player.
Though the NFL guarantees very few of its contracts, those big ones are where things get complicated. There's a whole lot of guaranteed money involved for years at a stretch, there are various bonuses and escalators that can inflate that figure even further and there's the small matter of surrounding that person with enough talent to make sure that it all adds up to success.
The New England Patriots did this with quarterback Tom Brady for years, to the point that Brady started taking less money in his later years just so owner Bob Kraft could get him the best tools available. Conversely, the New Orleans Saints do this with quarterback Drew Brees and have gotten the man only one Super Bowl ring for his trouble. It's a very difficult formula to manage, especially when you've sunk the majority of your money not only into one player, but on one side of the ball.
As the 2017 NFL season creeps toward us, NFL owners remind us just how much of an investment they make in their star players, and how much of a gamble it is. Injuries can be covered by insurance, but only if a player is actually injured enough to go on the reserve list. Time and numerous hits can sap a player's abilities and diminish his value in declining years.
With each year that passes, each losing season in the books, each playoffs missed and each championship not won, value starts to diminish a bit. It's tough to watch, but there are also those players -- like Brady or Brees -- whose consistency even in the down years makes them inherently valuable as a team's solid core.
With help from the folks at Spotrac.com, we looked at the 10 NFL players who'll count most against their team's salary cap this year. They're household names because of what that salary pays for, but that isn't always a comfort when things start to go south.
More of What's Trending on TheStreet:
Working Mothers Shouldn't Feel a Twinge of Guilt
Stick with TheStreet for updated storm coverage as Hurricane Irma moves the market:
Hurricane Irma: What Kind of Insurance Should You Have?
Hurricane Irma Will Make Orange Juice Unaffordable and Destroy Your Grocery Bill
Hurricane Irma: How Floridians Are Using Tech, Apps to Prepare for the Big Storm
Editors' pick: Originally published Sept. 6.
10. Cam Newton
Position: Quarterback
Team: Carolina Panthers
Cap hit in 2017: $20.17 million
Newton committed the great sin of reaching the Super Bowl two years ago while displaying a personality. That put a target on his back in 2016 and resulted in him getting banged up in the kickoff game, concussed by October and beaten down for much of the season. A player who threw for 35 touchdowns a season earlier had just 19 in 2016 while throwing 14 interceptions. He scarcely completed half his passes (52.9%), and the Panthers went 6-10. It turned out he had a torn rotator cuff in his throwing shoulder, but let's just keep saying it was because he wasn't playing football "the right way."
8. (Tie) Ryan Tannehill
Position: Quarterback
Team: Miami Dolphins
Cap hit in 2017: $20.3 million
That's $20.3 million to sit down this year. Tannehill tore a ligament in the team's first practice of the season and is having surgery to repair it. Insurance will like cover the cost of his salary for the year, but the Dolphins had to shell out $10 million to pull former Chicago Bears quarterback Jay Cutler out of retirement. Now Tannehill has to decide whether he wants to come back to the Dolphins in 2018 or take the out clause in his contract and leave the team looking for a more permanent solution. Given backup Matt Moore's performance last year, that might not be such an easy call.
8. (Tie) Aaron Rodgers
Position: Quarterback
Team: Green Bay Packers
Cap hit in 2017: $20.3 million
The Green Bay Packers handed the quarterback job from Hall of Famer Brett Favre to Rodgers and haven't had to worry about a starting quarterback in 25 years. During that span, the Packers have missed the playoffs just six times, posted a losing record just twice, have been to three Super Bowls and won two of them. Last year, Rodgers ranked fourth in yardage (4,428), first in touchdowns (40), 24th in interceptions (just 7) and 10th in QB rating (104.2). He's just about never the problem when the Packers don't make the Super Bowl: he's the core the Pack needs to bolster.
7. Von Miller
Position: Outside linebacker
Team: Denver Broncos
Cap hit in 2017: $20.4 million
He won a Super Bowl two years ago, but he and his defense couldn't drag the Broncos to another last year -- or even make the playoffs -- with an almost nonexistent offense. Miller isn't the problem and will actually be around awile. He signed a new deal last year that will pay him $114.5 million through 2021 and will pay him a base salary of $19 million in 2018 and no less than 17 million a year for its last five years. He played for a bargain-basement $14 million last year, but considering that his 13.5 sacks were second only to the 15.5 put up by Atlanta's Vic Beasley, the Broncos got their money's worth.
6. Matthew Stafford
Position: Quarterback
Team: Detroit Lions
Cap hit in 2017: $22 million
How did Stafford do in his first season without his favorite target, Calvin Johnson? Well, even with Megatron retired, Stafford threw for more than 4,300 yards and 24 touchdowns on the way to a rare Lions playoff game. Granted, he played the last three games of the season with a broken hand and lost that playoff game -- thus continuing the Lions' multi-decade run without a playoff win -- but he didn't give the beleaguered faithful all that much reason to worry. In Detroit, that's a win.
5. Justin Houston
Position: Outside linebacker
Team: Kansas City Chiefs
Cap hit in 2017: $22.1 million
This is a monstrous contract for a player who has exactly one full season to his credit in the last four years, but that 2014 season was sensational. He had 59 tackles, 22 sacks and four forced fumbles. A torn ACL kept him out of all but five games in 2016, but a Chiefs team that went 12-4 last year and lost its one playoff game by a field goal could definitely use more of him.
4. Matt Ryan
Position: Quarterback
Team: Atlanta Falcons
Cap hit in 2017: $23.75 million
Having perhaps the best line in the league helps, but you don't make the Super Bowl and have one of the most prolific offenses in the league if you're terrible at quarterback. Ryan's 4,944 yards in 2016 were No. 2 behind only Drew Brees's 5,200. His 38 passing touchdowns fell just short of Aaron Rodgers's 40. However, his average of 9.26 yards per pass and 117.1 quarterback rating were not only the best in the league, but the latter was the fifth-best in NFL history. However, if a certain departed offensive coordinator had let him hand the ball to a runner a few more times during his last game, he might have a Super Bowl ring instead of the dubious distinction of allowing the biggest blown lead in the game's history.
3. Kirk Cousins
Position: Quarterback
Team: Washington Redskins
Cap hit in 2017: $23.94 million
Washington slapped the franchise player tag on him and kept him around at this price, but hasn't extended his contract. Why? Because outside of some fans who like him simply because he isn't Robert Griffin III, nobody's sure what they're getting. He threw for a career-high 4,900 yards last year, but threw fewer touchdowns and more interceptions than he did a year before. He fumbles in every other game, he runs way too often and he led his team to a fairly mediocre season behind both the Dallas Cowboys and New York Giants and just ahead of a Philadelphia Eagles team with a promising rookie quarterback. For a player best known for shouting "You like that?" after a win, Cousins hasn't inspired enough confidence to make management believe that it does.
2. Carson Palmer
Position: Quarterback
Team: Arizona Cardinals
Cap hit in 2017: $24.12 million
He's 37 years old and lost a bet during the preseason when he guessed he was younger than Cardinals quarterbacks coach Byron Leftwich, who was drafted the same year as Palmer. The quarterback who followed him at USC, Matt Leinart, had an entire collegiate and pro career in the time that Palmer's been a starting NFL quarterback. It's been almost eight years since he "retired" from football to get away from the miserable Cincinnati Bengals and five years since he came to Arizona. He gets criticized for not being as good as he once was, but he's thrown for more yards in three of his four years in Arizona than he ever did during his "prime" in Cincinnati more than a decade ago. He just posted the highest QB rating of his career two years ago and is still throwing to Larry Fitzgerald, the greatest receiver currently playing the position. He may not run for 90 yards anymore and a porous offensive line will result in him getting sacked 40 times and fumbling 14 times like he did last year, but Palmer is still a quality choice as a starter.
1. Joe Flacco
Position: Quarterback
Team: Baltimore Ravens
Cap hit in 2017: $24.55 million
Is Joe Flacco elite? He is this year. In 2016, Flacco ranked seventh in yardage (4,317), but 21st in completion percentage (64.9%), seventh in interceptions (15) and 35th in overall QB rating (83.5). Last year's 8-8 season couldn't have sat well, but he's with the Ravens until at least 2019 (2021 if he doesn't take the out in his contract). He'll want to add another Super Bowl ring to his hand to not only silence critics, but to avoid a very long slog into his late 30s.