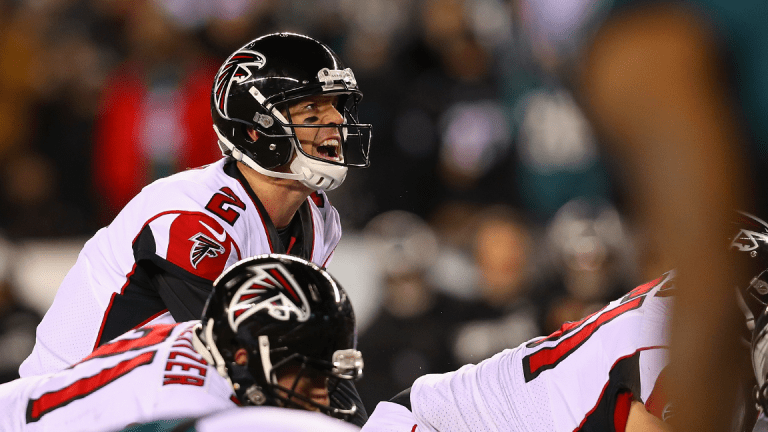 What Is Matt Ryan's Net Worth?
Matt Ryan has been the leader of the Atlanta Falcons since 2008. What is his net worth, and how much more is he going to make?
If you aren't sure who the highest-paid player in the NFL is, just assume quarterback. With the way the market has been going, the highest-paid one keeps changing as more of them sign new contracts. Currently, it's Seahawks QB Russell Wilson. Several others have held the mantle recently as well, including Aaron Rodgers, Kirk Cousins and one of the more underrated players in the game: Falcons quarterback Matt Ryan.
Not that Ryan is a complete unknown. On the contrary - he's been playing for the Falcons for a decade now, won an MVP award, and fully established himself as an elite quarterback in today's game. He's an Atlanta Falcons legend, and has thrown for more passing yards in his first 10 seasons than any QB in NFL history.
The Falcons were not letting Ryan go any time soon, certainly not after taking them to a Super Bowl in the 2016 season, and not long after they made him the first QB to average $30 million a year in salary. Having already earned close to $200 million in cash over his NFL career and at least $100 million more on the way, Matt Ryan has become one of the richest athletes in the world.
What Is Matt Ryan's Net Worth?
But for all the contract talk, what is his actual worth? There are varying estimates on this. Celebrity Net Worth estimates Matt Ryan's net worth at $70 million, and even if that number is even remotely close to true it should rise dramatically soon. He is only just about to enter the contract extension he signed. At the time it was record-breaking, but has since been broken several times. It's doubtful that Ryan, averaging $30 million a year, is complaining.
Matt Ryan Contract
Ryan isn't the young phenom of the late 2000s anymore. He's an NFL mainstay, a consistent presence for over a decade. And as a consistent quarterback who has never had a statistically troubling year, his contracts have gone up accordingly.
Ryan was drafted back in 2008, before a rookie wage scale was put in place to limit contracts, meaning that a month after being drafted 3rd overall by Atlanta, he signed a 6-year contract worth approximately $70 million, with $34.75 million of it guaranteed - all before ever stepping onto a football field.
Luckily for Atlanta, Ryan made an immediate impact, taking the team to the playoffs in his rookie season and throwing 125 touchdowns against just 60 interceptions from 2008-2012. After a great 2012 where he took the Falcons to the NFC Championship Game, Ryan received his first contract extension - five years, $103.75 million. A whopping $59 million of it was guaranteed.
Ryan, after living up to the hype of his first contract, did the same to his second. From 2013-2017, the star QB threw 133 touchdowns and just 66 interceptions. His 2016 season was an all-time great one for NFL quarterbacks, throwing for 38 touchdowns and nearly 5,000 yards. He won league MVP and took the Falcons to their second ever Super Bowl, where they nearly beat the New England Patriots before an epic collapse led to a crushing overtime loss.
His 2017 saw a regression to the mean, but Ryan's level of play was still far better than most. And while the Falcons as a team struggled in 2018, Ryan put up similar numbers to his MVP 2016 campaign, with 35 touchdowns against just 7 interceptions and 4,924 yards. Despite this, he was snubbed for the 2018 Pro Bowl, a testament to how quietly Ryan has been having some incredible seasons.
For these seasons, Spotrac estimates that Ryan has over $178.7 million in career earnings.
How Much Does He Have Left on His Contract?
2018 would have been the final year on Matt Ryan's contract. But the team and the fans want Ryan there for the rest of his storied career, and in May, the Falcons broke records to ensure that by signing him to a 5-year, $150 million extension, guaranteeing him a $100 million of it and keeping Ryan on the Falcons through 2023.
The first NFL contract to average out to $30 million a year, it makes Ryan the highest paid player in the NFL. It was the third contract that offseason to make that claim for a player, following Jimmy Garoppolo and Kirk Cousins' respective contracts with the 49ers and Vikings. It has since been surpassed, but Ryan remains one of the absolute highest-paid players in the NFL.
Spotrac also estimates that by the time this contract ends, his guaranteed salaries and various signing and roster bonuses will bring his NFL cash earnings up to more than $318 million. The fact that he may end that contract as an all-time great quarterback and future Hall of Famer is just icing on the cake.
Matt Ryan Endorsements & Commercials
Matt Ryan is a quieter presence in the NFL than a Tom Brady or a Peyton Manning, but his performance has been too good for brands to completely ignore. Ryan makes approximately $5 million from endorsements, from large reputable brands. He's one of four athletes to be the face of Banana Republic's "Men's Style Council," modeling some of their apparel. He has had other national brands as endorsements as well, including Nike and Comcast.
Perhaps his most notable endorsement deal is with Gatorade. This is due to a frequently aired 2017 TV commercial that launched in the summer, with several elite athletes talking about using previous failures as a motivator for greater success. The ad closes with Ryan, just several months after the Falcons' disastrous Super Bowl collapse.
Matt Ryan House
Ryan has been making millions before he even stepped foot onto Atlanta's home stadium, so he's always been able to afford some of the nicest properties Atlanta has to offer.
A resident of Buckhead, an affluent area in Atlanta, Ryan and his family live in the city's upscale Ritz-Carlton Residencies and have for some time. He's made several multi-million dollar real estate deals within these residencies, most recently in 2017 when he purchased a $4.5 million home in the ritzy neighborhood of Tuxedo Park, which is also home to the governor's mansion.
Matt Ryan Wife
Ryan met wife Sarah Ryan née Marshall their freshman year at Boston College as fellow athletes; Marshall was a star basketball player both in college and at her Maine high school. She has worked in sales for the WNBA team the Atlanta Dream, but she has impacted the Ryan family's net worth in other, more important ways.
Together, the Ryans have a number of charitable endeavors, including a 2014 scholarship endowment of $125,000 to Marshall's alma mater, Catherine McAuley High School. They also have a "Dinner for Two with #2" event where Ryan and a guest raise money for the Aflac Cancer Center. Attendees make donations, and in exchange get gifts and a meet and greet with Ryan. Marshall and Ryan donate $500 for every $1,500 donation.