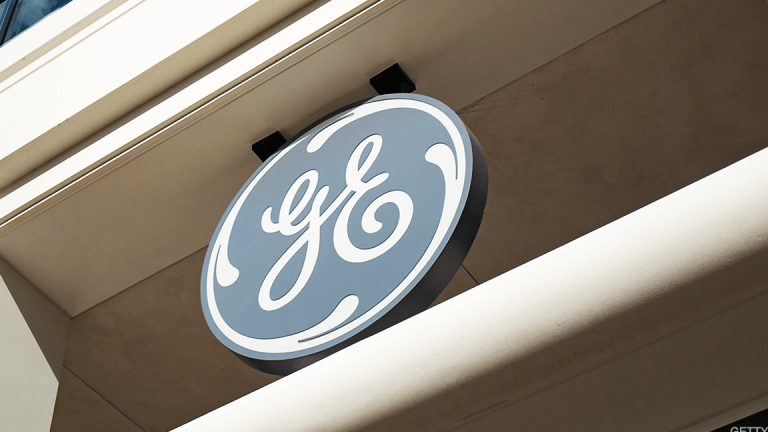 GE Headed to $9.99 a Share?
GE is getting tossed from the Dow Jones Industrial index; here is how one should play it.
GE is getting tossed from the Dow Jones Industrial index; here is how one should play it.
Light at the end of the tunnel?
Last night, David Blitzer, chairman of the index committee at S&P Dow Jones Indices said that General Electric (GE) - Get Report was getting booted out of the Dow Jones Industrial Average I:DJI after 111 continuous years of membership. GE was an original member of the DJIA, and a continuous one since 1907.
Overnight, shares of General Electric fell from the stock's closing price of $12.95 (-55% over twelve months) to $12.54 (-2.2%). Walgreens (WBA) - Get Report went the other way, seeing a 3.4% increase overnight. Now, to be fair here, gang, the material impact should not be all that significant. We are not talking about the S&P 500 I:GSPC here. Less than $30 billion worth of mutual funds and ETFs even bother to track the Dow Industrials. The index is not the bell-weather that it is made out to be. The S&P 500, in comparison, is tracked by something close to $10 trillion in assets, a much bigger deal -- especially in the era of passive investment.
Bottom Fishing...GE
So, you ask yourself, "Self, is it almost time to buy GE?" The firm is still trying to intelligently sell many of its parts. As an observer, I do believe that CEO John Flannery is an earnest leader making an honest effort. Gone is the railroad business. Hopefully soon gone will be lighting. Both of those business lines were pretty much as old as the firm.
For the firm, aviation and healthcare have been sources of strength. Power remains a problem child -- and it needs to be a source of strength for this firm to ever thrive once again. Just my opinion. At least the dividend survived for now, without another reduction. This came after significant doubts were raised regarding that payout within the analyst community. For GE, there will be a bottom at some point. That is a promise.
Now, you have probably already figured out that I think GE is close to a bottom. Let's take a technical look at General Electric.
View Chart »View in New Window »
Gross. You may recall that I did get myself out of this name at $14.85 -- after earnings -- with a profit thinner than cray paper (and not worth the year and a half of hard work just to manage the position). So, why would I even consider climbing back aboard? I have already told you. I like John Flannery. Don't know the man, but I think I know a mentally tough guy when I see one, at least I hope I do.
The shares will open at something close to a 100% retracement of the April-through-late May-move today. Money Flow is awful. The shares will likely open in an oversold condition today, as well. Today's weakness will be sentimental. There will be more of that next week. The Pitchfork model, drawn in blue, does allow for pricing close to $11. Do I leg in now?
Trade Idea (Minimal Lots)
I might be crazy enough to purchase an equity stake ahead of next week. I am not crazy enough to travel that road without doing a little tinkering in the options space. Earnings are due prior to the open on Friday July 20. The shares are likely to be a little volatile coming in. For new traders, this idea is known as a protective collar.
Purchase 100 shares of General Electric (GE) - Get Reportat or close to the pre-opening price of $12.54 (If you don't get your price, just walk away).
Sell one July 20 $13.50 call (Last: $0.28).
Purchase one July 20 $12 put (Last: $0.18).
The covered call raises revenue, while the purchased put protects the equity stake.
These premiums (note, they will be different when they open. You will either have to adjust for that, or change strikes) add up to a credit of $0.10, while limiting both your upside, and your downside. The chart indicates (to me) the potential for prices ranging from $11 to $15 by earnings. This is a way to enter with reduced risk. The protection afforded by the collar will outlast the market response to whatever the numbers reveal, and whatever the conference call implies.
At the time of publication, Stephen Guilfoyle held no positions in the stocks mentioned.