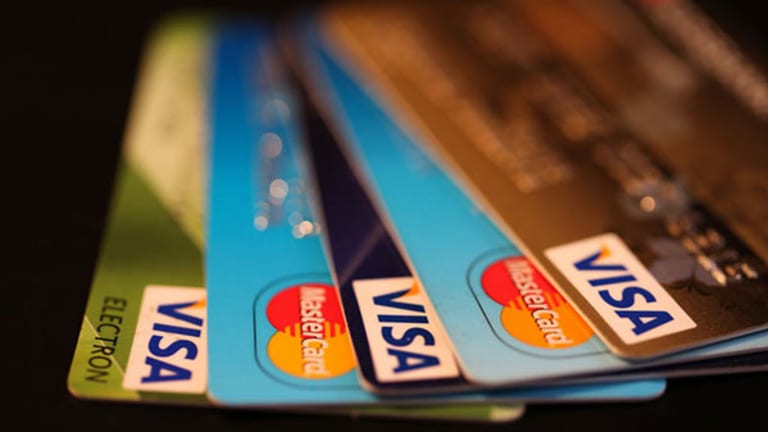 Why MasterCard Couldn't Be Happier About Visa's $15 Billion European Megadeal
MasterCard investors may be getting a free ride off the back of Visa's costly reentry into European credit markets.
UPDATE: This story, originally published at 12:58 p.m. on Thursday, July 30, has been updated with comment from TheStreet's Jim Cramer.
NEW YORK (TheStreet) -- If Visa  (V) - Get Visa Inc. Class A Report succeeds with the more-than $15 billion takeover of its former European subsidiary, one of the biggest winners will be totally unintended: longtime rival MasterCard (MA) - Get Mastercard Incorporated Class A Report.
A merger would likely mean Visa Europe charges significantly higher rates since its current fee structure is set by a not-for-profit organization of more than 3,000 banks, who are also its customers. And that would allow MasterCard to remain competitive while raising its own rates -- and targeting a large roster of new customers. Visa CEO Charles Scharf hopes to conclude talks with Visa Europe, spun off in a 2007 reorganization before the parent company went public, by October.
"It's clearly a benefit for MasterCard because when you take a competitor that is not-for-profit and make it for-profit they will compete more rationally," Robert Napoli, an equity analyst with William Blair, said in a phone interview. "Visa Europe's revenue yields and the profitability yields are much lower than anywhere else in the world, and that's because Visa Europe is under-pricing its product."
The deal could easily cost more that $20 billion since Visa's 2008 IPO granted the former subsidiary a put option -- a derivative that can force Visa to buy all of Visa Europe's outstanding shares at a price tied to a prearranged formula. Scharf will likely have to bid above the put's $15 billion floor price, which will force the company to borrow money, issue new stock or leave a portion of control with Visa Europe's controlling banks, according to Lisa Ellis, an analyst with Bernstein Research.
Although it is not clear what the pricing logic would be for a new European Visa arm, prices are likely to increase, MasterCard CEO Ajay Banga said on an earnings call this week. MasterCard pulls in higher yields than Visa Europe already, and if Visa Europe raises prices, "that may give us a little more flexibility," he said.
MasterCard's European yields of between 18-23 basis points are more than double Visa Europe's 9 basis points, according to a Bernstein research report. Mastercard earns an average of 29 basis points globally and 27 basis points outside the U.S.
"We believe the primary synergy lever would be yield increases," Bernstein's report says. "Visa Europe's yields are low because of its ownership structure: owned by its customers, and largely treated as a shared utility/cost center." 
MasterCard, based in Purchase, N.Y., also stands to benefit from the opportunity to win new customers among Visa's controlling banks, which would no longer be beholden to Visa Europe, Ellis said. Mastercard has already developed "call lists" if the put is exercised, she said.
"The exercise of the put option could create a near-term opportunity for MasterCard to gain share in the region, as the change of control would put many issuers that have been 'beholden' to Visa Europe into play," according to the Bernstein report. "However, over the long run, Visa would likely be a more formidable (albeit better behaved on pricing) competitor in Europe."
Visa has climbed more than sixfold to $76.48 since going public, outpacing a fourfold gain at MasterCard in the same period, and its stock trades at 33% premium to MasterCard on a price-earnings basis. The latter's sales of $9.54 billion in the 12 months through June trailed Foster City, Calif.-based Visa's revenue of $13.5 billion.
"These are both great companies," said TheStreet's Jim Cramer, portfolio manager of the Action Alerts PLUS charitable trust. "We recently took a nice profit in MasterCard for the charitable trust but would be happy to get right back into either of these two businesses on any meaningful pullback."
Exclusive Look Inside: You see Jim Cramer on TV. Now, see where he invests his money and why.Learn more now.
While a Visa merger would create an opportunity in Europe, generating more money in the region wouldn't be without its challenges, Banga cautioned. European consumers tend to prefer debit cards to credit cards, he said, and that means lower yields for both companies.
Additionally, European card-issuers' earnings are being curbed by heightened regulation and that may make them less willing to renegotiate agreements with payment processors like MasterCard, Banga said.