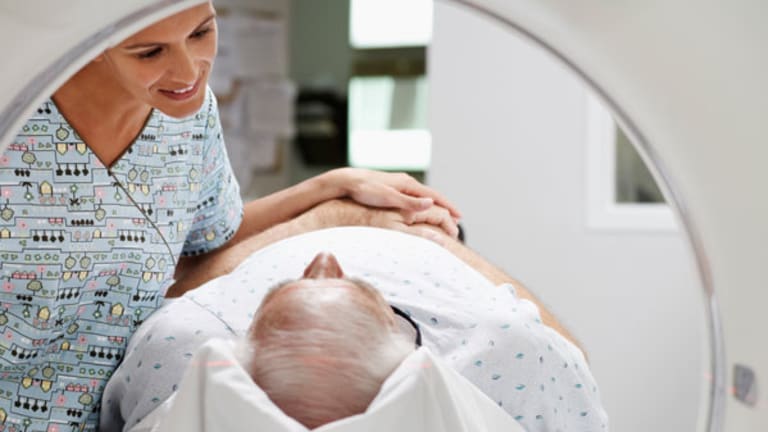 Humana's Learning to Change With the Times
Even if Democrats manage to end its "private fee-for-service" business, the company's confident that everything will work out in the end.
Even if Democrats manage to end its "private fee-for-service" business, the company's confident that everything will work out in the end.
OKLAHOMA CITY --
Humana
(HUM) - Get Report
likes to think that Medicare will always be its friend.
The giant health insurer knows that Congress aims to cut payments for private Medicare Advantage plans, particularly the "private fee-for-service" coverage that most seniors now prefer, but the company remains committed to the program nonetheless. Even if Democrats manage to kill its lucrative PFFS business altogether, the company feels confident that everything will work out in the end.
"Now the headlines will probably be ugly," Humana CEO Michael McCallister admitted ahead of this year's big election. But "Medicare has always been good to Humana, even during the '90s, so I think there is a future" in the business.
While many health insurance companies sell private Medicare coverage, including heavyweights such as
WellPoint
(WLP)
and
UnitedHealth
(UNH) - Get Report
, Humana has leaned on the business more than most.
Thanks to its booming Medicare unit, Humana has literally doubled in size over the past few years. The company now relies on Medicare Advantage for roughly 60% of its profits, analysts estimate, with most of that coming from PFFS plans.
So far, the government has paid Medicare Advantage providers quite well. On average, experts estimate, the government spends about 13% more on private Medicare coverage than it does on standard Medicare. For PFFS plans, they say, the subsidies climb even higher to almost 17%. As a result, they say, private insurers can promise seniors richer benefits than standard Medicare, especially under PFFS plans, and still deliver hefty profits to their shareholders.
Critics have long attacked Medicare Advantage, however, viewing those subsidies as a waste. With so-called "overpayments" for PFFS plans expected to total $8.5 billion this year alone, they argue, old-fashioned Medicare looks like the far better deal.
"Whether those things
PFFS plans, at the end of the day, yield demonstrable savings has yet to be determined," industry analyst Joshua Raskin noted at the annual "Wall Street Comes to Washington" conference this summer. "Humana, one of the largest firms in the private fee-for-service market, would argue that it is yielding value.
"At the same time, that company is moving toward the eventuality of private fee-for-service likely going away," Raskin continued. "And it may be that we won't have the full answer to the question until after the product is gone."
Democrats feel they've seen enough. Next year, once Barack Obama moves in to the White House, they hope to pass new legislation that will scale back payments for private Medicare coverage and eliminate most PFFS plans entirely. In fact, by requiring provider networks for PFFS plans, they have taken a big step toward the latter goal already.
Right now, private health insurers can sell PFFS plans without first establishing the extensive provider networks that serve more traditional preferred provider organization and health maintenance organization plans. Insurers have pounced on this opportunity, promising generous benefits without typical network restrictions, and seniors have flocked to the plans in response. Industry profits, boosted by outsized subsidies for PFFS plans, have skyrocketed along the way.
"There are easy ways to make money and hard ways to make money," observed Paul Ginsberg, president of the Center for Studying Health System Change. "And people won't get to the hard ways to make money until they've exhausted the easy ways."
Going forward, private insurers face a major test.
By 2011, they must establish provider networks for every PFFS plan sold in markets where at least two such networks exist. For the most part, only those plans sold in rural areas -- the intended target of PFFS plans -- would likely be exempt.
While some health insurers sense looming danger, with troubled
WellCare
(WCG) - Get Report
already hinting at serious risks, Humana itself feels prepared.
"Should private fee-for-service be gone tomorrow morning, somewhere between 80% and 85% of the people who currently have a private fee-for-service card in their pocket for Humana would have a choice of buying a PPO from us," McCallister stated during an analyst conference this June. "I believe we have about a two-year lead, two-and-a-half maybe, on developing these networks should our competition decide to go down this path."
In the meantime, Humana must better compete with itself. Instead of simply selling seniors on PFFS plans, which they have already come to embrace, the company needs to start winning more of them over with network-based offerings that they have regularly avoided in the past. That strategy could backfire, however, and scare off some PFFS fans altogether.
Nevertheless, Humana seems willing to take that risk. While the company normally offers PFFS plans with "zero-dollar" premiums -- a popular enticement throughout the industry -- it recently adopted a national policy that calls for premiums on every PFFS plan that it sells. Since seniors can still find no-premium PFFS policies elsewhere in the market, the company went ahead and lowered its short-term growth forecast.
Over time, however, Humana expects to outsmart the pack This. fall, even as rival
Cigna
(CI) - Get Report
doubled the number of states where it offers PFFS coverage, Humana moved in the opposite direction and beefed up its network-based offerings instead. With the required networks already in place, the company entered this year's Medicare Advantage enrollment season with new HMO and PPO programs in 30 different regions of the country.
To lure seniors, Humana has been offering juicy incentives like those normally attached to popular PFFS plans. In some of the company's new PPOs, for example, seniors pay no copayments for preventive services or mail-order generic drugs. They also receive extra perks, such as free diabetic monitoring supplies, that are designed to lower their out-of-pocket expenses and, ultimately, the cost of their overall care.
Humana expects to add 300,000 new Medicare Advantage customers next year, with fully half of them choosing coverage under its network-based plans. If successful, the company could wind up covering more Medicare Advantage customers under its network-based plans than its PFFS plans for the first time ever.
"I think, over the next several quarters and next several years, you're going to see some nice migration to the network-based options," Humana recently stated, "because the seniors will be able to see more value."
Of course, Humana must reach those customers first.
In the past, the company regularly courted seniors at local
Wal-Mart
(WMT) - Get Report
stores or inside their own homes. This time, however, the company must follow new government rules that bar direct solicitation of fresh Medicare business. As a result, sales agents can no longer "cold call" on seniors by knocking on their doors and enrolling them in new Medicare plans over talks at the kitchen table.
By now, Humana understands firsthand just how important the personal sales pitch can be.
"In order to sell Medicare Advantage, it has to be done face-to-face," McCallister allowed long before Medicare adopted its new rules. "It is not something you can do over the telephone or the Internet. It is not going to happen."
To be fair, Humana can still contact its current Medicare customers. With most of them still covered by PFFS plans, the company may initially focus on retaining those customers, rather than chasing after new ones, by switching them into network-based plans.
At that point, Humana would then face the ultimate test. If Democrats follow through on their threats to cut bonus payments for private Medicare plans, Humana will find itself operating on a much tighter budget than it does right now. Even so, the company fully expects to generate a solid profit on that business.
"We have a lot of headroom today between what we are paid and what we need to do," McCallister explained earlier this year. "I've said all along, whatever the rates are, whatever the yield is, we'll just adjust benefits and move on. We start with 5% as the profit, and we work around that."
To succeed, Humana must offer coverage that looks as attractive as Medicare, which allots 97% of its budget for patient care, while paying 10% to 15% less for the services its customers receive. In preparation, the company recently adopted a formal strategy that's designed to remove 15% of the costs associated with traditional Medicare. The company aims to select "efficient specialists" as its providers, for example, and use "medical cost management" tools, such as preauthorization for expensive imaging studies, that can eliminate wasteful spending.
Ultimately, Humana must become far more efficient than Medicare and most private operators to boot. As a rule, industry experts say, private health insurers can shave 5% to 10% off their medical costs by effectively managing patient care. Humana must slice off even more, however, in order to cover its overhead expenses and still generate the profit margin it desires.
To its credit, Humana has spent decades as a Medicare provider and enjoys a stronger track record in the business than most. When other health insurers dropped out of the old "Medicare+Choice" program a decade ago, for example, Humana stuck it out and ultimately stretched its government dollars enough to make the business work. Even after enjoying Medicare's recent generosity, the company feels confident that it can rise to the occasion once again.
"For there to be value here long-term, as part of the private sector's role in Medicare, we have to find ourselves in a place where we're really reducing actual medical spend and in an amount that covers the cost of having done so," McCallister explained during the company's latest quarterly conference call. "We are pretty comfortable that, based on everything we have done, that is quite doable" in the end.