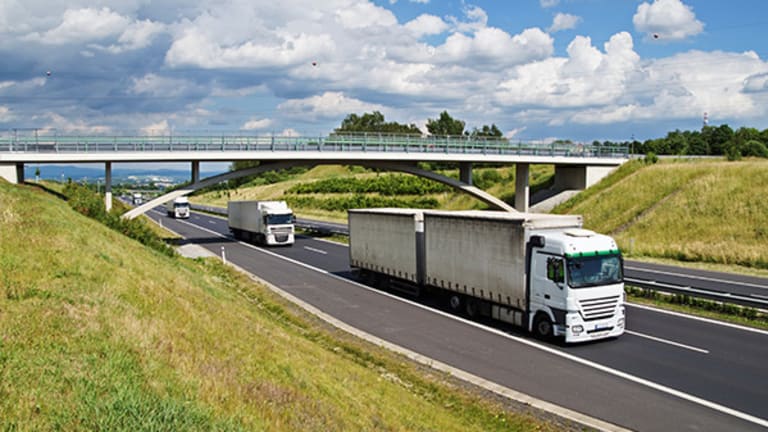 Volvo Trucks Lowers North America Outlook on Second-Quarter Sales Dip
The Swedish company is saddled with a huge fine from the European Union over cartel activity.
The Swedish company is saddled with a huge fine from the European Union over cartel activity.
Volvo's (VOLVY) truck division saw weakening in demand in North America and Brazil in the second quarter of its current fiscal year.
The Gothenburg, Sweden-based company saw demand for new trucks in North America fall by 14%, prompting it to lower expected full-year sales to 240,000 from the 250,000 it estimated in April. This estimate is 20% less than the 2015 figure.
Volvo owns the Mack Truck brand in the U.S.
CEO Martin Lundstedt said that the company will further lower its U.S. output in the summer.
Daimler (DDAIY) cut its U.S. truck forecast in May.
Sales in Brazil were also weak throughout the second quarter, and as of June new registrations were down 30%.
The trucks division, however, was propped up by a 20% increase in sales in Europe for heavy duty trucks. There was also an increase in sales in China of 15% where Volvo lifted forecasts to 610,000 for 2016, up from 550,700 in 2015.
Sales across the group fell 7% to 78.9 billion Swedish kroner ($9.2 billion). Operating profit rose Skr6.1 billion, compared with just under Skr6 billion a year earlier,  on the back of an efficiency program.
The truck maker has also increased the provision for a European Union investigation into suspected cartel activities to Skr2.3 billion.
The European Union today issued truck makers, including Volvo and Renault, with its biggest ever fine at €2.93 billion ($3.2 billion) of the back of the cartel investigation. The companies were found to have colluded to fix prices and delayed the introduction of new emission technologies.
Volvo has been implementing a restructuring plan to cut annual spending by Skr10 billion from 2012 levels.
Analysts said that further steps would most likely need to be undertaken.
During the quarter, Volvo demonstrated an autonomous truck, which is part of a wider R&D project on self-driving cars. Lundstedt said the project "will substantially improve safety, fuel efficiency and productivity, initially for customers in the mining industry."
Volvo shares were recently up 1.9% in Stockholm. The stock has gained 14% this year.