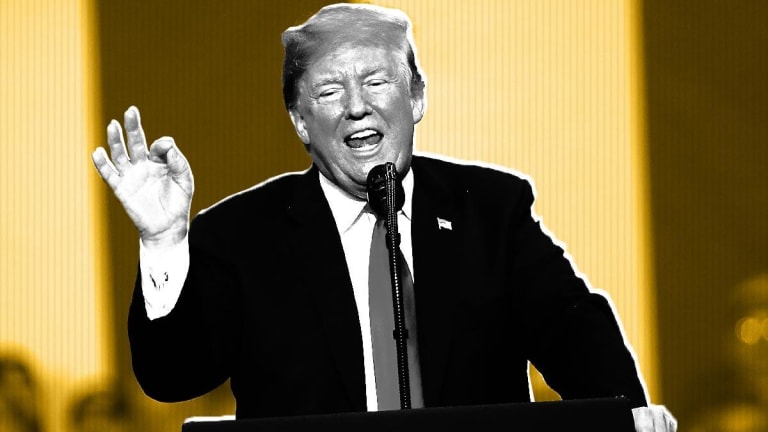 Week Ahead: Trump Heads to London During Busy Data Week
Wall Street hits the ground running following an abbreviated Independence Day week.
The fireworks have fizzled, and the beer has gone stale. Time for Wall Street to get back to business after an abbreviated Independence Day trading week. There's no shortage of news and events in the week ahead.
Trump Heads Across the Pond
President Donald Trump is expected to meet with United Kingdom Prime Minister Theresa May on Friday, July 13. The trip has been on-again, off-again for several months as the Trump administration expressed concern over the growing prospect of demonstrations and protests during his visit to London.
It seems his anxiety is well placed. Trump will not garner an official state visit and will not be addressing Parliament, which would typically be two honors bestowed upon a visiting president. Additionally, a 19-foot "Trump Baby" balloon was given the go-ahead to fly through the skies of London for two hours during the president's visit. The "Trump Baby" earned the greenlight from London Mayor Sadiq Khan after more than 10,000 people signed a petition and donated more than $23,000 through a crowdfunding campaign to get it into the air.
Beyond avoiding the clouds above London, Trump and May are expected to talk trade and national security during the visit. Trump has been penciled in with Queen Elizabeth, as well. He'll fly into London following a NATO Summit in Brussels earlier in the week.
Trade Takes Form
After Trump on Friday initiated $34 billion worth of tariffs on Chinese goods, Wall Street will watch carefully how markets digest the news. The week was slow, with low trading volume following from a shortened week. As Monday rolls around, market watchers will keep a keen eye out for how everything from tech to soybeans to pork handle the new order.
For what it's worth, some are already lauding the president for the move. The U.S. trade imbalance with China during May totaled $43.1 billion, which was the smallest monthly deficit since October 2017 and tallied the largest three-month deficit reduction in a decade.
But on the flipside, China was quick to enact its own $34 billion of tariffs the same day Trump's took effect. That could serve as a signal that the tit-for-tat rhetoric on trade tensions from Wall Street to Washington is more than just verbiage.
And on the calendar...
Starting off the week in economic data is the consumer credit report for May due at 3:00 p.m. ET on Monday. FactSet analysts expect the measure to total $12 billion, up from $9.3 billion a month earlier.
At 10:00 a.m. ET on Tuesday, Wall Street will watch for the Job Openings and Labor Turnover Survey, or JOLTS report, for May. Economists are looking for 6.66 million, down from 6.7 million in the previous JOLTS reading.
On Wednesday at 8:30 a.m. ET, the Producer Price Index for June is expected. Analysts predict a gain of 0.15%, shrinking from the 0.5% gain a month earlier. And a day later on Thursday at 8:30 a.m. ET, the Consumer Price Index is expected to come in with 2.9% growth, nearly in line with the previous month's 2.8%.
The Treasury budget for June will be released at 2:00 p.m. ET on Thursday. Economists predict a deficit of negative $91 billion, shrinking from the previous month's negative $146.8 billion.
And import and export prices will be released at 8:30 a.m. ET on Friday. Analysts predict the Import Price Index to increase 0.1% for June, down from 0.6% in May. As for the Export Price Index, economists predict an increase of 0.2%, down from 0.6% in May.
And for the Federal Reserve, New York Fed Chief John Williams will speak in Brooklyn, New York, at 4:30 p.m. ET on Wednesday and Philadelphia Federal Reserve Bank President Patrick Harker will speak in Victor, Idaho, at 12:15 p.m. ET on Thursday.