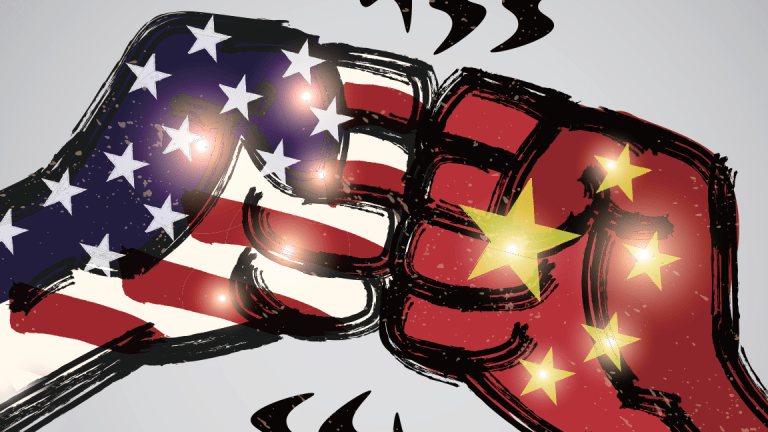 Week Ahead: Trade Fears and Stress Tests Signal More Volatility To Come
While the Dow may have bounced back from its eight day losing streak, Wall Street's trade panic is far from over. Here's what is going to move markets in the week ahead.
Despite the Dow Jones Industrial Average undefined posting its first gain in the last nine trading days, Wall Street's fears of a trade war remain in place.
Here's what is going to move markets in the week ahead.
Tariffs May Start to Take Their Toll on Earnings
Mercedes-Benz maker Daimler may have been the first to issue a profit warning over the U.S.'s brewing trade war with China, but it likely won't be the last. Budget cruise line Carnival Corp. (CCL) , auto parts maker Gentherm (THRM) , Daimler auto parts supplier Lear (LEA) and activewear giant Nike (NKE) may follow suit in the coming days.
Carnival, which has been suffering after a scathing Morgan Stanley note earlier this month, will report its earnings Monday. Investors should prepare to be disappointed as the cruise line has 15 percent revenue exposure to Asia and Australia. Gentherm will also update investors Monday in an afternoon strategic announcement that will likely make reference to the tenth of its revenue that was China-related in 2017.
Lear, which gets about 12% of its revenue from China, will hold an investor day Wednesday. Nike, which also gets about 12% of its revenue from China, will report its earnings Thursday after the bell.
Banks Brace for Second Stress Test
Even after all the biggest banks succeeded in passing the first round, a second wave of results from the Fed's annual stress tests on banks may not paint as rosy a picture on Wednesday.
"For banks, DFAST is like a soccer friendly exhibition match," Capital Alpha Partners analyst Ian Katz wrote of the first test in a report. "It's not irrelevant, but the June 28 CCAR results, which determine how much banks can return to shareholders, are the World Cup."
Although all 35 banks passed the exam designed to measure their ability to cope with another financial crisis, their minimum capital levels were lower than expected, according to Deutsche Bank analysts. The results could lead to increased volatility on throughout the week and smaller dividend payouts than previously expected.
Add to the Economic Calendar
We'll get an in-depth look at the state of the housing market this week as the Census Bureau reports on new home sales on Monday and the Mortgage Banks Association releases mortgage application figures on Wednesday.
On Sunday, EU leaders from Germany, France, Italy, Spain, Austria and Bulgaria will gather in Brussels for an emergency summit on migration that may determine the future of the German Chancellor Angela Merkel's domestic political coalition.