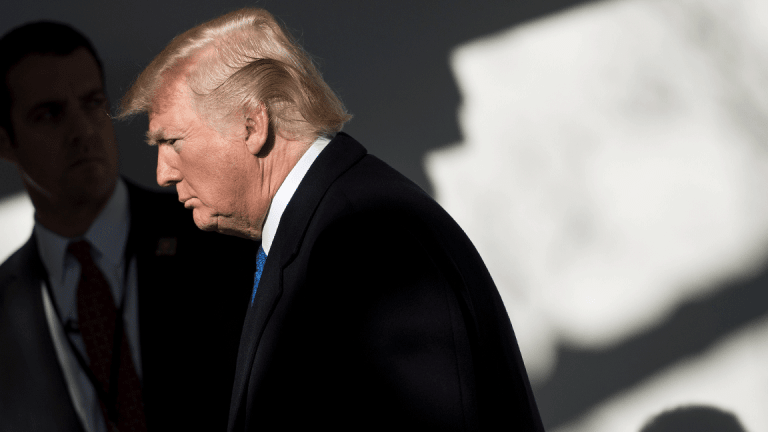 Publish date:
Week Ahead: All Eyes on Trump's North Korea Summit, Fed Rate Decision
Tuesday is a big day. Here's what to expect heading into the coming week, from North Korea to the Justice Department.
Tuesday is a big day. Here's what to expect heading into the coming week, from North Korea to the Justice Department.
So much for the dog days of summer. Wall Street and Washington are both heading into a massively busy week filled with headline-driving, market-moving, highly-impactful events. Here's what you can't miss.
Mr. Trump Goes to Singapore
The story of the week - and, possibly, of the summer - will take place Tuesday, June 12, when President Donald Trump is set to meet with North Korean President Kim Jong Un in Singapore. The meeting will be the first time an American president meets with a sitting North Korean leader.
Trump and Kim are expected to talk about seriously high-level issues, not the least of which being North Korea's "complete" nuclear arsenal. The two leaders are also expected to discuss sanctions placed on North Korea, diplomatic relationships and military presence in the Korean Peninsula.
Trump is expected to bring a team from the White House including Secretary of State Mike Pompeo, chief of Staff John Kelly and National Security Adviser John Bolton. "I think I'm very well-prepared," Trump told reporters last week. "I don't think I have to prepare very much. It's about attitude."
AT&T-Time Warner Verdict Expected
On Tuesday, the verdict is expected in a pending U.S. District Court ruling on AT&T Inc.'s (T) - Get Report proposed $85 billion acquisition of Time Warner Inc. (TWX) . The decision will come after months of back and forth and a six-week trial. The merger proposal expires June 21.
The decision could have significant implications for media M&A for years to come. The space has been active in recent months, with Walt Disney Co. (DIS) - Get Report launching a bid for Twenty-First Century Fox Inc. (FOXA) - Get Report and Comcast Corp. (CMCSA) - Get Report lurking on the sidelines.
Comcast is a holding in Jim Cramer's Action Alerts PLUS member club. Want to be alerted before Jim Cramer buys or sells CMCSA? Learn more now.
Fed, ECB to Meet
On Wednesday, June 13, the Federal Reserve Open Market Committee is expected to raise short term interest rates for the second time this year. The Fed will announce its decision on rates at 2:00 p.m. ET at the conclusion of its two-day meeting, followed by a press conference with Fed Chairman Jerome Powell. Economists polled by FactSet expect short term target rates to increase 0.25% to 2%. This would be the seventh rate hike since December 2015.
The European Central Bank is set to meet in Latvia on Thursday, June 14, in what is expected to be an important discussion about the future of quantitative easing in the region. ECB officials told Bloomberg that the bank's president, Mario Draghi, will likely treat the meeting as a debate over the strategy of bond-buying. Under current plans, purchases are set to run until at least September.
And on the Calendar
Monday, June 11, is a data-light day for markets. But Tuesday, June 12, brings the NFIB Small Business Index reading for May at 6:00 a.m. ET. Then, at 8:30 a.m. ET, consumer pricing data for May is expected. FactSet analysts expect consumer pricing to grow 2.7% for the period, up from 2.5% growth in the previous month. At 2:00 p.m. ET on Tuesday, the Treasury Budget will be announced, expected to come in at negative $112.5 billion for May, down from $214.3 billion in April.
At 8:30 a.m. ET on Wednesday, June 13, producer pricing data for May is expected. FactSet economists forecast producer pricing growth of 0.3%, up from 0.1% in the previous month. Fed data will be released later in the day.
On Thursday, June 14, at 8:30 a.m. ET, data is expected on export prices for May. FactSet analysts predict prices to have grown 0,2% in May, down from 0.6% in April. Import prices are expected at the same time - analysts see 0.5% growth, up from 0.3% in April. Retail sales statistics for May are also forecast for Thursday at 8:30 a.m. ET. Economists predict sales to grow 0.4%, up from 0.2% the prior month.
And on Friday, June 15, industrial production for May will be released at 9:15 a.m. ET. FactSet experts predict output to grow 0.3%, down from 0.72% in April. At 10:00 a.m. ET, the University of Michigan is expected to release consumer sentiment data for June. FactSet analysts predict the index reading will come in at 98.9, up from 98 in May.
4 Top Experts Tell You How to Play the Market. TheStreet's Scott Gamm recent sat down with top market watchers from Bank of America, Fisher Investments, Invesco and Wells Fargo. Click here and register to watch a free roundtable in which they lay out their best advice.