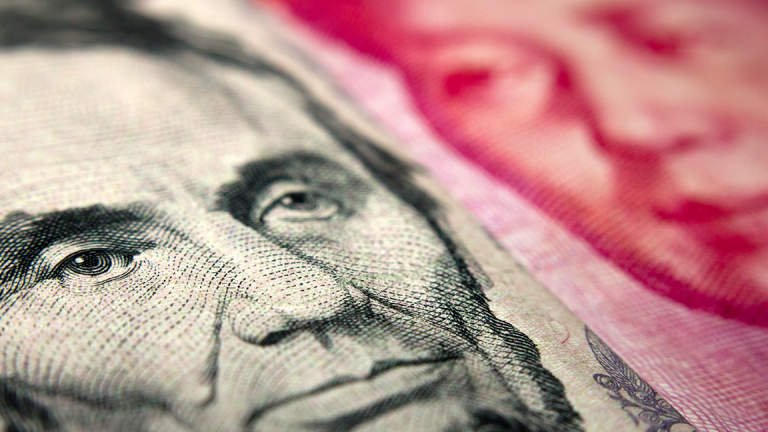 What Would a Trade War Do to the Stock Market?
It's the biggest risk this year, says Charles Schwab.
The threat of a global trade war has been front-of-mind for Wall Street for several weeks. While the dialogue changes nearly daily, the notion of a global dispute has been a constant.
It is not certain that the U.S. actually ignites a trade war, but that doesn't mean the possibility isn't a concern.
For strategists at Charles Schwab Corp. (SCHW) , a trade war is the biggest threat to the stock market for the rest of 2018.
"This is a big deal for profits even if it isn't as big of a deal for the economy," said Jeff Kleintop, chief global investment strategist for Schwab. The firm recently published its mid-year outlook, which cites trade as a "much scarier prospect" than investors might give it credit for at present.
"Imports and exports often cancel out as it relates to the economy," Kleintop said. "But with 50% of the profits of most of the companies in the big indexes being driven by international trade - and that wasn't true 30 years ago but is today - it does have a really big impact on the stock market, even if the economic impact may not be as pronounced."
The stock market hasn't taken well to the notion of a trade war. The Dow slipped nine sessions out of 10 in late-June as the U.S. and China traded blows in the form of export tariffs. But the downward pressure from trade threats could easily reverse, if global economies come to a resolution and avert a trade war.
"It's our base case that there is some kind of a resolution. It doesn't mean everything gets walked back, but there's a limit to the escalation," Kleintop said. "There are some signs where there is a big push, then a step back."
That's been the name of the game with the Trump administration -- start scary, then walk back the threat to a much more digestible place. That strategy will likely continue with trade disputes, too, Schwab said.
"While the U.S. administration's rhetoric is pretty wild and heated, the reality has actually been pretty mild. The administration has backed down again and again from some of these more wild negotiating positions," Kleintop said.
And the reality of a negotiated global trade environment that averts all-out war could be pretty great for stocks.
"The hope is that in the second half of the year, we'll see something similar. If we do, the stock market is likely to have a better second half than it did the first half of the year," Kleintop added.
"Domestically, economies around the world are doing pretty well. It's just these trade jitters that are kind of holding them back," Kleintop noted. "If those fade, I think that broad, solid economic growth will continue to lift profits and support stocks."
What's more, the likelihood of a true trade war that implicates all developed economies remains far-off, despite the headline risk markets are currently managing.
"We have globally criss-crossed supply chains that are now fully integrated and we have this legacy of economic destruction that high and broad tariffs caused in the late 1800s and early 1900s, when trade wars were common, that we have to reflect on," Kleintop said. "So for those reasons, we haven't seen one."
4 Top Experts Tell You How to Play the Market. TheStreet's Scott Gamm recent sat down with top market watchers from Bank of America, Fisher Investments, Invesco and Wells Fargo. Click here and register to watch a free roundtable in which they lay out their best advice.