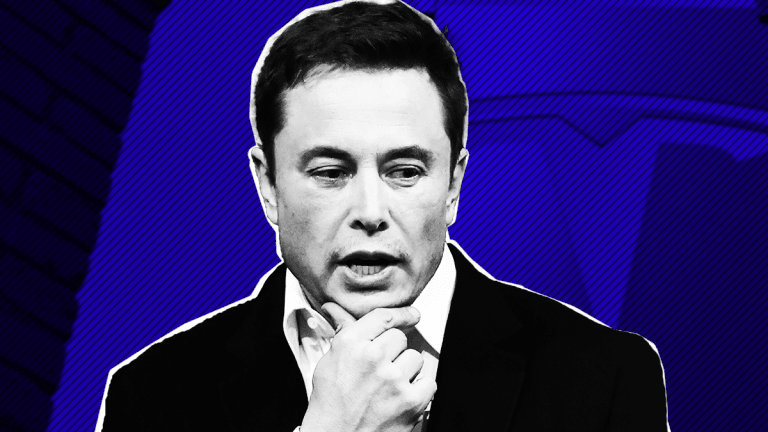 Tesla's 4 Biggest Challenges in 2019
Between Model 3 'production hell' and SEC entanglements, it was quite a year for Tesla. Next year is poised to being even greater opportunities, and potentially challenges, for the polarizing electric carmaker.
Has Tesla turned a corner, or could the road ahead in 2019 be even bumpier?
After a year marked by volatility in Tesla's stock and plenty of drama swirling around the electric carmaker, shares overall are up about 14% in 2018, which is pretty good compared to the performance of some of Tesla's large cap tech peers. In the past few weeks, Tesla (TSLA) - Get Report shares have been bolstered by factors including a U.S.-China trade truce, a positive third quarter earnings report and an analyst upgrade citing its improving balance sheet.
Some observers believe that Tesla is poised to soar higher, as better numbers lure more investors to test the waters: "We believe as TSLA delivers steady cash flow, a new group of investors will begin taking positions, helping drive shares higher," Oppenheimer's Colin Rusch wrote in a note to clients last week.
However, some of the key challenges facing one of the most polarizing companies around aren't going away anytime soon. Here are four of the biggest:
1. Balancing Production With Demand
It was a painful production ramp-up for the Model 3, Tesla's first vehicle aimed at the mass market. Famously described as "production hell" by CEO Elon Musk, the company's heavy lift to attain a production rate of 5,000 Model 3s per week involved such drastic measures as assembling cars in a makeshift tent. At the end of the third quarter, Tesla reported that it produced 5,300 of the vehicles in the last week of the quarter, and the company has said that it hopes to produce 7,000 per week by the end of this year.
Keeping up the breakneck pace -- and balancing that with demand -- will continue to serve as key risk factors for Tesla investors. Particularly with EV tax credits phasing out in the U.S. in 2019, there's little room for error as Tesla prepares to ship to European markets in early 2019: "There is no room for major production errors or another distraction from Musk over the coming year given its cash flow balancing act needed," wrote Wedbush's Dan Ives in a recent analysis.
2. More Competition on the Horizon
Tesla isn't the only game in town in the electric vehicle market, and that will be even more true next year. Competition is poised to heat up in EVs soon, with higher-end models from Porsche and Mercedes coming to market in 2019. At the lower end of the market, Volkswagen is releasing a new electric model starting at $27,000.
While no single Tesla killer may emerge from the group, rival automakers' abilities to produce electric cars at scale could chip into Tesla's chunk of the EV market. That was part of Goldman Sachs' bearish analysis of the stock in a note published in September, which articulated a gloomy outlook on Tesla's products weighed against the competition, combined with Tesla's significant debt load. 
3. The China X Factor
When the White House announced a trade truce in early December, Tesla was seen by investors as a beneficiary of potentially improved trade relations between the U.S. and China. That's because China could serve as both a manufacturing base and a key consumer market for Tesla: "In China with reduced tariffs, an untapped EV market opportunity, and Gigafactory 3 on the horizon, we believe this represents a golden market opportunity for Musk & Co. starting in 2020," wrote Ives.
Tesla could be looking to ramp up even sooner than than in China, with one recent report suggesting that a planned Gigafactory in Shanghai could start producing cars by the latter half of 2019. Since that's just a few months away, that would be a quite a feat for Tesla, which hasn't always been known for making accurate predictions.
4. Legal Issues and Leadership Concerns
It's hard to believe it's only been two months since Elon Musk settled with the SEC over the "go-private" fiasco on Twitter that led to charges of fraud against the volatile executive. In that time, Tesla appointed a new board chair, Robyn Denholm, but Musk has continued to needle regulators, saying recently that he "does not respect the SEC", among other remarks implying that he may not intend to fully comply with the terms of his settlement with the agency.
Musk and Tesla aren't completely out of the woods, however. Aside from Tesla's entanglement with the SEC, a Department of Justice criminal investigation is underway exploring fraudulent claims concerning Model 3 production in 2018. Adding to a string of executive departures at the carmaker, Tesla's longtime general counsel left the firm weeks ago and was replaced by Dane Butswinkas, a top trial lawyer experienced in handling fraud claims -- which could be a sign of things to come.
Save 66% with our '12 Days of Holiday Deals' Sale. Join Jim Cramer's Action Alerts PLUS club for investors and get our best deal of the year. Click here for details or to sign up.