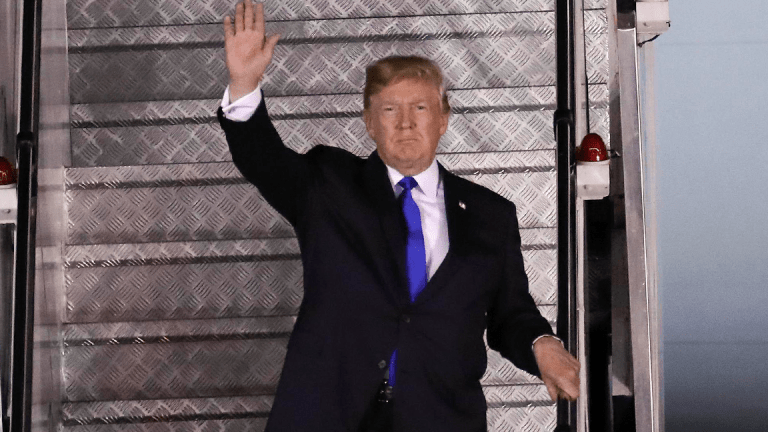 President Trump's Tech Investment Crackdown Not as Harsh as Feared
The Trump administration won't try to block companies with 25% or more Chinese ownership from buying U.S. tech firms.
The Trump administration won't try to block companies with 25% or more Chinese ownership from buying U.S. tech firms.
The bark was bigger than the bite.
The White House won't aim to block companies with at least 25% Chinese ownership from buying certain U.S. tech-related companies, a senior official from the Donald Trump administration told CNBC on Wednesday, June 27.
The government instead plans to rely more heavily on the recently bolstered Committee on Foreign Investment in the United States (CFIUS) to stymie threats and concerns about foreign entities purchasing sensitive domestic technologies.
"We considered a number of different mechanisms for addressing the concerns articulated regarding the acquisitions of sensitive technologies that may threaten U.S. national security, national interests," the official was quoted as saying. "In the end the president and his advisers settled on the idea that we have a strong and effective mechanism through the CFIUS process ... and that is a mechanism that can be used in the flexible and aggressive way to combat the practices that are troubling to the president."
U.S. equities illustrated considerable concern regarding the possibility of limiting outside investment in U.S. firms, struggling this week to make much traction. U.S. stocks opened higher Wednesday morning.
The Senate voted on Tuesday to ramp up CFIUS's operations so that the committee can now assess specific threats to U.S. commerce, particularly in the technology sector. The White House official said that Commerce Secretary Wilbur also will be involved in determining export controls in conjunction with CFIUS.
"The issue of protecting technology is very important," Treasury Secretary Steven Mnuchin told CNBC on Wednesday.
"We will have the necessary tools to protect investments, whether it's China or anybody else," Mnuchin said. "We are not singling out China, but we will protect technology transfer to China as we will to other important areas."
Mnuchin announced on Twitter on Monday that restrictions will apply to "all countries that are trying to steal our technology."
"We've been very aggressive," Mnuchin said Wednesday. "There were cases in the previous administration that most likely were passed that if we had reviewed we probably would have taken a much more aggressive view on. But the purpose of this legislation is that there are areas that we can protect."
Expert Advice for a Risky Market. We asked top experts from Bank of America, Fisher Investments, Invesco and Wells Fargo what smart investors should do right now. Click here and register for free to watch what these market watchers recommend.