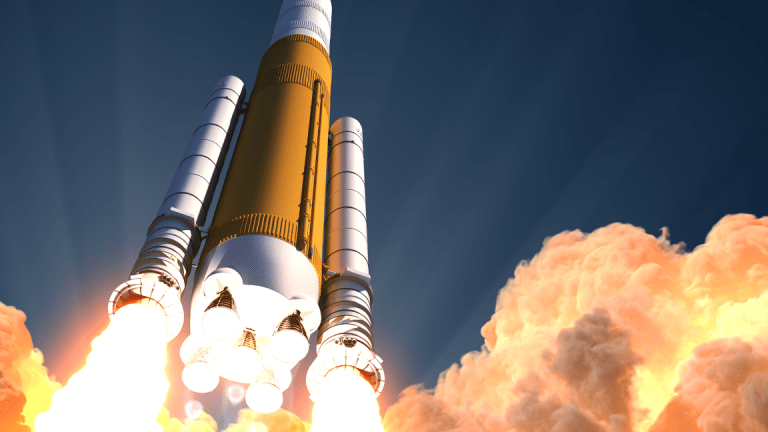 President Trump Proposes Addition of 'Space Force' as Sixth Military Branch
The Space Force would be the first addition of a U.S. military branch in 71 years.
The Space Force would be the first addition of a U.S. military branch in 71 years.
Elon Musk has a new buddy in looking to the skies.
President Donald Trump has directed the Department of Defense to create a new branch of the U.S. military called the "Space Force." Speaking during a meeting of the National Space Council, Trump said, "Our destiny beyond the Earth is not only a matter of national identity but a matter of national security."
The addition of a Space Force to the U.S. military would make it the sixth sister service branch. The last time a branch was added was 71 years ago, when the Air Force was introduced as the newest member of the military, consisting at that point of the Army, Navy, Marines and Coast Guard.
"We are going to have the Air Force and we're going to have the Space Force, separate but equal," Trump said Monday. "It is going to be something, so important."
Trump first suggested the idea of a Space Force in March, when he said, "Space is a war-fighting domain, just like the land, air and sea." At that time, the president said the notion of a Space Force was floated as more of a joke.
The House Armed Services Committee previously had proposed the creation of a space corps as part of the U.S. military last summer, but the measure did not make it into the final National Defense Authorization Act bill in November.
At the time, Defense Secretary James Mattis said, "I oppose the creation of a new military service and additional organizational layers at a time when we are focused on reducing overhead and integrating joint warfighting efforts," in a letter to the House and Senate Armed Services Committees.
It's worth noting that the U.S. is a member of the Outer Space Treaty, a 1967 measure that bars the stationing of any weapons of mass destruction in space. It dictates that the moon and other celestial bodies be used only for peaceful purposes, not war or military exercises.
Defense stocks were mixed in afternoon action Monday. Boeing Co. (BA) - Get Report and Lockheed Martin Corp. (LMT) - Get Report followed the broader market lower, while Raytheon Co. (RTN) - Get Report and Northrop Grumman Corp. (NOC) - Get Report were narrowly higher.
Raytheon is a holding in Jim Cramer's Action Alerts PLUS member club. Want to be alerted before Jim Cramer buys or sells RTN? Learn more now.
How to Play Today's Risky Markets. Click here and register for free to watch what top experts from Bank of America, Fisher Investments, Invesco and Wells Fargo say smart investors should do now.