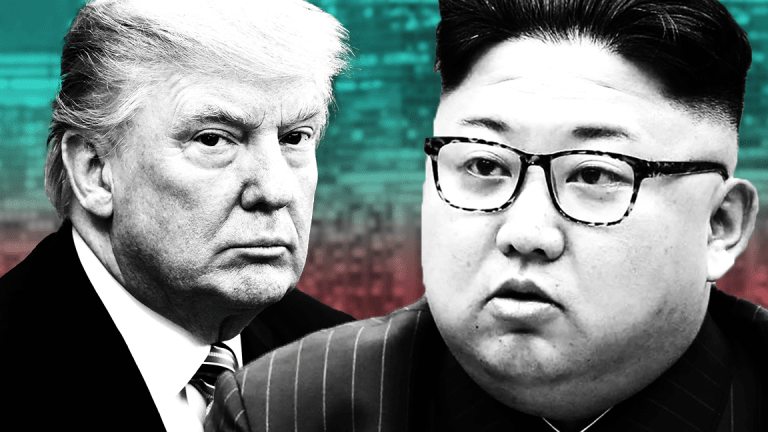 Trump and Kim Agree to North Korean Denuclearization 'as Soon as Possible'
For the first time, a sitting U.S. president has met face-to-face with the leader of North Korea.
For the first time, a sitting U.S. president has met face-to-face with the leader of North Korea.
U.S. President Donald Trump and North Korean President Kim Jong Un signed a document following their unprecedented meeting in Singapore Tuesday suggesting the meeting may actually lead to reduced tension on the Korean peninsula and potentially end the North's nuclear weapons program. 
However, the actual text of what was signed hasn't yet been released. According to a photo of Trump holding to document, the two leaders appear to have signed on to the following four tenets:
The United States and the DPRK commit to establish new U.S.-DPRK relations in accordance with the desire of the peoples of the two countries for peace and prosperity.
The United States and the DPRK will join their efforts to build a lasting and stable peace regime on the Korean Peninsula.
Reaffirming the April 27, 2018 Panmunjom Declaration, the DPRK commits to work toward complete denuclearization of the Korean Peninsula.
The United States and the DPRK commit to recovering POW/MIA remains, including the immediate repatriation of those already identified.
Trump said in a media briefing later on Tuesday that the two men agreed to a plan aimed at implementing the denuclearization agreement "as soon as possible."
The two men posed holding the documents about four hours after they first shook hands at an exclusive hotel to start their talks. The meeting marked the first time that a sitting U.S. president has come face-to-face with the leader of reclusive North Korea. This is the farthest North Korea's Kim has traveled since he came to power in 2011.
Trump and Kim spoke briefly after the signing with the U.S. president saying they were signing a "very important document, a pretty comprehensive document." Kim said, "We decided to leave the past behind. The world will see a major change," according to the report.
After signing the document, Trump said that Kim was a "very worthy, very smart negotiator."
"We had a terrific day and we learned a lot about each other and about our countries," Trump said. "I learned he's a very talented man. I also learned he loves his country very much."
"It's a very comprehensive document," said Trump later at a media briefing Tuesday afternoon in Singapore. "It's going to happen."
Trump continued, "We're prepared to start a new history and we're ready to write a new chapter between our nations ...  the past does not have to define the future. Yesterday's conflict does not have to be tomorrow's war."
In answering reporter questions for a little more than an hour, Trump said that bringing home American troops stationed on the Korean peninsula "is not part of the equation right now." He added, though, that "war games" are over.
"There's no limit to what North Korea can achieve when it gives up is nuclear weapons and embraces commerce with the rest of the world that really wants to engage," Trump said. He added that sanctions will remain in place until the plan for denuclearization can be fully realized. "They will come off when we know we're down the road and ... nothing's going to happen."
In facing questions from reporters, Trump took on the fact that there is no mention of "complete, verifiable and irreversible" denuclearization in the summit agreement, a standard for which many leaders and experts had hoped. "I can't ensure anything. All I can say is that they want to make a deal," Trump said.
Trump added that Kim "wants to do the right thing" when it comes to solving what many have identified in North Korea as widespread human rights issues. The president noted that denuclearization will take priority, though.
Trump said he will visit North Korean capital Pyongyang in the future. "That's a day I look forward to very much at the appropriate time," Trump said. He noted that he will also invited Kim to the White House "at the appropriate time."
"Anyone can make war but only the courageous can make peace," Trump said.
U.S. stock futures were higher as Trump wrapped up his time at the summit. During Monday's regular session U.S. stocks posted modest gains. Asian markets were generally higher, with the Hang Seng, Nikkei 225 and Shanghai indexes all trading well into the green.
Trump and Kim began their talks meeting one-on-one with only translators for about 45 minutes before moving on to a larger scale meeting with aides and staffers. After the initial handshake, Trump said  "I feel really great. We're going to have a great discussion ... it is my honor and we will have a terrific relationship," Trump said.
"The old prejudices and practices worked as obstacles on our way forward, but we've overcome all of them and we are here today," Kim said.
While the high-profile meeting holds out hope for a diplomatic breakthrough, there are significant risks as well. 
"I think if there is a poor outcome -- if something falls apart or something is acrimonious, stocks would fall pretty quickly," said Courtney Rickert McCaffrey, manager at consulting firm AT Kearney's Global Business Policy Council. "If there's a more positive outcome of this summit then stocks are likely to rise" she added.  
Tuesday's summit marks a dramatic turnaround. 
As recently as last summer, North Korea and the U.S. appeared to be teetering on the edge of war as North Korea tested a nuclear weapon in Sept. and continued testing long range ballistic missiles. One missile, tested in November, appeared to have sufficient range to reach the continental U.S., including Washington D.C.
In the run up to Tuesday's meeting, Kim blew up portions of his country's nuclear test site and said he would put a moratorium on long-range missile tests.
But analysts remained wary of Kim's true motives heading into the meeting, suggesting he may just be playing for time while his technicians work out problems with the country's nuclear devices and missiles. 
Trump took to Twitter on Tuesday morning in Singapore, just ahead of the scheduled sit-down.
A White House official confirmed early Monday that the series of meetings would begin with a one-on-one encounter between Trump and Kim, followed by expanded meetings including other U.S. and North Korean officials, ABC reported.
President Trump said over the weekend that he thinks he'll be able to determine whether it's worth pursuing a relationship with Kim "within the first minute." Trump continued, "If I think it won't happen, I am not going to waste my time. I don't want to waste his time."
"[A one-on-one meeting is] certainly not the norm ... that's why it's so hard to play the expectations game for this one. This is certainly unconventional ... but it has the potential to go very positively or very poorly in that first minute. I don't think there's much middle ground," said McCaffrey.
Earlier Monday, U.S. Secretary of State Mike Pompeo said that talks between the U.S. and North Korea had been moving "faster" than initially expected, adding that the president's "mission of peace" could foster a better relationship between the two countries down the road. Many took Pompeo's comments as a signal that this meeting wouldn't result in full removal of nuclear weapons, but rather would serve as the beginning of an ongoing discussion.
"I think it would be a mistake to underestimate the President at any point and especially at negotiations," said Boris Epshteyn, former special assistant to President Trump and current chief political analyst for Sinclair Broadcast Group. "The president has an unbelievably strong force of personality."
The meeting between Trump and Kim follows the President's weekend showdown with other global leaders at the G-7 Summit in Canada. Trump escalated the trade feud between the U.S. and allies from Canada and Europe at that meeting, doubling down on previously announced tariffs and earning public denunciation from Canadian Prime Minister Justin Trudeau and French officials.
"I'd expect little movement on markets here," said Martin Edwards, associate professor at the Seton Hall University School of Diplomacy and International Relations. "After the weekend's G-7 fiasco, expectations for this meeting are ... extremely muted. We have a long way to go before to establish trust, much less verifiable results, and this is well understood."
"If the Trump fails to get real concessions from Kim, markets may begin to discount his ability to lead on his domestic objectives, such as keeping Republican majorities in Congress, reducing the size of the federal government and addressing the accelerating Social Security funding problem," said Robert DeYoung, professor at the University of Kansas School of Business. "Investors will adjust upward their expectations of future interest rates, hurting both the stock and bond markets."