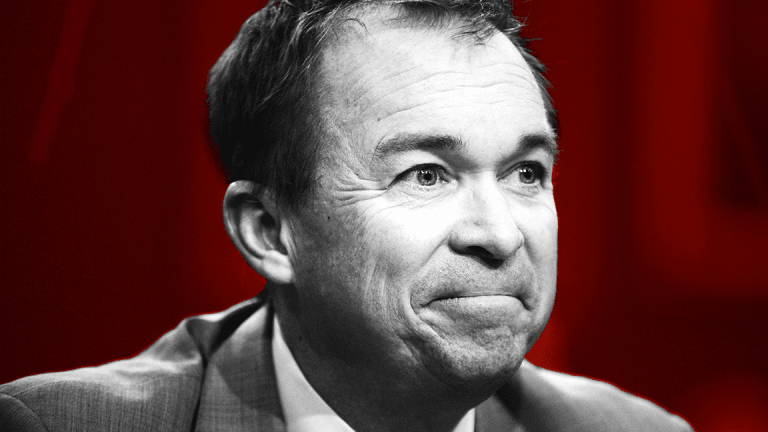 Mick Mulvaney Says Immigrant Child Separation Policy Is Fair
The Director of the Consumer Financial Protection Bureau says the discussion hasn't been entirely fair to the Trump administration.
The Director of the Consumer Financial Protection Bureau says the discussion hasn't been entirely fair to the Trump administration.
Mick Mulvaney, director of the Consumer Financial Protection Bureau, said on Wednesday that he thinks that even though it's expensive, it's fair that the U.S. pursues its current zero tolerance immigration policy, in which children are separated from their parents and sometimes flown thousands of miles away. 
Speaking at the CB Insights Future of Fintech Conference in New York, Mulvaney explained that those who attempt to immigrate to the U.S. legally are not being separated from their families. Rather, it's those who attempt to cross the border illegally who face that consequence.
According to Mulvaney, that's appropriate. Mulvaney made the argument that if he were arrested for drunk driving and thrown in jail for a night, his children would not be permitted to stay the night with him in his cell. The same logic ought to be applied to immigrants attempting to enter the country illegally, he said. 
Mulvaney's comments came just before President Trump signed an executive order he said would keep immigrant families together while detained near the border. The president said he will not end the "zero tolerance" practice of criminally prosecuting any adult who passes through U.S. borders illegally, including those seeking asylum.
"We're keeping families together and this will solve that problem. At the same time we are keeping a very powerful border and there continues to be a zero tolerance," Trump said.
"It sounds like we're keeping kids like zoo animals, but that doesn't help the discussion," Mulvaney said. He went on to say that in his view no single American can get all of their news from one media source and be fully informed. The present discourse regarding the zero tolerance immigration issue has largely been one-sided, Mulvaney said.
For what it's worth, Mulvaney said, "I'm not that heavily involved with immigration so the last couple weeks have been slow." His position, which also entails heading up the Office of Management and Budget for the Trump administration, might be more concerned with the dollar price tag of building a border wall than it would be with the morality of zero tolerance.
"It costs us $1,250 per night per person to hold somebody," Mulvaney said, noting that those in detention centers receive healthcare and psychological services.
Separately, American Airlines Group Inc. (AAL) - Get Report  , United Continental Holdings Inc. (UAL) - Get Report   and Southwest Airlines (LUV) - Get Report all told federal officials that they should not transport immigrant children who have been forcibly separated from their family on their aircraft.