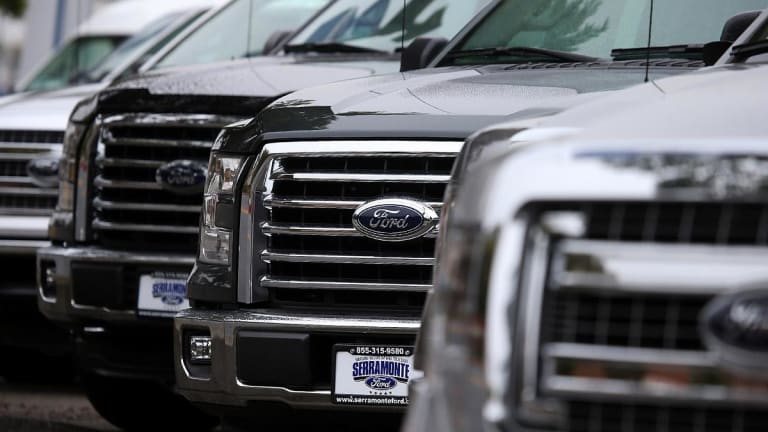 Ford, Fiat Chrysler Get Boost From November Sales, China Tariff News
Ford and Fiat Chrysler get a boost after reporting November sales and following the temporary truce between President Trump and Beijing.
Ford Motor Co.  (F) - Get Report  and Fiat Chrysler Automobiles N.V. (FCAU) - Get Report got a boost Monday, Dec. 3, after reporting sales for November and following the temporary truce between President Trump and Beijing.
Ford shares were up about 3.5%, while Fiat Chrysler was up around 3%.
Fiat Chrysler saw strong U.S. results -- selling 181,310 vehicles in November, a 17% increase over the same time last year. Jeep and Ram brands drove much of the demand.
For Ford, however, the picture was mixed. The U.S. automaker saw strong sales of some models, but declines in most others.
Sales of Ford F-Series pickups were up for nine consecutive months hitting 70,000 trucks sold, Ford Expedition saw sales up 7.9%, and Lincoln Navigator shot up 27.3%, according to the Detroit automaker.
In addition, prices on trucks and SUVs were also up overall to a new high of $37,000 in November, a $1,600 rise over last year, said Ford.
"This compares to a $780 increase for the overall industry, with average transaction prices of $33,400," reported the company. 
But across the board numbers were down. Total U.S. sales of its vehicles dropped nearly 7% from last year at the same time to 196,303, with declines in nearly every category, including trucks, which were down 2.3%, SUVs, which were down nearly 5%, and cars, which plummeted nearly 20%. 
But a possible bright spot for both automakers could come in the form of trade negotiations with China, at least for now, following the news over the weekend that Trump and Chinese President Xi Jinping agreed to hold off on raising tariffs for at least three months.
Last year, the U.S. exported some $13 billion worth of vehicles to China and a heated trade war could hurt demand from the Asian nation.
But Trump claimed over Twitter that "China has agreed to reduce and remove tariffs on cars coming into China from the U.S. Currently the tariff is 40%." His claims come after the White House earlier said in an official statement that the negotiations resulted in China agreeing to buying an unspecified amount of U.S. goods, but did not specifically mention automobiles. There were reportedly also questions Monday whether the two nations made such an agreement.
His administration had earlier planned to increase tariffs to 25% from 10% on some $200 billion worth of Chinese imports by January, but now that plan is on hold for at least three months while the leaders of the world's two largest economies negotiate.