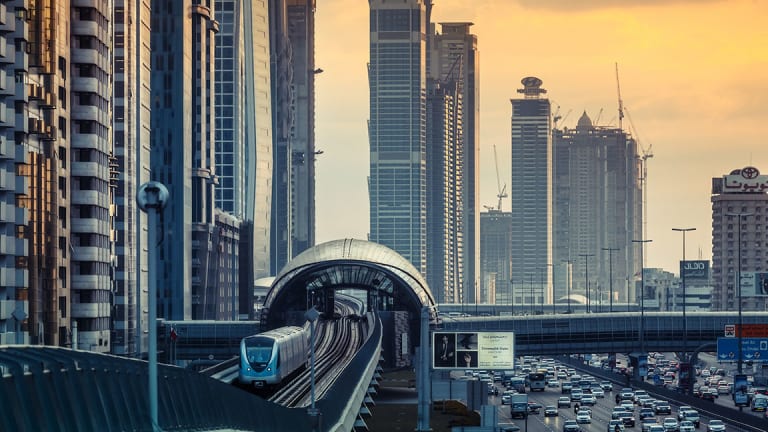 The Cities With the Most Innovative Transportation Futures
As cities grow more crowded, mobility plays a key role in their success. Which cities have the most promising outlook in transportation solutions?
Anyone who remembers The Jetsons might remember the family's flying bubble car or George Jetson shooting through a pneumatic tube that transports him to Mr. Spacely's office in the year 2062.
As cities around the world become more congested and their air grows more polluted from crowded roads, mobility and transportation becomes an increasingly critical issue.
Mobility in cities plays a central role in their economic prosperity, according to research by Deloitte, which recently published a report examining the future of mobility in cities around the world. 
According to Deloitte, an international professional services and consulting network, success of city mobility tends to stem from intelligent integration and innovation rather than simply seeking more funding.
The report, the 2019 Deloitte City Mobility Index, reviews major cities on key aspects of mobility and the resulting relationship to economic performance. The report assesses each city's ability to transport its citizens both now and in the future and therefore its potential to bring prosperity to the city.
So where are the transportation leaders?
To assess the situation around the world, Deloitte examined what mobility could be in a truly smart, livable, economically vibrant city. The report scores more than 50 cities across 60 data parameters. The data is primarily from 2016 and 2017. Major themes were: the performance and resilience of transportation systems, the service and inclusion, and vision and leadership.
TheStreet sorted the cities based on the innovation performance metric. The top cities are labeled Global Leaders, followed by Top Performers, Contenders, Aspiring, and Emerging. We included the percentage of the transportation ecosystem that is made up of private cars, the types of transport options available from principal transport authorities, and the cost of a monthly transport pass in U.S. dollars.
Based on the 2019 Deloitte City Mobility Index, here are the cities with the most innovative transportation futures.