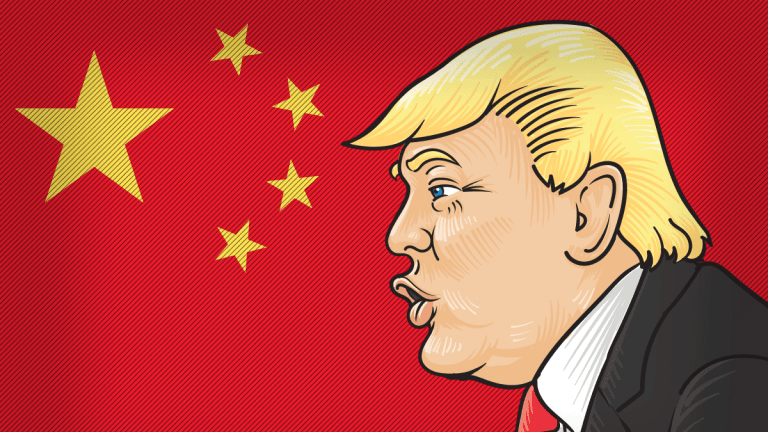 China's New Tariffs on U.S. Stem From Domestic Political Calculus, Goldman Says
China's plan to impose new tariffs on U.S. imports might not be the best for the Asian country's economy, but it might be a politically savvy move from the standpoint of the country's leaders, Goldman Sachs says in a report.
When slapped in the face, respond with a slap in the face. 
That's the playbook that China might be following as the Asian country's leaders retaliate against President Donald Trump's recent escalation of the trade war between the world's two biggest economies, analysts for the Wall Street firm Goldman Sachs wrote Friday in a report.
China said earlier in the day that it would impose up tariffs on over 5,000 U.S. products, including soybeans and petroleum, worth a combined $75 billion. The country also will resume import duties on U.S. automobile components, which had been on pause since December. 
So far, China has retaliated against the U.S. every time Trump ratcheted up the stakes in the dispute, according to Goldman, so the move shouldn't come as a surprise. Trump announced plans on Aug. 1 to impose a new tariff on Chinese imports, but later delayed the move to mid-December to avoid hurting retailers ahead of the holiday shopping season.   
"It could be argued that not doing anything in retaliation might be in the interests of the Chinese economy, but we believe this would be not acceptable politically," the analysts wrote. "The government clearly indicated it would retaliate a number of times, so this action should not come as a surprise."
The S&P 500 Index slid 2.1% on the escalation of the trade dispute, even as Federal Reserve Chair Jerome Powell said in a highly anticipated speech at a conference in the Jackson Hole valley of Wyoming that he would use all the central bank's tools to prolong the current U.S. economic expansion, already the longest in history.
According to the Goldman analysts, the odds of a 0.25-percentage-point interest-rate cut by the Federal Reserve in September rose to 80% "following Chair Powell's remarks and the additional trade war escalation this morning." Previously they had tabbed the odds at 75%. 
The Fed's key interest rate is currently set in a range between 2% and 2.25% following a rate cut last month, the first in more than a decade. 
The trade war could be due for further escalation, with Trump tweeting on Friday that he would respond to China's tariffs "this afternoon." 
"They have stolen our Intellectual Property at a rate of Hundreds of Billions of Dollars a year,& they want to continue," Trump wrote. "I won't let that happen! We don't need China and, frankly, wold be far better without them." 
And Peter Navarro, the Trump administration's director of the Office of Trade and Manufacturing, told Fox Business Network on Friday that "we know China's going to do what it's going to do."
"I think the risk here for China, when it does things like this, is simply to galvanize support even more for the president," Navarro said, according to a transcript. 
The Goldman Sachs analysts wrote that Trump's recent decision to delay the next round of U.S. tariffs might have been viewed by Chinese officials as a sign of "weakness" in the negotiations -- emboldening them to dig in.
Trump's move "could even paradoxically prolong the trade war since it has been seen as a sign of weakness, at least by some in China, and could make the Chinese government less willing to soften its stance to reach a compromise," the analysts wrote.   
Below is a sampling of other comments from Wall Street analysts, investors and economists regarding Friday's developments in the trade war: 
Scott Anderson, chief economist at Bank of the West, a unit of the French bank BNP Paribas:
    The global trade system that the U.S. set up following World War II appears to be splitting in two today. Macroeconomic policy makers in Washington and around the world have few good fiscal policy or monetary policy tools to offset the ensuing economic and financial damage.
Nigel Green, CEO of deVere Group, an advisory firm:
China and the U.S. are playing a dangerous game of brinkmanship, which will inevitably dent global growth at a time when the global economy is headed for a serious downturn. Both sides are getting hurt by the ongoing tit-for-tat trade war, and given that they're the world's two largest economies, its negative impact is far-reaching and intensifying. There's some serious collateral damage. It is likely that there will be further retaliations in the form of tariffs, punitive sanctions on each other's nation's firms and, possibly, currency devaluations.
Agathe Demarais, global forecasting director at the Economist Intelligence Unit:
China has presented its decision as a "forced move to deal with US unilateralism and protectionism," making it clear that this development only represents a proportionate reaction to perceived U.S. aggression. The recent rise in nationalist, patriotic behavior in China means that it would have been impossible for the Chinese government not to react."