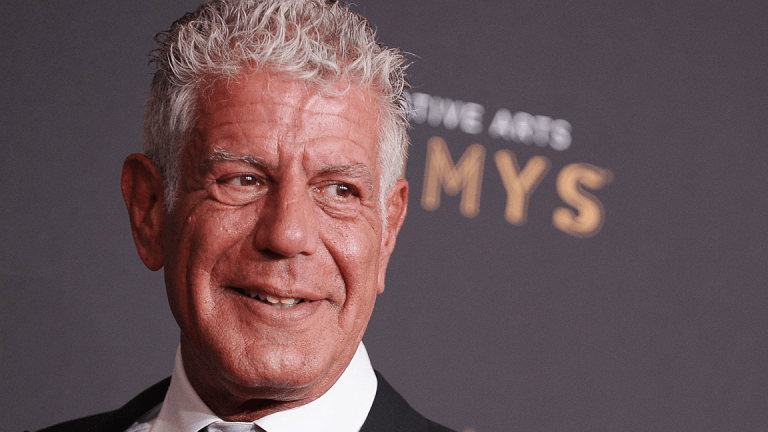 Celebrity Chef Anthony Bourdain Dies at 61
Anthony Bourdain was found unresponsive in a French hotel Friday, says CNN.
Anthony Bourdain was found unresponsive in a French hotel Friday, says CNN.
Anthony Bourdain, the noted celebrity chef and author, has died. He was 61 years old.
The cause of death was suicide, CNN confirmed Friday morning. Bourdain had been in France working on an upcoming episode of his CNN program "Parts Unknown." He was found unresponsive in a hotel room by his friend Eric Ripert, a noted French chef.
"It is with extraordinary sadness we can confirm the death of our friend and colleague, Anthony Bourdain," CNN said in a statement Friday morning. "His love of great adventure, new friends, fine food and drink and the remarkable stories of the world made him a unique storyteller. His talents never ceased to amaze us and we will miss him very much. Our thoughts and prayers are with his daughter and family at this incredibly difficult time."
Season 11 of his CNN series premiered last month. CNN is owned by Time Warner Inc. (TWX) .
Bourdain's passing comes just days after revered fashion designer Kate Spade took her own life in New York earlier this week. Spade hanged herself with a scarf in her apartment.
Suicide has become a growing cause of death in the U.S. The Centers for Disease Control and Prevention released a report Thursday that showed suicide rates increased by 25% across the U.S. over the two decades ending in 2016. Twenty-five states experienced a rise in suicides of more than 30% in that time frame.
Bourdain had been candid about his former substance abuse problems. He told Biography.com in 2016, "All I can tell you is this: I got off of heroin in the 1980s. Friends of mine from the '70s and '80s, they just got off five, six, maybe 10 years ago. And we're the lucky ones. We made it out alive. There are a lot of guys that didn't get that far. But you know, I also don't have that many regrets either."
"I'm still here -- on my third life, or maybe fourth. Who knows? I should've died in my 20s. I became successful in my 40s. I became a dad in my 50s. I feel like I've stolen a car -- a really nice car -- and I keep looking in the rearview mirror for flashing lights. But there's been nothing yet," Bourdain said at the time. 
If you or someone you know needs help, call the National Suicide Prevention Lifeline at 1-800-273-8255.