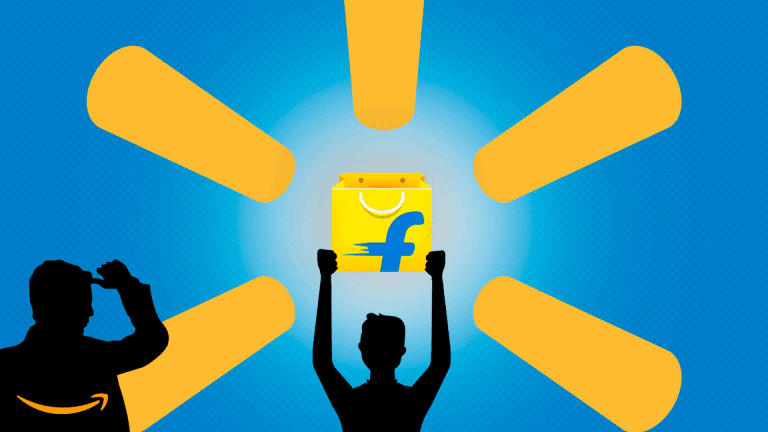 Amazon, Shunned by Flipkart for Walmart, Is Still a Major Contender in India
Flipkart's board approved an agreement to sell about 75% of the company to a Walmart-led group for $15 billion.
Flipkart's board approved an agreement to sell about 75% of the company to a Walmart-led group for $15 billion.
Now that it appears that Amazon.com Inc. (AMZN) - Get Report has lost out to rival Walmart Inc. (WMT) - Get Report  to buy Indian e-commerce giant Flipkart Online Services Pvt. Ltd., the "Indian Amazon," what's next for the real Amazon? 
"They do have a Plan B in India," Loup Ventures managing partner Gene Munster told The Deal, a sister publication of TheStreet, on Friday, May 4. "[It is] stick with Plan A and grow your business organically."
Flipkart's board approved an agreement to sell about 75% of the company to a Walmart-led group for $15 billion, according to Bloomberg. That decision came two days after Amazon tried to block the Flipkart-Walmart deal with a $2 billion breakup fee, considered especially high by those who follow acquisitions. Under the proposed Flipkart-Walmart deal, reported Bloomberg, SoftBank Group Corp. will sell all of its more than 20% stake in Flipkart through an investment fund at a valuation of some $20 billion, and Alphabet Inc. (GOOG) - Get Report may join in the deal. Terms could change before the closing, which is expected within 10 days.
Amazon isn't left empty-handed by any stretch. It has about a 35% market share in India — about the same as Flipkart. Nonetheless, added Munster,  "It's a big setback for Amazon," especially because the company has zeroed in on India for some years and invested heavily, trying to duplicate the success it has had in the U.S. and Western Europe.
"It's clear that they [Amazon] think[s] there is a huge opportunity there, as they have called out investment in India as one of their top five or six spending initiatives several times in the last couple of years," Wedbush Securities managing partner Michael Pachter told The Deal Friday.
Succeeding in India is a major priority for both Amazon and Walmart, because some of the growing population is upwardly mobile. By 2026, Indian e-commerce is expected to rack up $200 billion in sales, according to the India Brand Equity Foundation.
Neither Amazon nor Walmart would comment for this story when contacted by The Deal.
Yet for all the players, it's an uphill slog, and no one has yet found a way to be profitable. The complex makeup of the population makes selling in India challenging.
India had 1.3 billion people in 2016, according to the World Bank. It has 22 official languages and at least 100 more that are spoken; the population worships in different religions, including the three largest, Hinduism, Islam and Christianity; and millions live in poverty. According to the World Bank, one in five Indians are poor, 80% of whom reside in rural areas.
In that complexity lies a solution, according to Sachin Dev Duggal, co-founder of Engineer.ai. One way Amazon and other e-commerce companies can improve profitability is to broaden their focus away from their core customers, upper-income Indians, to those on the lower rungs, he told The Deal on Friday. He said all the Indian e-commerce sites have reached a saturation point among upper-income shoppers.
Amazon and all rivals "need to invest in technology, processes that allow predictive delivery and last-mile delivery," said Duggal. Finally, the sites need to stock many more items at much lower price points to be shipped from warehouses close to customers.
Munster disagreed with Duggal, however, saying a better return on investment comes from capturing those Indian middle-class shoppers who've yet to commit to a shopping platform. 
Amazon.com Inc. is a holding in Jim Cramer's Action Alerts PLUS Charitable Trust Portfolio. Want to be alerted before Cramer buys or sells AMZN? Learn more now.