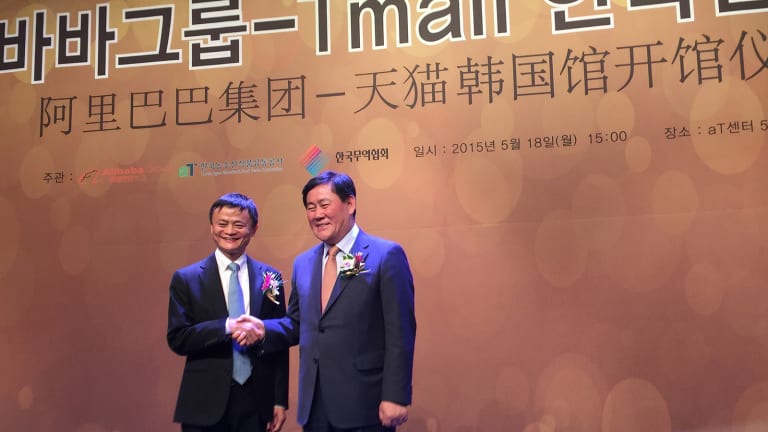 Alibaba CEO Jack Ma Just Sent a Warning to Trump
Ma sees the escalating rhetoric between the U.S. and China and he doesn't like it.
Alibaba Group Holding Ltd  (BABA) - Get Alibaba Group Holding Limited American Depositary Shares each representing eight Report CEO Jack Ma has seen enough saber-rattling from the U.S. and China and wants to avoid a trade war, according to an Op-Ed published in The Wall Street Journal Wednesday. 
Ma defended China's trade imbalance with the U.S., one of President Trump's main sticking points for issuing tariffs on Chinese imports, saying that market forces of comparative advantage explain the U.S. deficit. 
The CEO says that the dollars earned from China's trade surplus have been recycled to finance American borrowing, which helps keep interest rates low. 
"China embraced this American-led globalization because it was also the best path for China's development as an emerging economy. To raise living standards for 1.3 billion people, the Chinese government promoted foreign investment and built the economy on the strength of its large and increasingly skilled labor force. As a result, China became the world's largest exporter, with a significant trade surplus. American consumers benefited from low prices and American corporations made giant profits."
Ma also stated that while the relationship between China and America has been beneficial to both countries over the past 20 years, the relationship between the two countries is bound to change over the next 20 years as China establishes itself as the world's largest economy. 
"With average urban income growing at almost double digits and an emerging middle class of 300 million, Chinese consumers are already driving massive demand for imports from all over the world. Last year, President Xi Jinping said at the World Economic Forum that over the coming five years, China will import $8 trillion of goods," Ma said. 
The U.S. is at risk of alienating a potential consumer base of 1.3 billion people if it continues down its protectionist path, Ma warned. 
"If we encounter trade barriers, we will have to work harder. While we may face setbacks in the current protectionist environment, I remain confident and look forward to the next 20 years.," Ma said.