What a Decimated Sports Industry Means for Casino Stocks
With March Madness cancelled, the NBA season suspended and Major League Baseball's season in question from the coronavirus, the sports business is decimated for 2020. 
But the NFL's cancellation of all public events is hurting casino stocks. MGM resorts  (MGM)  and Wynn Resorts  (WYNN) , setting down Las Vegas operations, are seeing their share prices fall 70% and 66% from there all-time highs, respectively. 
William Hill U.S. CEO Joe Asher told Sports Illustrated's Bill Enright that it is a "tough time in our industry ... and obviously really bad timing given this all happened right around the time of March Madness."
And sports betting isn't alone. All sectors in the U.S. stock market continue to reel from the coronavirus as the virus has triggered  a bear market and fears of continued economic trouble in the weeks ahead. "Sadly, this diabolic illness has our number," TheStreet's founder Jim Cramer wrote.   
Is sports betting first up on the coronavirus' call list? 
Watch the video above to see the full conversation with Sports Illustrated's Enright:
Watch: Your Guide to the Latest Sports and Business News on the Coronavirus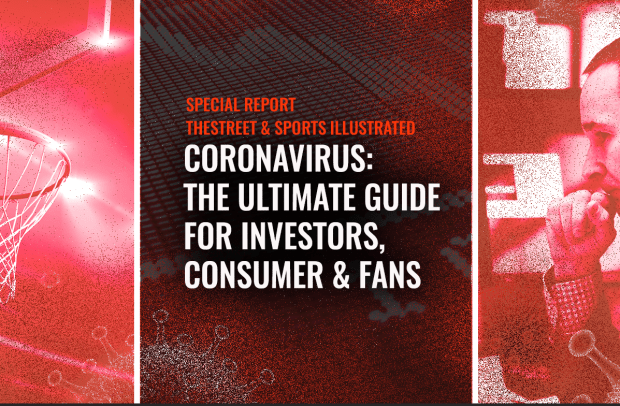 Video Transcript:
TheStreet's Jacob Sonenshine: Casino stocks are in flux, which is reflective of the broader sports and business environment, which is decimated by the coronavirus here to discuss the sports illustrated, a senior sports fantasy and gambling analysts bill and write thanks for bringing her bill. So explain the how the casino business is being decimated by the sports business, which has been decimated.
Sports Illustrated's Bill Enright: Yeah. So if you look at what's happening in Las Vegas, the Wayne was the first casino to close its doors due to cov ID 19. Then MGM quickly followed. Some, several other casinos have since closed their doors. Um, you know, this week and if you look at what the NFL draft had planned for Las Vegas at the end of April, you know, they were expecting 700,000 people to fly to Las Vegas, travel there, eat at their restaurants, gamble in their, Christina knows wager on their, at their sports books. And now the NFL had canceled all public events for the NFL draft. So that's going to be a really big hit for all the revenue that Las Vegas was expecting with the draft coming to town.
Sonenshine: And now switching to a slightly different business, but one that is in the same arena here, no pun intended, you had an executive tell you that he's expecting zero revenues for a long time.
Enright: Yeah. So, so that's the sports book business. And for years, you know, the sports books, the, the phrase the house always wins is relevant for a reason, but right now the house is not winning. It's not really losing either because no sports are being gambled on. If you look at what is supposed to be happening right now in March, uh, the start of March madness, NBA, NHL baseball was supposed to start in about four weeks from now. Um, none of those sports are being played and thus no one is able to gamble on anything. And the CEO of a William Ascher, uh, excuse me, uh, William Hill sports book, Joe Asher said that right now he's, I asked him, you know, March is typically your biggest month for revenue. What's your expected revenue now? And he said very bluntly. Right now it's, it's zero because without any action to take wagers on the sports books business is really going to struggle. Um, until we see some of these professional leagues get back into action.
Catch up on the Latest Videos on TheStreet!