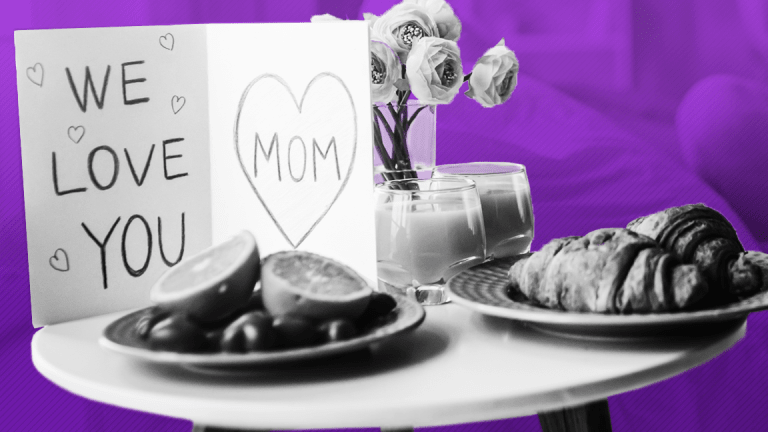 A Mom's Mother's Day Message to Wall Street: 'Enough Already'
A Mother's Day message to Wall Street. Why are women and mom's still lagging when it comes to leadership and pay parity. Yes. it's 2018. Watch videos, listen to podcasts.
A Mother's Day message to Wall Street. Why are women and mom's still lagging when it comes to leadership and pay parity. Yes. it's 2018. Watch videos, listen to podcasts.
As I sat down to write this weekend's video newsletter TheStreetRewind, I quickly became frustrated with my tribute to working moms on this Mother's Day weekend. 
Why? Well, no matter how I framed it, the facts were still upsetting. Here we are in 2018 and women still woefully lag in leadership, boardrooms and pay parity.
As a mother of two daughters who are about to enter the workforce, I have a message for Wall Street. Enough already. That's right. Talk less. Do more. 
During my career, I've had a front row seat to so many of these issues. So please, allow me this Mother's Day moment. Call it a gift to myself. 
CEO Moms
Did you know that there are only 24 women CEOs in the S&P 500, and even fewer who are moms? That's according to BoardEx, a service of TheStreet Inc.
Because there are so few, I decided to list them here. Take note, and consider them when you are building out your portfolio. Ah, yes, The Power of Money!
One Step Forward...
According to a recent story written by TheStreet's Anders Keitz, Women Are Gaining Seats Without Power on Corporate America's Boards. How outrageous is that? They are adding more women (talking the talk) but giving them no power (not walking the walk).
This, despite the fact that studies show a diverse board can lead to better financial results.
Other findings according to a March dataset compiled by BoardEx, a relationship mapping service of The Deal and its parent company, TheStreet Inc.:
There are just 21 female chairs at S&P 500 companies
Men outnumber women in leadership roles on all board committees by more than four to one
821 women who hold a total of 977 committee chair positions for companies in the S&P SmallCap 600, S&P MidCap 400 and S&P 500. That's compared with 3,993 men who hold a total of 4,595 committee chair positions.
While we are all thankful for the progress. The progress is TOO SMALL AND TOO SLOW. It is 2018 people.
The Sabotage Factor 
Admit it. Women sometimes sabotage themselves and sabotage other women too. The 'WHY' really doesn't matter. But, it's time to change that. 
ASK for that raise, DEMAND the title you deserve, speak DIRECTLY and UNAPOLOGETICALLY for it.
Most important, SUPPORT other women. Admire them for their strong traits and I guarantee you, you both will benefit from it! 
Jane Newton knows this all too well. She is a managing partner and wealth advisor at RegentAtlantic. She is also the founder of the Wall Street Women Forum. She conceived the idea for the forum right after the 2008 financial crisis. "In 2008 and 2009, the world shifted for all of us," she says.
It's designed exclusively for women with significant experience and responsibilities in the financial services industry. You can imagine just how honored we felt when Jane invited me and colleagues Tracy Byrnes and Anders Keitz to this year's forum. We learned a lot! And it inspired many ideas for upcoming stories.
Newton is a true #AlphaRising. She is breaking barriers and helping so many women along the way. Not that long ago we launched our inaugural #AlphaRising Podcast series with Newton. Check it out here.
The State of Women on Wall Street 
Our Alpha Rising's Special Report which aired during Women's History Monthalso tackled some of biggest issues facing women in business today. It is worth a listen. Then, listen with your daughters.
Our panel included:
The Power of Money: We seem to forget, that while women might NOT be leading the boardrooms. They DO control America's money.  Women Control Over 50% of Household Wealth, according to Schwab's ( (SCHW) - Get Report ) Liz Ann Sonders and that gives women the power to effect change. Sonders, an #AlphaRising Alumni, sat down with our Tracy Byrnes.
Corporate Boards: In June 2017, TheStreet's Anders Keitz wrote Five S&P 500 Boards Have No Women as Gender Balance Growth Stalls. Nearly one year later...
Shame on You Award:
Deep Breath
And while I may be frustrated by The State of Women on Wall Street, I'm also inspired by some incredible women I have met along the way. Powerhouses who walk the walk and talk the talk.  
These women lead companies, rule the boardroom and move the markets. Tracy Byrnes (an #AlphaRising herself) and I met them while taping TheStreet's series Alpha Rising. Here are a few.
The Children's Place (PLCE) - Get Report CEO Jane Elfers, who is thriving in the age of Amazon, told us about how she got the jobs no one wanted. Watch here.
Birchbox CEO Katia Beauchamp who revolutionized the beauty business all while having babies! (She was pregnant - again! - when Tracy met her!)
Rent the Runway co-founder Jennifer Fleiss, who not only redefined formal wear for a generation, but now spends an exorbitant amount of time mentoring the next generation of female leaders. We caught up with her as she was leaving Rent the Runway and heading to a new opportunity!
Julie Sweet, CEO of Accenture North America: We Are Committed to Gender Parity by 2025
And just this week we caught up with Louise and Nina Gunderson - a powerhouse mother/daughter financial advisory team with UBS Financial Services (UBS) - Get Report in New York. We got to talk with them about everything from the state of the industry to the enormous transfer of wealth from men to women over the next few years and what it's really like to work with your Mom. Listen here: UBS Powerhouse Advisory Team on the State of the Industry, Women and Millenials
THAT is just the short list. Plus, there are #AlphaRising colleagues like Michelle Lodge, Senior Retail Editor, and Anders Keitz, BoardEx Reporter, who writes about many of these important issues facing women today. 
Well, there you have it. The end of my Mother's Day message.
As you can see the state of working moms and women has come along way and still has a long way to go.  And while I'm frustrated with where we are, I remain hopeful and optimistic. I'm inspired by so many inspirational women who have crossed my professional path.
And just like any mom would do - I'll be rooting them on - for our daughter's sake.
Have an #AlphaRising Inspired Mother's Day! 
Editor's Note: This article is a small excerpt from TheStreet's Video Newsletter REWIND & UNWIND, the week's best videos along with a special cocktail recipe just for Rewind fans. This week Frank Caiafa, beverage consultant and author of The Waldorf Astoria Bar Book created The Hinkley. This beautiful greenish-blue drink that's perfect to sip for Mother's Day! Sign up here or email me at Julie.Iannuzzi@thestreet.com.