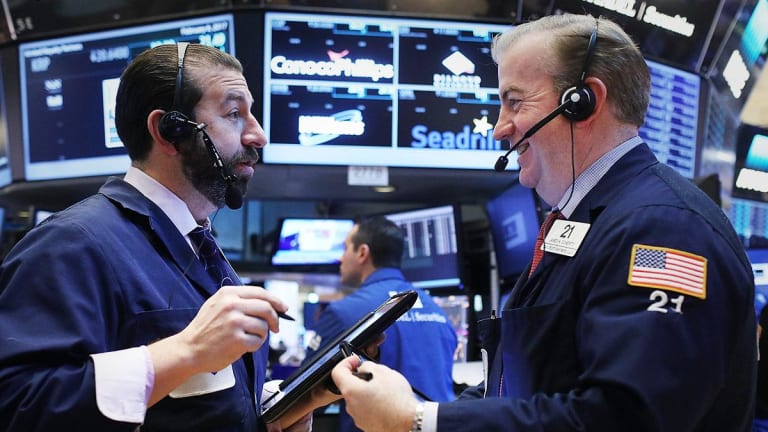 What Investors Need to Know About Mexico Tariffs, Gap and Uber Earnings
How should investors react to the tariffs on Mexican goods? What about Gap, which reported earnings that disappointed Wall Street? And, of course, how should investors look at Uber post-earnings?
Happy Fri-yay!
Jeff Marks, senior portfolio analyst at Jim Cramer's Action Alerts Plus investing club, breaks down what he's paying attention to after tariffs on Mexico were announced Thursday night and his thoughts on Gap (GPS) and Uber (UBER) post-earnings.
What's Going on With the Tariffs?
President Donald Trump tweeted out that he was imposing tariffs on Mexico starting June 10. 
The tariffs could go to 25% by October 1, if President Andres Manuel Lopez Obrador doesn't move swiftly enough to tackle the crisis, Trump said in a statement. 
"If the illegal migration crisis is alleviated through effective actions taken by Mexico, to be determined in our sole discretion and judgment, the tariffs will be removed," Trump's statement said. 
After a week of volatility, what will it take to turn around the markets? 
"We've G20 coming up, so if we could just see better relations between the U.S. and China, that would be big. And that in any type of quick resolution between [the U.S. and China] and with this new spat with Mexico now [would] obviously [be] a plus," said Marks.
Gap's Disappointing Quarter
Gap said adjusted earnings came in at 24 cents per share, below analysts expectations of 32 cents. Group revenues fell 2% to $3.7 billion, missing estimates of $3.78 billion, while same-store sales slumped 4%, the steepest in three years, in what CEO Art Peck called an "extremely challenging" quarter.
"As you know, this is one of the coldest, wettest quarters in memory, and while traffic and sales trends improved, as we move through March and April, it was difficult to overcome the extremely slow business that we and others encountered in February," Peck said on a conference call late Thursday. "In addition to the poor weather, we had late spring breaks, a late Easter and delayed and lower tax refunds thrown into the mix, as well. We also missed opportunities on our own, and we could have executed as always better across places in our brands."
Gap's earnings miss comes after disappointing quarters from Canada Goose (GOOS) , Abercrombie & Fitch (ANF) and PVH (PVH) . 
Should investors run for the hills when it comes to apparel companies? 
"It's a tough group right now because kind of like as what we're going to see with the market distinguished between the winners and losers, you're going to see that too. So on the margin side, the companies that can maintain their margins are going to be the ones that already moved out of China. And then hopefully also moved out of, perhaps, Mexico to just basically what's going on here. So you'll get winners and losers there," Marks said.
Uber's First Earnings Report
Uber reported earnings after the bell Thursday.
Diluted net loss per share for Uber's first quarter of 2019 came in at $2.26, beating Wall Street's expected loss of $2.30 but wider than the year-ago quarter's loss of $1.84 per share. Revenue rose 20% year-over-year to $3.09 billion, beating analyst's estimates of $3.08 billion. And the closely-watched gross bookings numbers rose 34% to $14.649 billion.
Uber spoke heavily about its "healthy competition" with Lyft (LYFT) . But what exactly does that mean for Uber going forward?
"I think what [Uber was] talking about is some of the pricing environment improving down the road. And I think what that more is, is less price gouging between Uber and Lyft just trying to beat on price, beat each other on price and kind of working together, uh, to, to get their margins up and get better pricing opportunities there," Marks said.
Related. Jim Cramer: Trump Doesn't Care About the Market Impact of Mexico Tariffs
Editor's Note: Action Alerts Plus senior analyst Jeff Marks is filling in for Jim Cramer. Cramer will return on Monday.