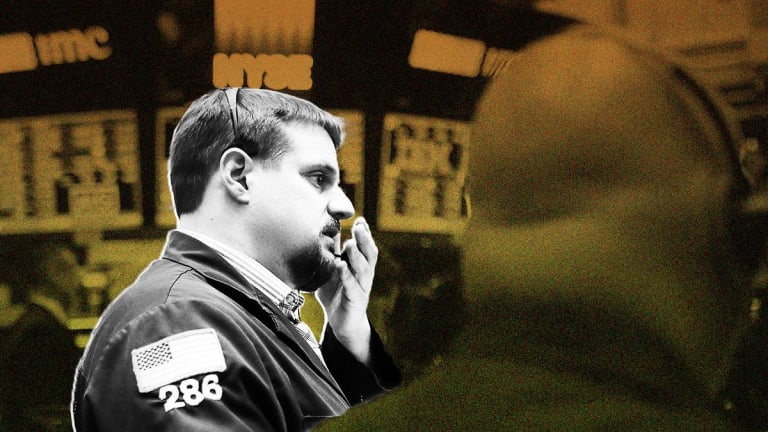 Nike Pens Letter to Trump, Home Depot Reports Earnings - What You Need to Know
What's moving the markets Tuesday? Action Alerts PLUS senior analyst Jeff Marks breaks down Nike's letter to the president, what to watch from Real Money Stock of the Day Home Depot and some of the biggest retail earnings reports.
Happy Tuesday. 
Jim Cramer is out, but Jeff Marks, senior portfolio analyst for Cramer's Action Alerts PLUS investing club, is back with the latest market news and analysis. 
Marks is tackling Home Depot's (HD) - Get Home Depot Inc. (The) Report earnings, the letter that Nike (NKE) - Get Nike Inc. Report , Under Armour (UA) - Get Under Armour Inc. Class C Report and JC Penney (JCP) - Get J. C. Penney Company, Inc. Report , among other athletic apparel and shoe companies, sent President Donald Trump, and, of course, he's taking a look at some of the biggest retail earnings. TJX (TJX) - Get TJX Companies Inc. (The) Report , Kohl's (KSS) - Get Kohl's Corporation Report and JC Penney (JCP) - Get J. C. Penney Company, Inc. Report all released earnings before the bell Tuesday.
Home Depot's Earnings
Real Money Stock of the Day Home Depot posted better than expected earnings before the bell Tuesday. 
The company reported diluted earnings for the three months ending on May 5 came in at $2.27 per share, up 9.13% from the same period last year and 9 cents ahead of the consensus Street forecast. Group revenues rose 6% to $26.4 billion, just ahead of analysts' forecasts. Home Depot also said same-store sales in the U.S. rose 3% from last year.
"We were pleased with the underlying performance of the core business despite unfavorable weather in February and significant deflation in lumber prices compared to a year ago," said CEO Craig Menear. "Looking ahead, we remain excited about the momentum we are seeing with our strategic investments."
"I was happy with the top and bottom line beat, same-store sales, didn't miss. A lot of that had to do with weather, particularly in February. So this is a very interesting part for the call. So February was so bad that 17 out of the 19 regions that they operate in had negative same-store sales and you do not see that from as high from a quality retailer like Home Depot. But things got better as they moved through the quarter rightfully so because the weather began to improve," said Marks. "And by the time that was done, all those regions except for two had positive comps and those two that were still negative were dealing with some tough year over year comparisons from a weather-related impact. So, you know, management backed their guidance. They still seem pretty confident through the rest of the year."
Nike, Under Armour and J.C. Penney Have a Presidential Pen Pal 
Nike, Under Armour, J.C. Penney and other athletic apparel and shoemakers penned a letter to Donald Trump and other White House advisers to urge the White House to reconsider tariffs placed on footwear made in China. 
The group said that the tariffs could end up costing $7 billion in additional costs, which would be passed on to the American consumer. 
The letter was sent to Commerce Secretary Wilbur Ross, Treasury Secretary Steven Mnuchin, economic adviser Larry Kudlow and the president.
"There should be no misunderstanding that U.S. consumers pay for tariffs on products that are imported," the letter read. "As an industry that faces a $3 billion duty bill every year, we can assure you that any increase in the cost of importing shoes has a direct impact on the American footwear consumer."
"I think that the Trump administration they'll read the letter, they'll respect the letter, but I don't think they're going to give in to these companies concerns. Remember, this is an administration that believes that the tariffs are being paid for by China," said Marks.
A Retail Roundup
The week of the retail earnings is upon us.  
TJX
J.C. Penney
Kohl's
Stick with @TheStreet on Twitter for the latest on earnings and the biggest headlines driving the markets.
"TJX, I will say that was probably the best of the bunch off-price retail remains probably the strongest part of retail right now with the consumer. J.C. Penny, that's just too tough of a turnaround for me. I have patience as a long-term investor, but...It's just far too tough," said Marks. "And Kohl's, it's another one that we have for Action Alerts PLUS, we're going to talk a lot more about that one on the upcoming video after this. But I would say is down here of this sell-off, it's got a really good yield. I don't think it's going to be a value trap like Macy's looks like right now because their CEO, Michelle Gass has a tremendous amount of initiatives in place, whether it's with Amazon, Planet Fitness, Aldi, I do expect them to drive sales there."
Related. Jim Cramer: The Forbidden City of Stock Sectors
Watch Jim Cramer's Daily NYSE Show and Replays Below