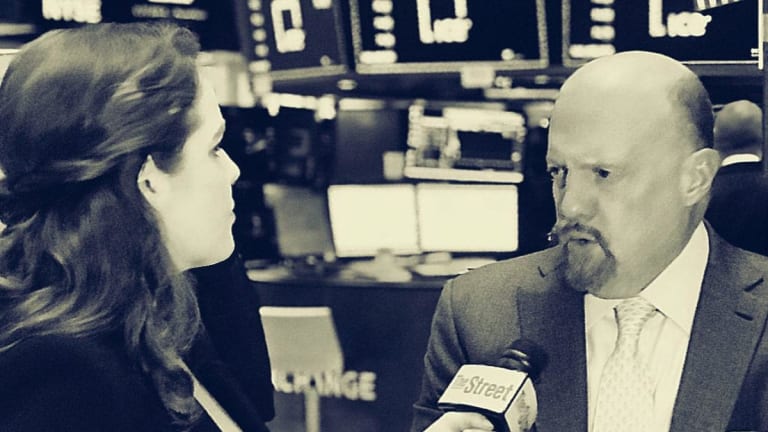 It's been a year since I started working with Jim Cramer. 
In that year, I've learned a lot of things from the man behind Mad Money and the founder of TheStreet.He's taught me quite a few things, not just about the stock market, but also about life itself. 
So, to celebrate one year since I first appeared next to Cramer, I've decided to highlight the top three lessons he's taught me. 
Don't Ask a Question You Don't Know the Answer to
This one appears obvious, right?
Well, it may not seem that way.
When you're learning how to interview in your journalism classes, you're told to always ask questions. 
But one thing that Cramer has taught me is to go a step further. If you're going to ask a question, know the answer or know enough that you're going to be able to guess the answer. 
Think about it this way -- you need to do your homework. It's one of Cramer's biggest lessons in investing, but I think it goes further than investing. 
If you're going to seek answers, do the homework before you even start asking the questions. 
Speak Up When You Feel the Need to
If you don't believe that you can make a difference, you're lying to yourself. 
Cramer has been playing close attention to how companies can better themselves through corporate governance and sustainability. 
He even coined a new term, impact per share (IPS) so that investors can judge a company based on its focus on sustainability. 
Earlier this summer, Cramer told me on TheStreet's Facebook live show, "We're talking about if you in the new generation--if you want the best people, you have to be talking about your societal impact. And I'm not just talking about sustainability like people want to know about...your footprint. People wanna know what you're giving back. People want to know what your game plan to help employees in bad times. How do you feel about gender equality, protection for minorities that are abused in this country?"
And he's been very outspoken on the negative impact of companies like Juul and how investors, and the government, should approach companies that are hurting people. 
Cramer has used his platform to speak out, and has even admitted to me that he's changed. 
Here's what he told me:
I've spent my career being a dollar sign represented by a man and I know that my kids have been all over me to stop being just a person who helps you make money. My daughter has said, "how can you live with yourself? How can you know things and not say them? How can you be objective so to speak about an island of plastic in the Pacific? How can you be objective about tobacco?" And I have to respond to youth, respond to millennials who are really onto my act. I didn't think it was an act. I thought I was doing everything I could to make people money but was I doing everything I could to help people in health to help the planet?...Am I not a stakeholder of the earth?
Be Kind.
This one sounds easy. And it's something that my mother has taught me since day one. 
But, working with Cramer, I've seen a couple of times where you could get annoyed. Where a fan approaching you could be seen as annoying, especially when you're on a time crunch. 
And yet, I've seen a lot of patience and kindness from Cramer. It's one thing that he constantly turns to me and reminds me about. 
Every day, I stand by the set of CNBC and wait for Cramer so that we can walk to where we film our daily show for TheStreet. And occasionally, there are people on the floor who wait for Cramer to get off set so that they can say hi or ask for a picture. And, without fail, Cramer always does it with a smile and asks about them.
And let me tell you, he is a busy man. Most days he and I only have ten minutes before he has another meeting or something on his schedule. 
It would be easy for him to say no. 
But instead, he takes it all in stride and afterwards, will turn to me with a smile and say, "I wouldn't be here without my fans."
It's Been Fun
I could say so much more about the lessons that I've learned--like how to easily understand what's moving the stocks that go by on the ticker tape, but speaking of which, I have a show to prepare for. 
So here's to one year down, and more to come. 
See you on the floor.