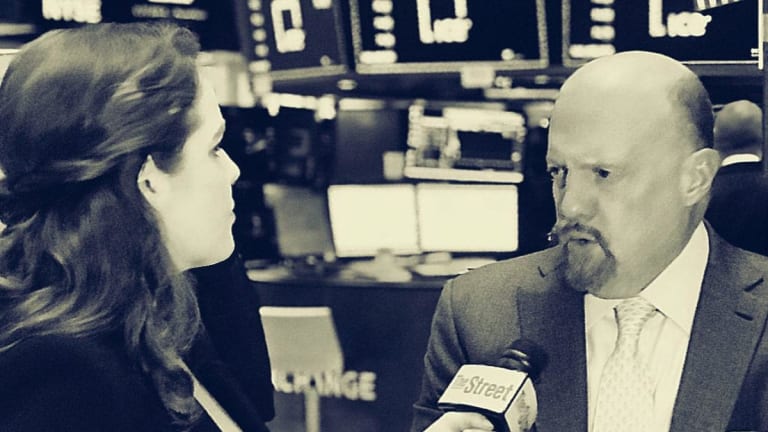 Recession on the Horizon? Jim Cramer on the Yield Curve and Macy's
Jim Cramer weighs in on the yield curve inversion, Macy's and what's on his mind.
Happy hump day!
Jim Cramer weighs in on the yield curve inversion, Macy's (M) - Get Free Report and what's on his mind.
What Yield Curve?
Let's first define exactly what it is. 
TheStreet's Martin Baccardax wrote, "The so-called yield curve, a term for the difference between interest rates of different maturities in the bond market, has 'flattened' throughout the spring and summer months as two-year yields fall in anticipation of interest rate cuts from the Federal Reserve and 10-year yields following suit amid questions over mid-term growth prospects and huge inflows of foreign investment dollars as trillions in fixed income debt outside of the U.S. falls deeper into negative rate territory."
Now here's why that matters: historically, an inversion of the yield curve means that there's a recession on the horizon. 
An inversion--just so investors are caught up--means that the two-year yields rise above the ten-year yields.
So, does this mean that a recession is incoming?
Macy's Earnings
Oof. 
Real Money Stock of the Day Macy's earnings per share disappointed the Street Wednesday morning. 
The company reported earnings per share of 28 cents, far short of the expectation of 45 cents. 
Revenue came in at $5.546 billion, in-line with the Street's forecast. 
And the kicker? Well, Macy's announced that it was lowering its EPS guidance by 20 cents. Here's what the company said in its report, "Based primarily on its second quarter of 2019 performance, the company is lowering its guidance for Diluted EPS, excluding settlement charges, impairment and other costs, by 20 cents."
So, what should investors do with Macy's now? Here's what Cramer thinks. 
Related. Jim Cramer: Don't Bet With the Faceless Algos, Think Long Term Like Buffett
Premium Pick: Macy's Charts Still Short on Magic
Ask the Expert: What is The Future of Cannabis Legalization?
TheStreet Explains:What Is an EPS Estimate?
Dog Days of Summer: Why Investors May Be Seeing the End of the Dog Days of Summer
C-Suite: AMD CEO Lisa Su Talks New Chips, Confirms She's Staying: 'I Have A Lot to Do'
Ready to Retire: The Biggest Threat to Your Retirement? Check Your Basement
Success: Top Women Leaders Share the Keys to Business Success
Subscribe to our Youtube Channel for more videos : Listen our latest Podcasts on Soundcloud
Catch Up: Today's Top News Videos Below