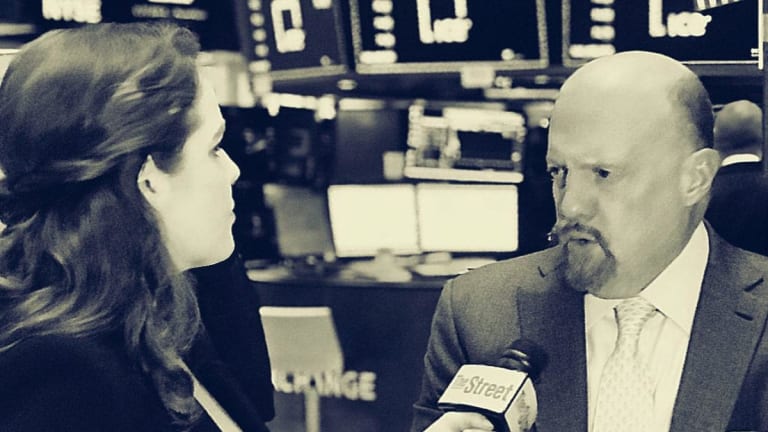 Does China Mean Business? Jim Cramer on Under Armour, McDonald's, Trade War
Jim Cramer weighs in on Under Armour's earnings, McDonald's CEO and the U.S.-China trade war.
Jim Cramer weighs in on Under Armour's earnings, McDonald's CEO and the U.S.-China trade war.
Happy Monday!
Jim Cramer weighs in on Real Money Stock of the Day Under Armour's (UAA) - Get Report earnings, McDonald's (MCD) - Get Report CEO and the U.S.-China trade war.
Under Armour's Earnings
Under Armour posted stronger-than-expected third-quarter earnings Monday, but an ongoing investigation into the sportswear group's accounting practices by federal regulators will likely cloud the company's near-term market performance.
Under Armour said earnings for the three months ending in September came in at 25 cents per share, essentially flat to the same period last year and 7 cents ahead of analyst expectations. 
Looking into the final months of 2019, Under Armour said it expects full-year earnings at the higher end of its prior forecast of between 33 cents and 34 cents per share, and said revenues would be about 2% higher than 2018 thanks in part to lower-than-expected excess inventory, down from its previous estimate of an increase of between 3% and 4%.
As we await further news, is this a wait-and-see moment for Under Armour stock? Here's what Cramer has to say: 
McDonald's CEO Is Out
McDonald's announced Sunday that chief executive and president Steve Easterbrook was fired after "he violated company policy and demonstrated poor judgment involving a recent consensual relationship with an employee," the company said.
Chris Kempczinski is taking over the chief executive and president role, said the company. Kempczinski, former president of McDonald's USA, has also been elected to the board.
However, Cramer's been hyper-focused on breakfast and the competition from Wendy's WEN. 
So, is this firing just a blip in the future of McDonald's?
A Trade War Check-In
Cramer wrote about the U.S.-China trade war and what he needs to see from China in his Real Money column Monday morning.
Here's what on Cramer's mind:
"But let's understand each other. It's been the Chinese leaking endlessly that the talks aren't going well. My reporting has shown over and over again that the Chinese are unreliable in their behind-the-scenes comments, yet because of some sort of unfortunate bias, they are far more trusted than their American counterparts," said Cramer. "To me, the sticking points for this phase will be if there is something else we have to give up besides delaying tariffs -- as that isn't really that big an ask. That's what makes me a tad suspicious about this whole truce happy talk. What are the Chinese going to do to show they mean business ahead of the talks?"
Bull Market Fantasy: LIVE TUESDAY & THURSDAY @10:45AM
Subscribe to our Youtube Channel for more videos : Listen our latest Podcasts on Soundcloud
Catch Up: Today's Top News Videos Below