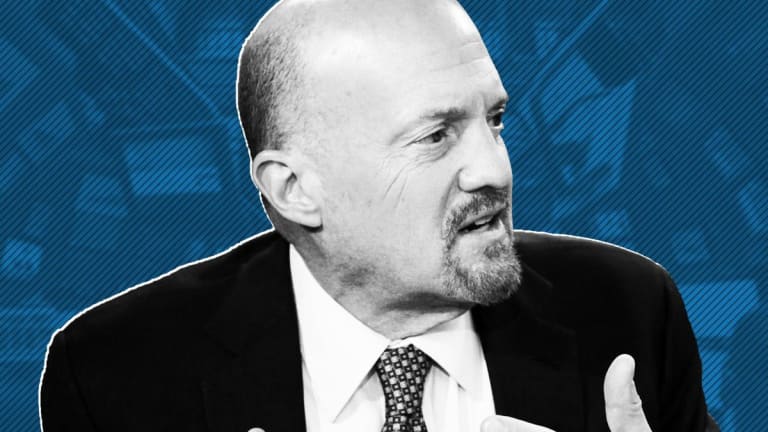 Jim Cramer Breaks Down Uber, Salesforce, FAANG and the Federal Reserve - LIVE
Jim Cramer weighs in on the end of Uber's quiet period, Salesforce's earnings, the probes into FAANG and the Federal Reserve.
Happy Tuesday!
Jim Cramer is keeping a close eye on the end of Uber's (UBER) - Get Uber Technologies, Inc. Report quiet period, earnings from Salesforce after the bell  (CRM) - Get salesforce.com, inc. Report , what the House Judiciary committees probe into tech companies means for FAANG and, of course, what the dovish comments made by Federal Reserve President James Bullard means for the possibility of a rate cut. 
Uber's Quiet Period Is Over
Wall Street is expecting a handful of analyst notes from various firms Tuesday as the company's quiet period expires.
Over 20 analysts initiated coverage of Uber with a buy, showing how bullish Wall Street feels about the ride-sharing company that didn't do as well as the street hoped for when it went public back in May. 
"The stock essentially flat following an 18% decline from its IPO price of $45 as public investors have for now eschewed the long period of loss-making implied in Uber's business model, and it's quite possible that the stock may experience an extended "seasoning" period as it works through pent-up supply from early investors seeking partial liquidity," said Canaccord Genuity analyst Michale Graham, who initiated coverage on Uber with a $55 price target and a buy rating .
With all of the noise being generated around Uber, investors may be curious to know what information is important and what can be discarded. Cramer breaks down what to focus on. 
A Lookahead to Salesforce's Earnings
Salesforce is reporting earnings after the bell Tuesday. 
Analysts expect the company to post earnings of 61 cents per share.
Last Friday, Jeff Marks, senior portfolio analyst with Jim Cramer's Action Alerts PLUS portfolio, broke down the metrics he's paying attention to when the company reports earnings. 
"I think what investors need to focus on is billings and just visibility into their 20% compound annual growth on the top line that they expect to do for the next couple of years," explained Marks. "And if they can produce good billings results and really show that, give the market confidence that they can do that."
While the metrics are important, investors looking to initiate a position in or snap up more Salesforce shares may be wondering when is the right time to buy. 
Cramer's been saying that up to the earnings, investors should stay away from buying. So, when is there going to be a buying opportunity?
The Probe Into FAANG
Here's a breakdown of what investors need to know following FAANG's selloff yesterday. 
U.S. tech stocks led the Nasdaq's slide into correction territory on Monday as lawmakers geared up for what could be a lengthy probe into the biggest and most influential companies in the sector amid reports of a looming antitrust challenge from the Department of Justice.
The House Judiciary Committee unveiled a sweeping "top-to-bottom' review of tech companies late Monday, the first such probe by Congress, following reports of a dual effort from the DOJ and the Federal Trade Commission to tackle the perceived dominance and potential abuses of tech giants such as Apple (AAPL) - Get Apple Inc. (AAPL) Report , Facebook (FB) - Get Facebook, Inc. Class A Report , Alphabet (GOOGL) - Get Alphabet Inc. Class A Report and Amazon.com (AMZN) - Get Amazon.com, Inc. Report .
Without naming specific companies or their services, the legislative body said a small number of "dominant, unregulated platforms" hold great power over commerce, communication, and information sharing over the internet. It cited investigative reporting and oversight by international agencies that have revealed concerns about whether these companies are rewarded for, and have the means to, harm competition.
The investigation would include hearings by the House Subcommittee on Antitrust, Commercial and Administrative Law on the "rise of market power online," said the committee, adding it would conduct a "top-to-bottom review of the market power held by giant tech platforms."
The Possibility of a Fed Rate Cut
St. Louis Federal Reserve President James Bullard made some dovish comments about the possibility of a rate cut. 
Bullard noted Monday that a "darkened" narrative on global trade could mean a U.S. economy "that is expected to grow more slowly going forward, with some risk that the slowdown could be sharper than expected due to ongoing global trade regime uncertainty."
Bullard said that a "downward policy rate adjustment may be warranted soon," triggering a late-session rally that pushed the Dow Jones Industrial Average into positive territory and pushed U.S. Treasury bond yields back to multi-month and multi-year lows.
Related. Uber Showing Signs of a Modest Rally, but the Risk/Reward Setup Is Not the Best
Watch Jim Cramer's Daily NYSE Show and Replays Below