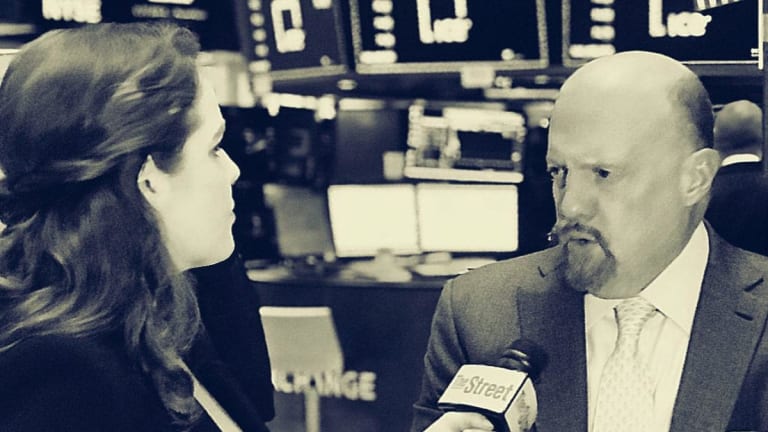 Unicorn Check-In: Jim Cramer on Uber and Peloton's Earnings
Jim Cramer weighs in on Uber and Peloton's earnings.
Whew. 
As Jim Cramer himself would say, "it's earnings season!"
So let's take a look at a couple of the now-infamous unicorn companies that have IPO'd this year. 
Real Money Stock of the Day Uber (UBER) - Get Report reported earnings after the bell Monday, Nov. 4, and then we got Peloton's (PTON) - Get Report first earnings report as a public company before the bell Tuesday, Nov. 5. 
Let's Start With Uber...
Uber reported after the bell Monday. 
Uber said its loss for the three months ending in September expanded to 68 cents per share, well shy of the 54 cent loss Wall Street analysts had been anticipating. The loss, however, was set against improving revenues, which rose 30% from the same period last year to $3.53 billion as gross bookings jumped 29% to $16.47 billion, reported TheStreet's Martin Baccardax.  
"In terms of our 2021 targets, we will -- these are targets at this point and we haven't given formal guidance for 2021, but I will tell you that this will -- we believe that we will be in a position to deliver very strong both top-line and bottom-line growth," Uber CEO Dara Khosrowshahi told investors on a conference call late Monday. "As a company at scale, there will always be trade-offs that we have to make, but we're prepared to make those trade-offs. And I think those kinds of tough trade-offs actually are positive first of the company, but we want to be working on the very best ideas, not just the average ideas."
Can Uber actually be profitable in 2021? Here's what Jim Cramer has to say: 
And Then There Was Peloton...
Whew. Peloton is reporting its first earnings report before the bell Tuesday.
In its first quarterly report as a public company, Peloton posted a net loss of $49.8 million for the three months ended Sept. 30, or $1.29 a share, vs. a loss of $54.5 million, or $2.18 a share, in the comparable year-ago quarter. Analysts polled by FactSet had been expecting a loss of 36 cents a share. Sales came in at $228 million, above analysts' forecasts of $199.1 million, reported TheStreet's M. Corey Goldman. 
"Our strong sales were the result of our effective brand and performance marketing efforts including a new marketing campaign highlighting our financing program for the first time," the company said in a statement. "We also benefited from continued word-of-mouth referrals from our loyal members, which remains one of our largest marketing channels."
What's Going On With Earnings Season?
Cramer wrote about earnings season and how the algorithms are driving earnings season over in his Real Money column Tuesday morning.
"The meaninglessness of quarters must not be lost on you. On Monday, we had a host of companies whose stocks went nuts despite the fact that as recently as a couple of weeks ago -- or even a few days ago -- they reported widely panned numbers. Take Caterpillar  (CAT) - Get Report . When CAT reported, it was plum ugly. The great machinery maker cuts its forecast and told a pretty darned negative story about the world. The stock was looking down six to $129 and change at 8:15 a.m. ET -- and there was no sign that it could possibly be bottoming," wrote Cramer.
Bull Market Fantasy: LIVE TUESDAY & THURSDAY @10:45AM
Subscribe to our Youtube Channel for more videos : Listen our latest Podcasts on Soundcloud
Catch Up: Today's Top News Videos Below