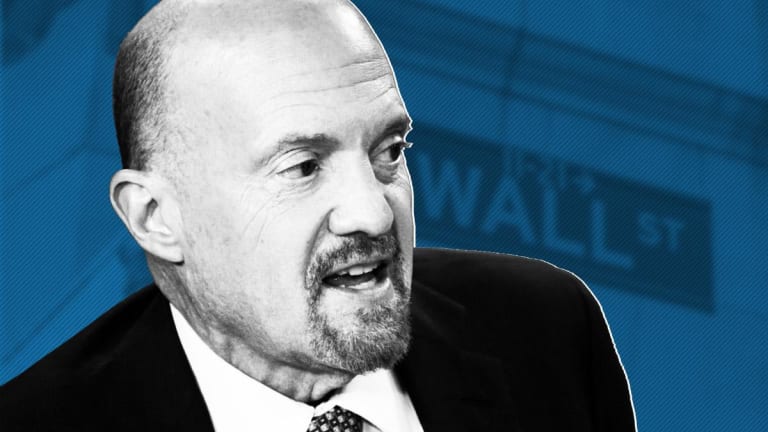 Jim Cramer Talks Trade War, Tesla, Best Buy and L Brands Earnings - LIVE
Jim Cramer digs into his latest Real Money opener on U.S.-China trade war, shares his latest thoughts on Tesla, and looks at Best Buy and L Brands, Foot Locker earnings' reports.
It's almost Friday ...
U.S.-China Trade War Looms
Is the market waking up to the fact that we are in a trade war with China? Jim Cramer seems to think so.
Jim Cramer talks to Action Alerts PLUS' Research Analyst Zev Fima about why this is the moment the stock market is pricing in fears of a trade war and the one thing investors should do.
Related. Jim Cramer: Wait for Trade and Infrastructure News to Hit Prices
Real Money's Stock of the Day
Tesla (TSLA) is Real Money'sStock of the Day.
The company's stock is down nearly 25% in May 2019, and continues to slump as investors grow increasingly concerned that the current U.S.-China trade dispute will ensnare iconic companies in damaging tech cold war.
Jim Cramer weighs in on the matter and whether or not he thinks China is the catalyst that kills Tesla.
Retail Earnings Roundup
Both Best Buy  (BBY) and L Brands  (LB) both reported stronger-than-expected first-quarter earnings on Thursday. Jim Cramer breaks down what investors should take away from each report. 
Foot Locker (FL) is also expected to release its quarterly earnings Friday. Will the retailer follow in Best Buy's and L Brands' footsteps?
Editor's Note: Action Alerts PLUS research analyst Zev Fima is filling in for Katherine Ross. 
Watch Jim Cramer's Daily NYSE Show and Replays Below