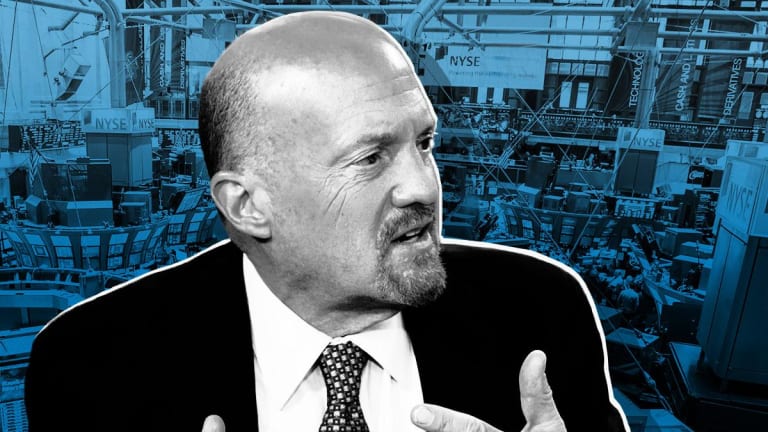 Jim Cramer Talks Jobs, Lululemon and Fantasy Football
Jim Cramer weighs in on the latest jobs numbers, and RealMoney's stock of the day, Lululemon.
TGIF! Here's what Jim Cramer is watching and discussing from the floor of the New York Stock Exchange:
Jobs Jobs Jobs
Investors got some disappointing news to start the trading day with the U.S. economy adding far fewer jobs in the month of August than Wall Street expected.
The U.S. added 130,000 nonfarm payrolls vs. 160,000 expected, which kept the unemployment rate at 3.7% as expected. Meanwhile, July's employment figure was revised down to 159,000 from 164,000. 
Lululemon Is RealMoney's SoD
Shares of retailer Lululemon (LULU) - Get Report is RealMoney's stock of the day following its earnings release after the closing bell on Thursday. The stock is set to open at an all-time high Friday after topping analyst sales and earnings expectations while also providing guidance ahead of estimates. 
Lululemon said earnings for the three months ending on August 4, the company's fiscal second quarter, came in at 96 cents per share, up 35.2% from the same period last year and firmly ahead of the Street consensus forecast of 89 cents per share. Group revenues, the company said, rose 22% to $883 million, again topping analysts' forecasts of a $842.4 million tally, while same-store sales rose by a forecast-busting 17%.
Fantasy Football Friday
The NFL kicked off its 100th season on Thursday with the Green Bay Packers defeating the Chicago Bears 10-3. 
Hear what Jim Cramer has to say about NFL 2019 and Game One!
TheStreet and Sports Illustrated Fantasy are teaming up to unveil our new Bull Market Fantasy with Jim Cramer site to cover all things fantasy sports. When you're finished watching Jim's show on TheStreet, be sure to check out his bi-weekly show Bull Market Live. Click here.
Mixing Things Up!
Our Katherine Ross is off today. Don't worry fans, she'll be back early next week.  In the meantime, Action Alerts Plus research analyst (and super star) Zev Fima is stepping in... and boy are we going to have some Friday fun.  TheStreet Live with Jim Cramer will be available to view in just a few minutes. 
A Little About Zev Fima