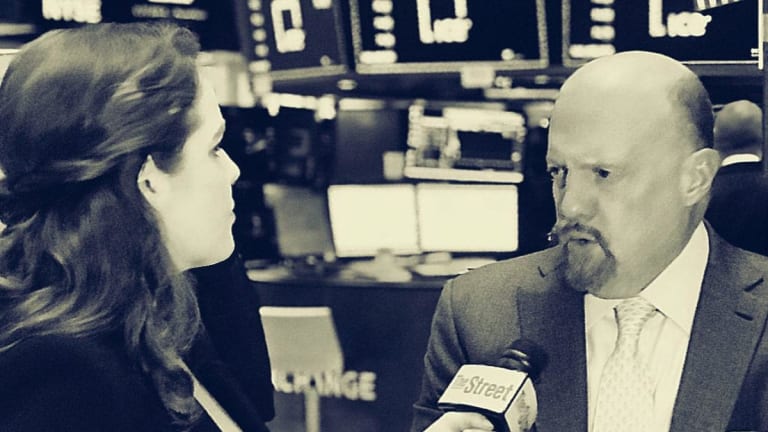 Grab Yourself a Cold Brew - Jim Cramer on Starbucks, Earnings and Mylan
Jim Cramer tackles Starbucks, the Federal Reserve, earnings and Mylan ahead of a week filled with potentially market-moving headlines.
It's Monday, and boy, do we have a week ahead of us.
Jim Cramer's got some thoughts on Starbucks (SBUX) and how CEO Kevin Johnson's doing at the helm, what he's expecting from a week that's poised to be news-heavy and what he's thinking about Pfizer's (PFE) plan to spin off its off-patent drug business with Mylan (MYL) . 
Oy Vey
We have a lot coming through the pipeline this week. 
A few notable market events: We're hearing from over 1,400 companies--including Apple (AAPL) , Beyond Meat (BYND) and General Electric (GE) --and then we have the Federal Reserve's decision, news from the trade talks and, finally, the jobs report number on Friday. 
Look, we get it, it's an overwhelming week. 
So, what should investors keep a close eye on? Here's some advice from Cramer. 
Sipping on Starbucks
Jim Cramer wrote about Starbucks in his Real Money column on Monday. 
He focused on Starbucks and the company's growth since Kevin Johnson, CEO, took the helm. 
Over the past year, Starbucks is up around 90%. 
Cramer noted that the growth comes from Johnson, but also is helped by Johnson's background since he actually comes from a tech company. 
Here's a sneak peek of Cramer's column: 
First, and most important, Johnson was and is his own man. You can't envy anyone coming in after the founder, Howard Schultz, retired. Schultz is a revered figure. Who knew how the minions would respond to the quiet, low key almost anonymous successor, especially one that's from tech, not from coffee?
If Cramer likes Starbucks this much, what's it going to take to get him to take a sip of espresso?
Pfizer and Mylan to Unite
It's merger Monday!
Pfizer announced it is spinning off its off-patent drug business and combining it with Real Money Stock of the Day Mylan to create a new company. 
Based on that, and the politics surrounding the companies thanks to the headlines about drug pricing coming out of the Trump presidency, is this the right time to start a new pharma company?
Related. Jim Cramer: How CEO Kevin Johnson Fueled Starbucks Breathtaking Numbers