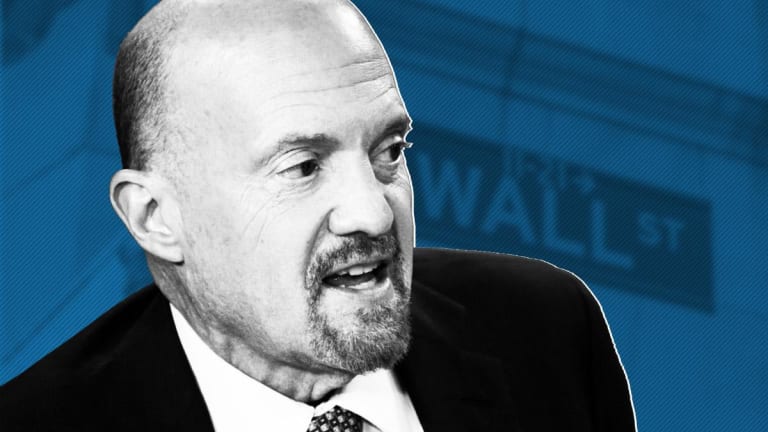 Jim Cramer Breaks Down What to Expect from Trade Talks, Qualcomm, Tesla
Jim Cramer weighs in on Qualcomm, the trade talks and Wedbush's note on Tesla live at 10 a.m. ET.
Happy Monday!
Jim Cramer is back from San Francisco and ready to dive into the top stories driving the markets .
How are the Trade Talks?
President Donald Trump said Sunday in an interview with Fox News that tariffs were "totally killing" China and causing U.S. companies to move production facilities to other countries in the region, such as Vietnam. He added that any agreement with Beijing had to be weighted in America's favor and couldn't be a "50-50" proposition.
Cramer breaks down the biggest risks that investors need to keep an eye on in this volatile market. 
Qualcomm
Qualcomm (QCOM) - Get QUALCOMM Incorporated Report is Real Money's stock of the day. 
It's been reported that Qualcomm will no longer supply with the components that it needs to continue building its worldwide 5G networks.
Real Money's Kevin Curran took a look at Qualcomm and the China impact. 
The impact, while politically justifiable through this lens, has reverberated throughout the semiconductor space.

"We think that the U.S. government action against Huawei creates risk for chip companies that might have high exposure to Huawei," Nomura analyst David Wong wrote in a note on Sunday evening.

Qualcomm is clearly one such company, given it draws nearly two-thirds of its revenues from China -- and CEO Steve Mollenkopf noted Huawei was picking up market share in the important region in a conference call on May 1. Along with Xiaomi (XIACF) , the Chinese smartphone maker relationships are key opportunities for Qualcomm.
So, out of all of the companies being impacted by the U.S.'s tensions with China, why is Qualcomm the stock of the day? Cramer explains.
Wedbush's Note on Tesla
Wedbush released a note on Tesla (TSLA) - Get Tesla Inc. Report , where they cut the company's price target to $230 from $275. 
Analysts dug into the company's path to profitability, the company's new CFO and the many projects that Tesla has undertaken.
"We continue to have major concerns around the trajectory of Tesla's growth prospects and underlying demand on Model 3 in the U.S. over the coming quarters which is putting more heat in the kitchen on Musk & Tesla to reign in expenses at an accelerated rate with profitability targets in [the second half of 2019], a Kilimanjaro-like uphill climb, in our opinion," wrote Wedbush. 
The note also called out Tesla's new CFO Zachary Kirkhorn. 
"With an inexperienced CFO at the helm, micromanagement of expenses now a focus (e.g., Musk employee email/memo from last week per media reports), and demand issues a dark cloud over Fremont, we have continued concerns around Tesla's ability to balance this "perfect storm" of softer demand and profitability concerns which will weigh on shares until Musk & Co. prove otherwise in terms of delivering solid results over the coming quarters," wrote Wedbush analysts. 
Should investors start keeping a closer eye on Tesla's CFO? Here's what Jim Cramer thinks.
Watch Jim Cramer's Daily NYSE Show and Replays Below