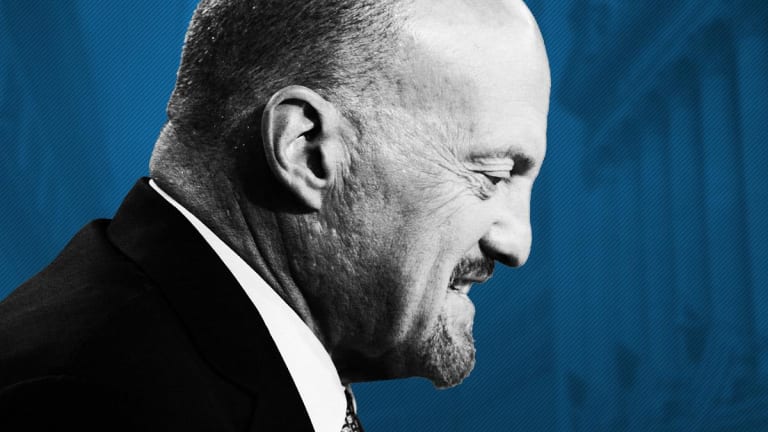 Jim Cramer Weighs In on Qualcomm, the Federal Reserve and Tesla
Jim Cramer is keeping his eye on Qualcomm, the Federal Reserve and Tesla. Watch our live video for everything you need to know about the markets today.
It's almost Friday...
Jim Cramer breaks down Qualcomm's (QCOM) earnings, what the Federal Reserve's decision means for the markets and news that Tesla (TSLA) CEO Elon Musk may pick up more shares of Tesla. 
The Federal Reserve
The Federal Reserve met earlier this week and decided to leave interest rates unchanged.
Fed Chairman Jerome Powell said Wednesday that he didn't see a "strong case for moving" policy "in either direction" after the central bank kept the target range of the key Fed Funds rate unchanged at between 2.25% and 2.5%. He did, however, allude to the transitory nature of conditions that was keeping inflation below the Fed's 2% target rate, comments that investors interpreted as signaling an upward bias on rates by the latter part of 2019.
Cramer weighs in on whether the Fed is signaling that investors should sell in May and go away. 
Qualcomm's Earnings
Following Apple's earnings Tuesday night, Qualcomm posted earnings after the bell Wednesday night. 
Adjusted earnings in the period were 77 cents a share, topping forecasts of 71 cents a share. Revenue of $4.98 billion fell from $5.22 billion a year earlier but beat forecasts of $4.8 billion.
"We delivered a better-than-expected quarter with earnings per share above the high end of our estimates, reflecting stronger QTL results and solid execution in QCT," said Steve Mollenkopf, CEO of Qualcomm. "We are also pleased to have reached multi-year agreements with Apple and look forward to continuing to support them as a customer. We are executing well on our strategic priorities as 5G commercial launches begin around the world."
Qualcomm is Real Money's Stock of the Day. Follow along all day for the latest analysis and commentary on the stock.
Musk's Possibly Buying More Tesla Shares
Tesla submitted a series of filings with the Securities and Exchange Commission on Thursday, indicating its intentions to raise more cash, and for CEO Elon Musk to potentially buy up to $10 million in Tesla stock.
Musk filed with regulators his interest in purchasing up to 41,896 shares for approximately $10 million. The Palo Alto-based company also filed for a so-called mixed-shelf offering for an undisclosed amount.
A mixed-shelf offering is a type of public offering where certain issuers are allowed to offer and sell securities to the public without a separate prospectus for each one, and without issuing an additional prospectus, wrote TheStreet's M. Corey Goldman. 
Related. Jim Cramer: Disappointed With Powell? Go Do Something Else With Your Money
Related. Qualcomm's Guidance and Industry Stats Suggest Smartphone Demand Remains Weak
Watch Jim Cramer's Daily NYSE Show and Replays Below