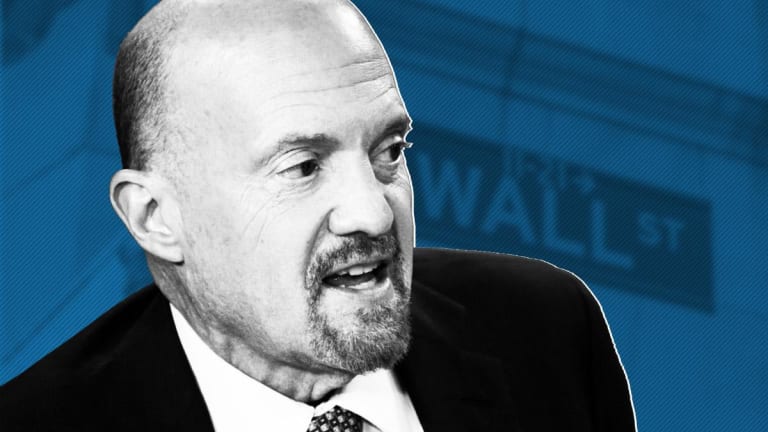 Jim Cramer Ponders a Tech Cold War and Zooms In on Target's Earnings Bullseye
Jim Cramer tackles the biggest headlines in the markets from the possibility of a tech cold war to Target's earnings to Qualcomm's antitrust ruling.
It's hump day!
Jim Cramer ponders the possibility of a tech cold war, weighs in on what the Qualcomm (QCOM) ruling could mean for Apple (AAPL) and breaks down how Target (TGT) managed its earnings beat. 
Here's what investors need to know. 
Should We Be Worried About a Tech Cold War?
While we have a reprieve in the Huawei ban for the next 90 days, the possibility of a tech cold war is still looming over our heads. 
According to The New York Times, the White House is prepared to target Hangzhou Hikvision Digital Technology and Zhejiang Dahua Technology. 
Cramer wrote about his thoughts on a full-blown trade war between the U.S. and China last week:  
I am beginning to wonder if [President Trump] is willing to overturn, if necessary, 48 years of U.S. policy toward China. Until 1971 there was no contact whatsoever between the Communist regime and our country. We had an economic embargo and a policy of containment toward the PRC. But President Nixon and his Secretary of State, after a bout of affability between the U.S. and the Chinese table tennis teams - we called it Ping Pong diplomacy - visited China back in 1972 and so began a relationship that flowered into a partnership that lead to the two countries doing a ton of business with each other.
Qualcomm's In Hot Water
A federal judge ruled in favor of the U.S. Federal Trade Commission in its antitrust case against Qualcomm.
The FTC had accused Qualcomm of violating antitrust law through a host of actions, including refusing to sell its modem chips to OEMs that declined to agree to its terms for licensing standards-essential patents (SEPs), and providing Apple with billions of dollars worth of royalty rebates in exchange for using its modem chips, reported TheStreet's Martin Baccardax. 
Qualcomm has announced that it plans to appeal the decision.
This news comes after Qualcomm and Apple announced that they had settled a legal battle over royalties. The two companies had been feuding for over two years. 
So, breaking that down, what does this most recent Qualcomm news mean for Apple investors?
"I know this sounds like a punting, but we need to learn more. I mean, Qualcomm, uh, went up all the way up to the eighties. The issue with Qualcomm is what do you do with a company that wiped out the competition by sheer ingenuity? And [the whole ruling] flies in the face of the American way," said Jim Cramer when asked what Apple investors should do now. "...We don't know what's going to happen to Apple."
Target's Earnings Crush Expectations
Real Money Stock of the Day Target (TGT) came in with stronger-than-expected earnings, which helped to ease investor fears about the impact of tariffs on U.S. retailers after earnings from companies such as Kohl's (KSS) came in below expectations. 
Target said adjusted earnings came in at $1.53 per share, beating analyst expectations of $1.43 per share. Group sales, Target said, rose just under 1% to $17.627 billion and beat analysts' forecast. And same-store sales growth marked the ninth consecutive quarterly gain.
"[Target CEO] Brian Cornell said that he was going to have the best online...and pick up in store. He said he was going to do the best of that. He was going to say that he had the most fresh merchandise. He's going to say that he had the best private label. He's going to say that the small format is a big winner and everything he said came true," said Jim Cramer.
Related. Jim Cramer: Target Just Out-Executed Everyone This Quarter
Watch Jim Cramer's Daily NYSE Show and Replays Below