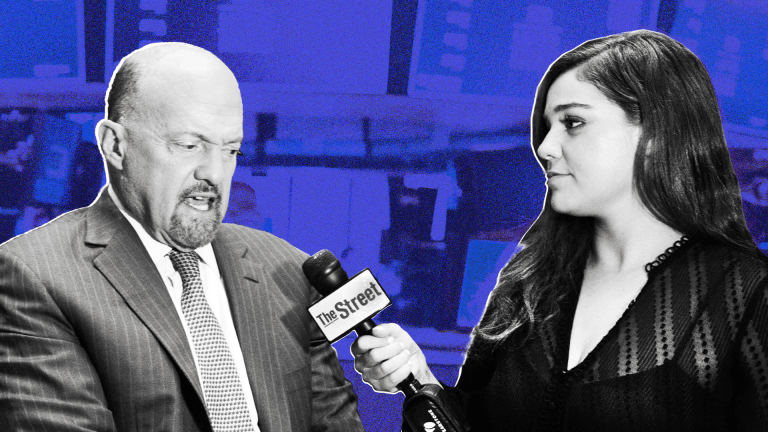 Are We Seeing the Future of 5G? Jim Cramer on Qualcomm, Disney and the Trade War
Jim Cramer weighs in on Qualcomm, Disney and the U.S.-China trade war.
Happy Thursday!
Jim Cramer weighs in on Real Money Stock of the Day Qualcomm's (QCOM) - Get Report earnings, Disney (DIS) - Get Report and the U.S.-China trade war. 
Qualcomm Is Real Money's Stock of the Day
The chipmaker posted stronger-than-expected fourth-quarter earnings, and said near term revenues would exceed Wall Street forecasts following its recent licensing agreement with Apple Inc. (AAPL) - Get Report .
Qualcomm said non-GAAP earnings for the three months ending in September, its fiscal fourth quarter, were pegged at 78 cents per share came in at an adjusted cents 78, down 12.4% from the same period last year but firmly ahead of Wall Street estimates of 71 cents per share. The group's adjusted operating margin, Qualcomm said, was 22.9%, beating expectations of 22.5%. Revenue for the quarter came in at $4.8 billion, against beating analysts expectations of $4.756 billion even as the total fell 17% from last year, reported TheStreet's Martin Baccardax.
Qualcomm said current quarter revenue is likely to rise to between $4.4 billion and $5.2 billion, just ahead of the consensus forecast of $4.82 billion. Qualcomm said the guidance excludes QTL royalty revenue from China-backed handset maker Huawei Technologies. The group also expects non-GAAP adjusted EPS for the quarter of between 80 cents and 90 cents per share, far better than analysts' expectation of 81 cents per share.
Cramer takes a look at the future of 5G: 
U.S.-China Trade War
"We got something concrete out of China at last and it is big: a death sentence for a fentanyl smuggler and life sentences for two colleagues," wrote Jim Cramer in his morning column over on Real Money. "It might seem like small potatoes for some - like some moron twitter people whom I have had to block - but this is precisely what Peter Navarro, the man in charge of trade talks has been calling for as a sign of goodwill."
"Why are there so many doubters of progress in the trade talks? A big one is the on-again-off-again nonsense about when and where an agreement could be signed. The reason why I don't trust it is the mainstream media gets its leaks from either the Communist Chinese - who, somehow are regarded as reliable sources, or from Secretary Mnuchin who is a relative free trader, not a fair trader," he continued."
So the question really is: What's it going to take for investors to trust the American side of the U.S.-China trade war.
Disney's Earnings
Disney is reporting earnings after the bell Thursday. 
On Wednesday, I talked to TheStreet's Martin Baccardax about the earnings report and when asked what he expects from this quarter, Baccardax responded:
"I think it's going to be an exceedingly complicated [quarter] because they still have to factor in the complications from the Fox acquisition, the spending that Disney has to make to get the Disney+ offering up and running and it launches on the 12th of November and of course the money that they're going to have to spend on content and other things going forward. So the street is looking for 95 cents a share, looking for revenues of around 19 billion. To be perfectly honest, that won't be the important number. What we all need to look for is what the company is saying about 2020 and what their costs are going to be, where their investments are going to be directed, and ultimately what the success of this platform is going to be amidst the streaming wars. We assume that they're going to lower their earnings forecast for 2020 by how much remains to be seen. But it'll be in the region of about $5.30 a share and we'll probably be looking at full-year revenues around $80 to 81 billion. But any big deviation from those numbers will be very serious and the implications for the stock will be equally so," said Baccardax.
But, of course, we have to ask: What's Cramer watching in this report?
Bull Market Fantasy: LIVE TUESDAY & THURSDAY @10:45AM
Subscribe to our Youtube Channel for more videos : Listen our latest Podcasts on Soundcloud
Catch Up: Today's Top News Videos Below