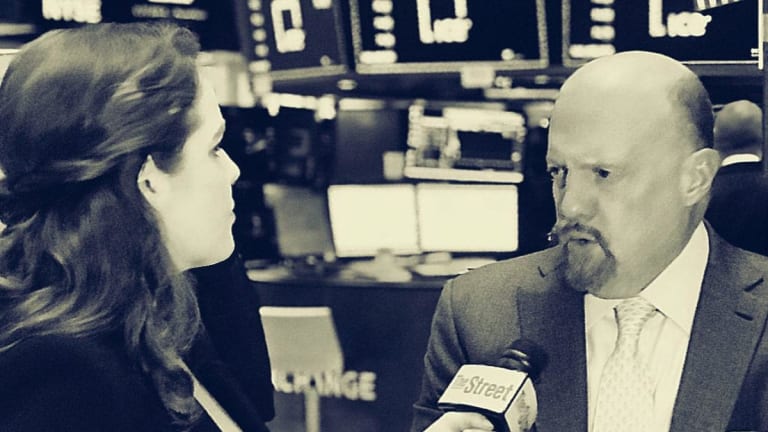 Jim Cramer on What PVH Earnings Say About the Market, What to Watch from Uber
Jim Cramer weighs in on what PVH earnings mean for the overall market and what investors need to consider before investing in volatile markets.
It's almost Friday...
Jim Cramer tackles what investors need to consider before investing in volatile markets, PVH's (PVH) earnings and what to expect from Uber's (UBER) first earnings report after the bell. 
Jim Cramer Has a Checklist for Investors 
Anxious about investing in a market like this. In his morning Real Money column, Cramer broke down everything everything investors need to consider before making a move. 
Why did he choose now to give us a playbook? Cramer says that it's become harder than ever to find a reason to buy so it's time to take a step back:  
What do I mean by checklist? It hasn't been explicitly fleshed out, but let me give you the schematic of the brains of all the big portfolio managers who are coming in to work each day to make decisions about what to buy and what to sell. For the record, it is really more of the latter because they have so little spare cash as investors keep pulling money out of active manager funds and putting them in passive vehicles or not investing at all but staying in short-term instruments.
Topping his watchlist? Millennials, retail, and you know, China. Here's what Cramer has to say. 
Did PVH Just Signal Big Trouble in Retail? 
Real Money's Stock of the Day, PVH, reported earnings after the bell Wednesday night. 
The company beat analyst expectations for their first-quarter earnings, but shares promptly fell after the company announced that it was cutting guidance, noting particular "softness" in U.S. and China retail. 
After disappointing earnings this week from other retailers such as Canada (GOOS) and Abercrombie & Fitch (ANF) , how should investors approach the retail space?
What to Watch from Uber 
Uber is reporting earnings for the first time. 
The company has been in the doghouse with investors since the IPO, and the company hasn't even hit its pricing estimate of $45. 
TheStreet's Annie Gaus broke down what investors should be watching in her Uber lookahead.
Cramer breaks down what it would take to change investor sentiment toward the stock. 
Related. Jim Cramer: A Checklist for Investors in This Downer of a Market
Watch Jim Cramer's Daily NYSE Show and Replays Below