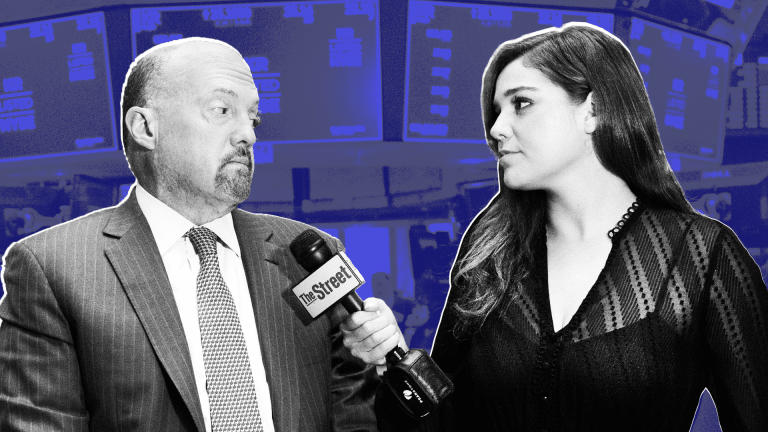 What Are You Buying? Jim Cramer on Cyber Monday, Amazon and the 2020 Election
Jim Cramer weighs in on Amazon during Cyber Monday, whether or not we're going to see headlines around China and the rollback of tariffs and what investors should expect from the 2020 election.
And we're back. 
Before you get too wrapped up in the post-holiday Monday blues, Jim Cramer's got some thoughts on Cyber Monday, Real Money stock of the day Amazon (AMZN) - Get Amazon.com Inc. Report and his latest take on how the 2020 election could impact the markets. 
Cyber Monday
Adobe Analytics forecasts that we could see sales of around or above $9.4 billion this Cyber Monday, a nearly 19% increase year-over-year. 
"Black Friday broke mobile shopping records with $2.9 billion spent through smartphones alone. With Christmas now rapidly approaching, consumers increasingly jumped on their phones rather than standing in line. Even when shoppers went to stores, they were now buying nearly 41% more online before going to the store to pick up. As such, mobile represents a growing opportunity for smaller businesses to extend the support they see from consumers buying locally in-store on Small Business Saturday to the rest of the holiday season. Small Business Saturday will accelerate sales for those retailers who can offer unique products or services that the retail giants can't provide," said Taylor Schreiner, Principal Analyst & Head of Adobe Digital Insights.
So, with more and more consumers shopping from the palms of their hands, how key are social media platforms--such as Facebook's (FB) - Get Meta Platforms Inc. Report Instagram--to reaching the consumer?
Let's Talk Politics
Cramer penned a column on how the upcoming election and the "Democratic horse race" could impact stocks going forward.
"I think [these two stock moves] show you that if you look at only the Fed and the yield curve, as so many people have taught us to or insist on pushing -- kind of like opioids on an unsuspecting investing public -- you miss what's really driving stocks: the election and the fact that the Democrat horse race is directly impacting stocks now," Cramer wrote.
If the election and Democratic candidates are already having an impact on stocks, should investors be worried about the impact on the market as the election heats up?
How's Amazon Looking?
Amazon may be the gold star winner this Cyber Monday, especially thanks to its one-day shipping.
However, retailers such as Target TGT and Walmart WMT are trying to keep up with the Death Star that is Amazon. 
Amazon, Walmart, and others are all locked in a one-day shipping battle this season, with Amazon offering next-day shipping for Prime members and Walmart also offering free next-day shipping for orders over $35.
Is there any way for other retailers to keep up with Amazon or is it just a losing battle?
Bull Market Fantasy: LIVE TUESDAY & THURSDAY @10:45AM
Subscribe to our Youtube Channel for more videos : Listen our latest Podcasts on Soundcloud
Catch Up: Today's Top News Videos Below