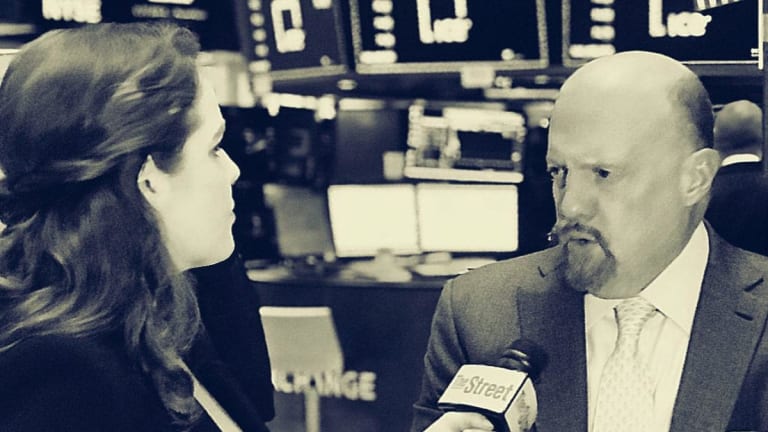 Time to Netflix and Chill? Jim Cramer on Netflix Earnings and Marc Benioff
Jim Cramer weighs in on Netflix's earnings, Marc Benioff's new book and the markets.
It's almost Friday...
But before we start celebrating the weekend, Jim Cramer is taking a look at Netflix (NFLX) - Get Netflix, Inc. Report , which reported earnings last night and is Real Money's Stock of the Day, Marc Benioff's new book and what's going on in the markets.
Netflix and Chill?
Investors seemed pretty pleased about Real Money Stock of the Day Netflix's earnings, despite the missed subscription numbers.
Netflix reported third-quarter GAAP earnings per share of $1.47, beating Wall Street estimates of $1.03. Revenue was $5.25 billion, up 31% year-over-year and in line with estimates. Free cash flow was negative $551 million.
The company announced that it had added 6.8 million subscribers, missing its expectation of 7 million.
Cramer used Netflix as an example in his Real Money column Thursday morning. 
He discussed NABAF stocks, or Not As Bad As Feared.
Here's what he had to say about Netflix:
"Can the earnings collapse when Disney DIS and Apple AAPL begin their streaming projects in earnest next month? Sure, but the strength in international, one of the few metrics that beat expectations -- 6.26 million versus 5.2 million -- may insulate the company from the assault of better-capitalized players. Netflix describes these competitors as "modest headwind to our near-term growth," minimizing concerns that kept popping up as gospel," he wrote.
Catch his full take on Netflix and more below:
Marc Benioff's New Book
Marc Benioff has released a new book titled "Trailblazer."
And he was interviewed by Cramer on Mad Money Wednesday night and discussed Facebook. 
"When asked about Facebook and the many concerns raised about privacy and data, Benioff said that Facebook has too much data concentrated in one place. "Capitalism needs guardrails," he said and this is one case where it needs to be regulated and broken up to protect their users," wrote TheStreet's Scott Rutt in his Mad Money recap Wednesday night. 
Bull Market Fantasy: LIVE TUESDAY & THURSDAY @10:45AM
Subscribe to our Youtube Channel for more videos : Listen our latest Podcasts on Soundcloud
Catch Up: Today's Top News Videos Below