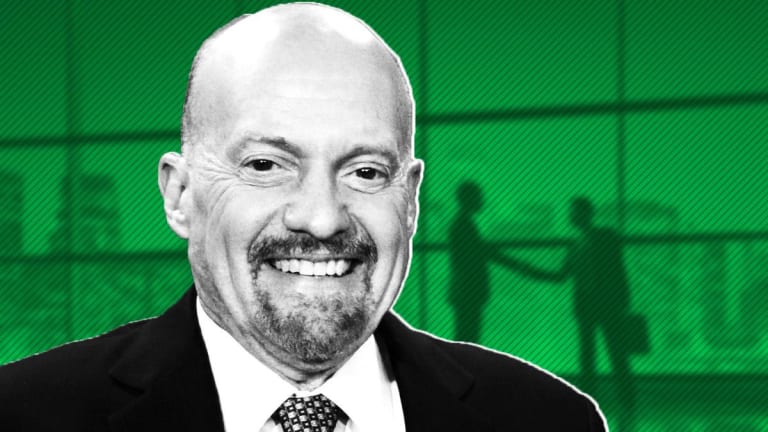 Game Over for Trade Talks? Jim Cramer on EA, Anadarko, Lyft and the Markets
Jim Cramer weighs in on the Anadarko deal, Lyft's first earnings report, EA's earnings after the bell and the markets. Watch our Cramer Live show for everything you need to navigate your Tuesday on Wall Street.
Happy Tuesday!
Jim Cramer's tackling Electronic Arts (EA) , Anadarko (APC) , Lyft (LYFT) and the markets. 
What's Going on in the Markets?
Jim Cramer wrote about how the markets aren't keeping him up at night over on 
Real Money
. But he wouldn't be surprised if some investors are struggling to catch some shut eye. 
Somewhere at some point in the canon of journalism, someone came up with the idea of asking "what keeps you up at night." For me, it is usually back pain or migraine pain, both of which I am attempting to deal with and both of which are a lot more searing than the headlines.

But that, of course, is not what the inquiring journalists want to know. They want you to spin disaster scenarios which would then put the words in your mouth of "this is what's really worrying Jim Cramer," to use the dreaded third person on myself.

You know what, though? I am going to play that game for just one moment so people can see what might "keep me up" if I did worry and could not sleep because of the market -- EVEN THOUGH THAT IS NOT THE CASE.
Basically Cramer's got his eyes peeled on the Uber IPO and the trade deal.
And, of course, Cramer's tackling what to watch when Electronic Arts reports earnings after the bell Tuesday. 
Electronic Arts is Real Money's stock of the day. Want to know more about the impact of the trade war on the video game companies and other tech giants? Head over to Real Money to learn more.
Anadarko's Back and Forth
Anadarko Petroleum moved closer to sealing its planned takeover by Occidental Petroleum (OXY) after its board approved the $38 billion bid over a rival approach from Chevron (CVX) and it agreed to sell some of its African assets to France's Total (TOT) .
Anadarko said Occidental's move to secure financing for the cash portion of its revised bid, which includes a $59 per share consideration and 0.2934 in Occidental common stock, makes it a "superior proposal" to Chevron's 75% stock and 25% cash deal.
Chevron has four business days to make another offer, Anadarko said. If Chevron doesn't submit another bid and the deal is terminated, Anadarko will have to pay Chevron a $1 billion breakup fee.
A Chevron spokesman told The Wall Street Journal it had received Anadarko's notification and had no further comment at this time.
Is Lyft Ready for Lift-Off?
Lyft's first earnings report as a public company is scheduled for after the bell Tuesday.
Since its March 29 public offering, the stock has declined about 20% - and it's among the most-shorted stocks on the market with 80% short interest as a percentage of overall float. For Lyft and its investors, it is also impossible to escape one big event looming over its shares: The upcoming initial public offering of its larger rival, Uber.
Analysts surveyed by FactSet expect Lyft to report an adjusted loss of $4.85 a share on revenue of $740.1 million, higher than year-earlier revenue of $397.2 million.
Related. Jim Cramer: What a One-Two Punch From Uber and China Tariffs Could Mean
Related. What a One-Two Punch From Uber and China Tariffs Could Mean
Watch Jim Cramer's Daily NYSE Show and Replays Below
In a market like this, a little extra education can't hurt. Jim Cramer will be navigating the ins and outs of portfolio management in his next Action Alerts Plus investing club call. Trial the club for free here.