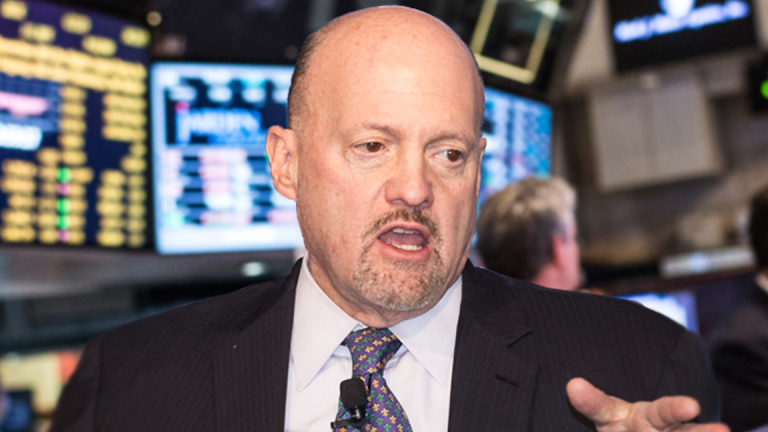 Jim Cramer Breaks Down Lululemon, Apple and Lyft
Here's what Jim Cramer is thinking about Lyft's IPO, Lulu's earnings and Apple's credit cards.
It's almost Friday...
Lululemon's Earnings
Lululemon (LULU) - Get Lululemon Athletica Inc Report  reported fourth-quarter earnings and revenue that beat Wall Street estimates.
Lululemon posted adjusted earnings in the quarter of $1.85 a share, topping analysts' estimates by 11 cents. Revenue rose 26% from a year earlier to $1.2 billion and beat analysts' expectations of $1.15 billion.
Same-store sales in the quarter jumped 16% (17% on a constant dollar basis) and matched expectations.
The company guided for fiscal first-quarter revenue of $740 million to $750 million vs. expectations of $744 million. Lululemon said it expects earnings of 68 cents to 70 cents a share in the quarter, ahead of expectations of 67 cents.
The company also said it would buy back $500 million of its stock.
Lyft's IPO Pricing
Ahead of its highly anticipated initial public offering, ride-hailing giant Lyft jacked up the estimated price range of the IPO to between $70 and $72 a share.
Lyft's IPO is expected to be priced Thursday evening, with the stock set to debut on the Nasdaq Stock Market on Friday. In a new filing with the Securities and Exchange Commission posted Wednesday afternoon, Lyft raised its share price range from a previous estimate of $62 to $68 a share. Under the new price estimate, Lyft's valuation comes in at about $20 billion.
Lyft's valuation and its prospects as a public company are subjects of much debate as it prepares to begin trading. As the first ride-hailing company to go public and the first of several unicorn IPOs anticipated this year, Lyft's public offering will be seen as a bellwether for Uber's IPO, and possibly as a test of investor appetites for new tech listings. Uber Technologies is expected to follow Lyft into the public markets in the coming months.
Related. Here Comes the Lyft IPO
Apple's Credit Card
Wondering whether or not you should sign up for the Apple (AAPL) - Get Apple Inc. Report credit card? 
Curious to know the logistics behind the new card?
Jim Cramer had some thoughts about adding that titanium card to your wallet...
Read about it over on his Real Money column. 
Related. The Apple Card Could Be Transformative for AAPL and Goldman Sachs
Watch Jim Cramer's Daily NYSE Show and Replays Below
Now that you've had your daily breakdown of the news, head over to Jim Cramer's Action Alerts Plus to hear what Cramer is only telling members of his investing club.