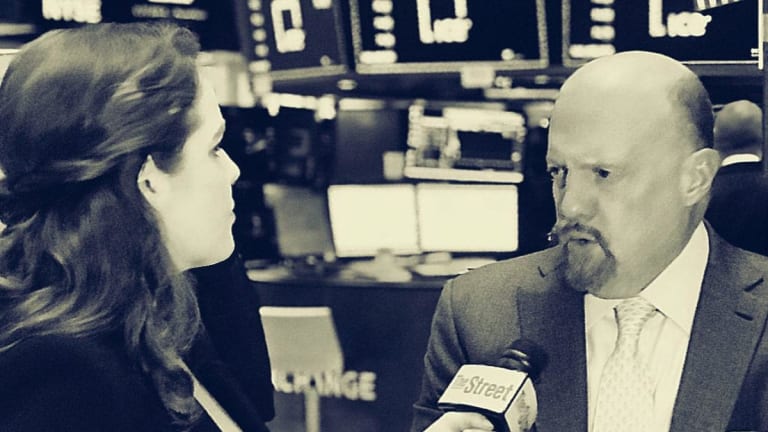 Go Beyond the Fed: Jim Cramer on Apple, Beyond Meat and the Markets
Jim Cramer has some thoughts on the Fed, Beyond Meat's quarter and Apple's earnings. Here's everything investors need to know ahead of the Fed meeting.
The earnings avalanche is just beginning.
Jim Cramer has some thoughts on the Fed, Beyond Meat's (BYND) quarter and Apple's (AAPL) earnings.
The Federal Reserve
Investors are getting antsy. 
Wall Street expects to see an interest rate cut from the Federal Reserve of 25 basis points. 
If the Fed does decide to cut rates, it would be the first rate cut in a decade. 
But, before the decision is announced at 2 p.m. ET Wednesday, what is the last thing investors need to do? Here's Cramer's advice.
Beyond Meat's Earnings
Investors seem BYND disappointed. 
The company reported earnings last night. 
It announced a loss per share of 24 cents, coming in short of analyst expectations of 8 cents per share. 
The company released revenue of $67.3 million, beating expectations of $52.7 million. 
Shares of the company promptly fell, however, after it announced that it was doing a second offering of 3.25 million shares. Three million of that will come from "certain selling stockholders," while the other 250,000 will come from the company. 
And Cramer penned some thoughts on Ethan Brown, who he referred to as the "Elon Musk" of food on Monday's Facebook Live show in his Tuesday morning Real Money column.
So, is Ethan Brown enough to sate investors? Or did Beyond just throw a bone to competitors? Here's what Cramer thinks.
A Tale of Two Analysts
Let's rewind.
Monday, July 22, we got dueling notes from Morgan Stanley's Katy Huberty and Bernstein's Toni Sacconghi about Real Money Stock of the Day Apple's quarter. 
And the day of reckoning is finally here. 
In case you missed it, Huberty came out as bullish, raising Apple's price target to $247 from $231.
She wrote, "we believe the June quarter will mark the first quarter since March 2018 where Services revenue growth accelerates..."
Meanwhile, Sacconaghi wrote that Bernstein's expectations for Apple's Services revenue actually fall slightly below the Street's expectations.
Now, Apple is set to report after the bell Tuesday night. 
So, let's see who will come out with the crown. 
Related. Jim Cramer: Ethan Brown and Beyond Meat - A Story Worth Exploring