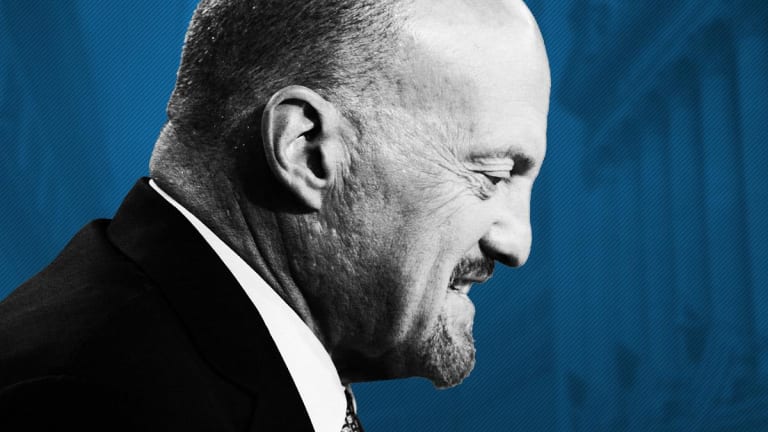 After getting a slew of earnings Monday morning before the bell, it's time to do an earnings check-in. And Jim Cramer has some thoughts on Apple's (AAPL) - Get Apple Inc. (AAPL) Report reported interest in Intel's (INTL) - Get INTL FCStone Inc. Report smartphone-modem chip business and what Snap (SNAP) - Get Snap, Inc. Class A Report can do to keep its stock's momentum. 
Don't Listen to Your Market Guru
In his Real Money column Tuesday morning, Cramer had some advice for investors who are listening to market pundits and basing their stock picks or trades off of them. Cramer's take? Make up your own mind.
Here's a snippet of what Cramer has to say about those who are following the words of a market pundit. 
"I am simply saying that once again we listened to a guru -- a word I hate -- and the guru was full of sound and fury, but signifying nothing having to do with the stock market. Yet, I think he caught and amplified the zeitgeist, which made you very negative on stocks," he wrote. 
It might be time to take a step back or get out of the game if you're focused on what the market gurus have to say. Cramer explains what investors should do now. 
Apple's Reported Interest In Intel
It came out after the market closed Monday night that Apple was reportedly pursuing a deal to buy Intel's smartphone-modem chip business. 
Apple is looking to shell out around $1 billion for the business. 
Apple is generally known for making acquisitions of smaller brands, what does an acquisition from a company such as Intel tell investors about Apple's future?
How's Snap Looking?
Real Money Stock of the Day Snap is reporting earnings after the bell Tuesday, July 23. Can Snap continue the rally that has left the stock up 156% year-to-date, or are you better off swapping Snap for another big name in tech. 
Related. Jim Cramer: Make Up Your Own Mind, Don't Listen to Market 'Gurus'
What Buying Intel's Modem Business Could Mean for Apple
Jim Cramer Reveals Which Stocks He Would Buy Right Now and Why