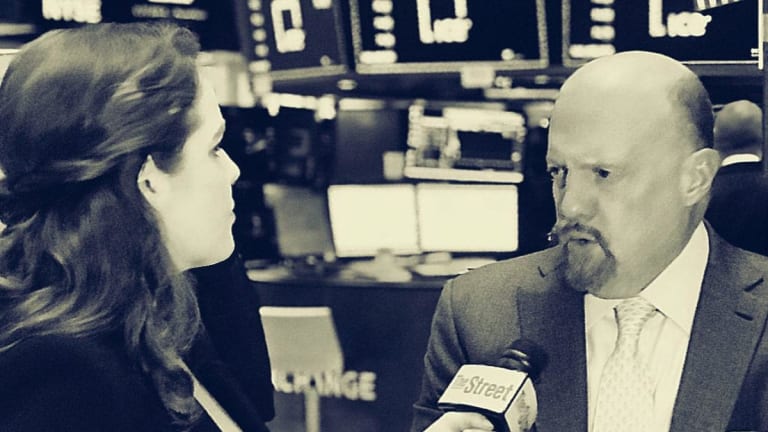 Put the Pajamas Away: Jim Cramer on U.S.-China Trade and Amgen
Jim Cramer weighs in on the U.S.-China trade war and Amgen.
Jim Cramer weighs in on the U.S.-China trade war and Amgen.
Time to kick off the week.
Jim Cramer weighs in on the U.S.-China trade war and Amgen's (AMGN) - Get Report deal to acquire the rights to Celgene's (CELG) - Get Report Otezla.
Let's Talk Trade
Yep, we've got some new trade headlines. 
The Dow fell over 600 points at the close on Friday after the China-U.S. trade war heated up with China retaliating on tariffs and Trump tweeting that he "ordered" American companies out of China.
"The market is doing great. Our country is doing great," he said at the G-7 summit in France.
"China called last night our top trade people and said 'let's get back to the table' so we will be getting back to the table and I think they want to do something," Trump said. "They have been hurt very badly but they understand this is the right thing to do and I have great respect for it. This is a very positive development for the world."
In his morning column on Real Money, Cramer blamed the pajama traders for the Dow sinking premarket Monday. 
After there was a swing to the upside for the Dow premarket, how should traders avoid putting on their pajamas?
Why Is Amgen Stock of the Day?
Real Money Stock of the Day Amgen announced Monday morning that it was acquiring the rights to Celgene's oral psoriasis treatment Otezla for $13.4 billion in cash. 
"The acquisition of Otezla offers a unique opportunity for Amgen to provide patients an innovative oral therapy for psoriasis and psoriatic arthritis that fits squarely within our portfolio and complements our Enbrel and AMGEVITA brands," Amgen CEO Robert Bradway said in a statement.
Does this deal clear the way for Bristol-Myers (BMY) - Get Report deal with Celgene? Here's what Cramer thinks.
Premium Pick: 4 Tips for Dealing With Volatility on Trump, China and the Fed
Earnings to Watch: Why Jackson Hole Should Be at the Forefront of Investors' Minds
Success Story: Nepal's Only Billionaire Shares His Success Mantra
Subscribe to our Youtube Channel for more videos : Listen our latest Podcasts on Soundcloud
Jim Cramer and TheStreet Launch Bull Market Fantasy Channel on Maven
Jim picks stocks on Wall Street, now he's picking NFL players for fantasy football! Check it out at BullMarketFantasy.com - check it out here or see his latest videos below:
Cramer Confessional: Jim Cramer's One Fantasy Drafting Regret
Cramer's Fantasy Football Draft Got a Little Crazy - Watch
Jim Cramer Breaks Down His Top Lesson From His Fantasy Draft
Catch Up: Today's Top News Videos Below