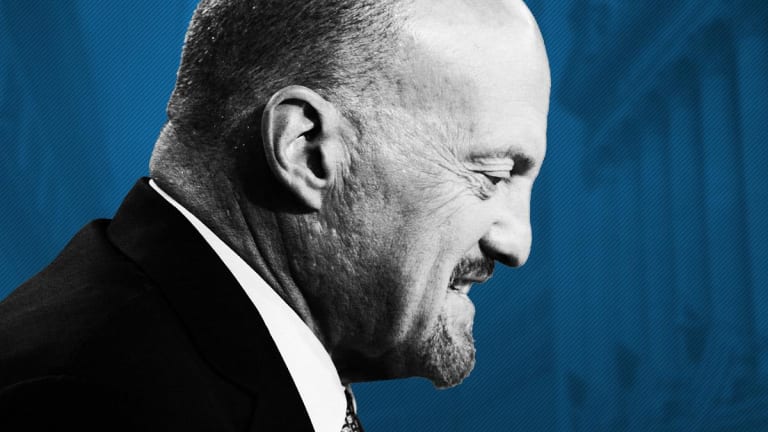 Get Crafty: Jim Cramer on Etsy, Disney, Anadarko, Uber and the Markets
Jim Cramer weighs in on Chevron walking away from Anadarko, earnings from Disney and Etsy and Uber's IPO pricing.
At least it's almost Friday....
With the market facing further declines on trade uncertainties, Jim Cramer gets crafty on Etsy (ETSY) , Anadarko (APC) , Uber (UBER) and Disney (DIS) . 
Chevron Walks Away From Andadarko 
Chevron said it won't increase its $50 billion takeover bid for independent drilling group Anadarko Petroleum, and will instead take the $1 billion break-up fee.
Cramer breaks down what Anadarko investors need to know now. 
Uber's Pricing
Uber is finally going public on Friday. 
Uber's debut is one of the tech sector's most highly anticipated, with its offering expected to raise as much as $9 billion and result in a potential valuation of $84 billion at the midpoint of its proposed target range of $44 to $50 a share. Uber shares are expected to be priced Thursday evening with the stock to begin trading Friday on the New York Stock Exchange.
Long worried about the effect Uber will have on an already troubled market, Cramer breaks down the biggest thread Uber poses to Wall Street. 
Etsy's Earnings
Real Money Stock of the Day Etsy (ETSY) posted earnings Wednesday after the bell.
Etsy said diluted earnings for the three months ending in March came in at 24 cents per share, up more than twice the level of last year and bang in-line with the Street consensus forecast. Group sales, however, missed analysts' forecasts of $1.7 billion, even as they rose 40% to $169.339 million, pressuring shares in pre-market trading. Gross merchandise sales on the platform, the company said, rose 18.9% and passed the $1 billion mark for the first time.
Read what Cramer had to say about Etsy this morning here. 
Disney's Earnings 
Disney (DIS) also posted earnings after the bell Wednesday. 
Adjusted earnings in the quarter were $1.61 a share, beating forecasts by 2 cents. Revenue of $14.92 billion beat analysts' estimates of $14.54 billion.
Disney said revenue from its parks, experiences and consumer products business rose 4.5% to $6.17 billion, beating estimates of $6 billion. Movie-studio revenue in the quarter was $2.13 billion.
Net profit for the quarter was $5.45 billion, or $3.56 a share, which included a gain of about $5 billion from its acquisition of a controlling interest in Hulu.
How to Navigate Market Volatility 
With the markets going haywire, there's no better time to kick off Jim Cramer's next ActionAlertsPlus.com investing club call. Jim will walk you through everything from portfolio management to the new names that have found their way into the portfolio. Here's how you can watch. 
Watch Jim Cramer's Daily NYSE Show and Replays Below