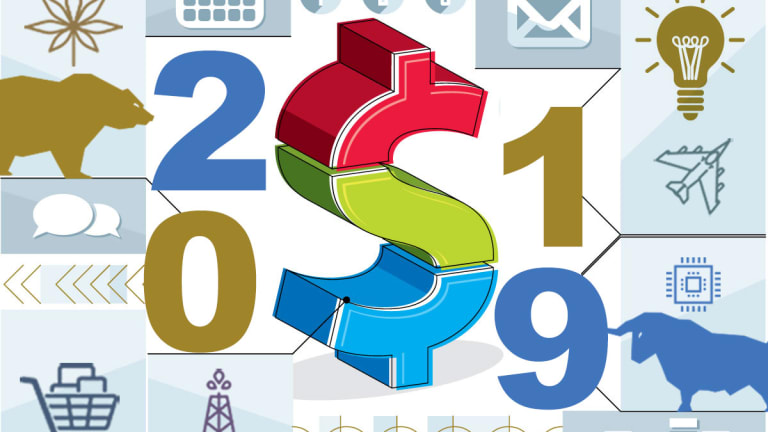 Investors Guide: Everything You Need to Know Going Into 2019
Are you ready for 2019? Here's what investors need to know about the defense, retail, and technology sectors as we enter the New Year.
Are you ready for 2019? Here's what investors need to know about the defense, retail, and technology sectors as we enter the New Year.
2019 is here. 
If we've truly just stepped into a bear market, with the major indexes seeing the worst year in a decade, a simple 'buy-the-dip' strategy may not be enough to call it a day.
TheStreet has compiled the top articles and experts from 2018 discussing various sectors and what they expect from the market as we kick off the new year.
Stephen 'Sarge' Guilfoyle writes for oursister site, Real Money, and occasionally hops on TheStreet's pages. Guilfoyle talked to TheStreet about what he's expecting from 2019. 
TheStreet'sMartin Baccardax and Katherine Ross discuss the market on their weekly podcast, Trading Strategies. A playlist of episodes can be found below. 
But, what can we expect from the ongoing trade war with China? It's paused for now, but is set to resume later in 2019. 
The Pause in the Trade War
It's been a pretty volatile end to 2018. The month of December saw highs -- including the Dow gaining 1,000 points in a single trading session -- but it also saw some serious lows, making it a wobbly December.
Trade was a serious worry for investors in 2018.
Going into 2019, there is a trade truce in place between China and the United States until March.
On Dec. 31, TheStreet's Joseph Woelfel reported that a Chinese Foreign Ministry spokesman was quoted by the official Xinhua News Agency as saying that "China stands ready to work with the United States to move forward the China-U.S. ties, which are underpinned by coordination, cooperation and stability."
Here's how trade and tariffs could impact the yield curve.  
Economic Cycle
If the U.S. isn't at the peak of its economic cycle, it's close to it. Consumer and business spending is expected to slow next year, which makes being in the stock market more risky. "Our US economists expect U.S. GDP growth will gradually decelerate from a peak of 4.2% in 2Q 2018 to 1.6% in 4Q 2019 and 1.5% in 4Q 2020," a team of Goldman Sachs strategists wrote in a note out in November. Barclays' 78-page 2019 global economic outlook report is entitled "Lower Expectations."
And the risk of a recession is getting bigger.
The Fed's Rate Hikes
Federal Reserve rate hikes are another risk factor. If the rate hikes are appropriate - meaning the economy needs cooling - the hikes would be healthy for it, but restrictive to equities. Many say even though Fed Chairman Jerome Powell said the Fed will only hike twice in 2019, rather then the initially planned four times, twice is still too many times for the economy to handle.
New York Federal Reserve President John Williams did say in late December the Fed could reconsider even doing as many as two hikes in 2019 - good news for stock investors.
What to Expect From Retail Going Into 2019?
The end of 2019 saw strong retail sales, with Adobe Analytics reporting that the 2018 holiday season was the largest ever for online shopping.
Consumer Staples
We all rely on our staples, so it's no surprise that when the consumer is strong, so are staples.
Jim Cramer and his Action Alerts Plus portfolio are fans of CVS Health Corp. (CVS) - Get Report . 
The portfolio added to their position in CVS on Dec. 28. As they do anytime they buy or sell a stock, the portfolio explained why in a note to members. 
We believe there are plenty of stocks in the portfolio that represent value -- like the ones we've been adding to this week. CVS Health is one such name.

We continue to target it at the stock's current reduced levels because we see a lack of appreciation in the market for the company's Aetna deal. We think that acquisition was a key, timely and transformative deal and will lead to more-durable revenue growth and near-term cost synergies.

However, CVS is nonetheless trading below 9x consensus 2019 earnings per share. We think that fails to reflect the Aetna merger's expected benefits, and it's this disconnect that we want to buy into.

Although the market has seemingly taken away all of the deal's credit, we think that will change shortly after the new year.

Why? Well, when CVS reports its fourth-quarter 2018 earnings in early February, management is expected to give a 2019 outlook that will include Aetna. That should be a catalyst event for the stock, as it should clear up some uncertainty over future earnings potential. 

Therefore, we'll continue to accumulate CVS shares down at these attractive levels. And as an added bonus, the stock also currently yields just above 3%, representing solid compensation for our patience with the Aetna integration.
But CVS is only one staple, so here's what other experts have told TheStreet about consumer staples. 
Want to be alerted before Jim Cramer buys or sells a stock? Become a Learn more now and join Jim Cramer's Action Alerts PLUS investing club.
Jim Cramer broke down what he expected from the retail sector as the holiday season wrapped up.
Kenny Polcari, a former trader on the floor of the New York Stock Exchange, felt bullish on the consumer as 2018 wrapped up.
Curious about investing in retail staples? Jacob Sonenshine wrote about the top nine stock picks from experts in 2018. Here's what he had to report about the staples. 
Procter & Gamble
Procter & Gamble  (PG) - Get Report has stayed in the green since Nov. 7, the date that kick-started a downfall for U.S. stocks. Since that day, the S&P 500 is down 8%. But Procter & Gamble is up 4.5%. That may not sound so rosy, but it puts a bad market to shame. It's trading at 24.89 times trailing earnings, which is above the average multiple for the S&P 500, but below its main competitor, Colgate-Palmolive Co. (CL) - Get Report , which is at 26.8.
Coca-Cola
Coca-Cola (KO) - Get Report , another consumer staple, is down just 0.6% since Nov. 7, a far lighter loss than the broader market. It was up between Nov. 7 and the end of the month. A risk with Coca-Cola is aluminum tariffs. It's not clear the 10% tariff on aluminum will get worse, but if it does, that will put cost pressure on Coca-Cola, which has already had to hike prices on products to keep its margins in shape, in turn hurting demand.
PepsiCo
PepsiCo Inc. (PEP) - Get Report , of course, a competitor to Coca-Cola, is down just 1% since Nov. 7.
All three large consumer staples, which have consistently strong cash flow, offer nice dividend yields. Procter & Gamble's dividend rate is 3.11%. Coca-Cola's dividend is 3.2%, and Pepsi's is 3.22%.
Consumer Discretionaries 
Some might think consumer discretionaries will lag in 2019, as the economy slows. The Invesco Consumer Discretionary S&P US Select Sector ETF is down 8% in the past three months, as investors have feared cyclical turns.
But there's still room for the sector to run a bit more, and investment managers aren't running from it. "We're not saying we think consumer discretionary is the place to be in 2019, but we're not shying away from it either - we're largely market weight," Amanda Agati, co-chief investment strategist at PNC Financial, told TheStreet.
Give money to active fund managers that will pick the right discretionaries, Agati advises. "An active manager that can tilt further away from Amazon and can pick individual stocks has opportunity," she said.
"The off-priced sector," or "companies more oriented toward the value consumer" are the good discretionaries, D.A. Davidson & Co. analyst John Morris told TheStreet.
Burlington Stores Inc. (BURL) - Get Report is one of Morris' top picks, as it offers cheaper alternatives for consumers tightening their budgets.
It's Burlington's gameplay within the off-priced retail space that could drive the business hard. The company is expanding its brand assortment, as it broadens out the brands it carries, Morris said. Burlington doesn't carry as much in the women's category as its competitors do, a shortfall the company is correcting now. "They have more growth in the women's area - to bring that up to sector norms," Morris added. Plus, the women's category is usually a higher gross margin one, which is materially accretive to earnings.
Burlington may also "cherry pick" prime locations of bankrupt retailers like Toys R Us, Morris noted.
Burlington may have a lofty trailing price-to-earnings ratio at 23, but Morris' price target of $193, 22% above the current level, implies he doesn't flinch at the valuation.
Others are right where Morris is on Burlington. "Burlington we like better because its margin is going to convert toward peers and generate higher earnings per share," Cowen & Co.'s retail analyst John Kernan told TheStreet. That doesn't just encapsulate the assortment expansion. The "new stores are more productive," Kernan said, leading him to his thesis that Burlington's EBITDA (earnings-before-interest-tax-depreciation-and-amoritization) margin will expand, as the company could get more out of each worker in the new stores.
Ross Stores Inc. (ROST) - Get Report is also a nice pick. We're in a "peaksih cycle," Kernan said, but "Ross is a fantastic business that supersedes the macro environment." It's off-priced and "they turn inventory twice as fast as a typical retailer," Kernan said. Meanwhile its PE ratio of 18 is in line with industry peers.
The Defense Sector Is Tricky -- Here's How the Experts Are Playing It
Curious about the defense sector, but not sure how to look at it going into 2019? Here's what TheStreet's experts are doing, as well as some defense stock picks. 
"Defense has been a difficult sector in recent months," Cramer's Action Alerts Plus team wrote in a note. "Our longer-term conviction remains as we continue to view national defense a never-ending priority."
The Action Alerts Plus portfolio owns shares of Raytheon (RTN) - Get Report . Join Jim Cramer's Action Alerts PLUS club for investors - Click here for details.
"Additionally, with President Trump seeking a Department of Defense budget proposal of $750 billion well above the previously thought upon $733 billion agreement, and several global threat trends increasing, we believe the need for increased spending will only continue," the note continued. "Speaking to the global threat environment, we remind members that Russia has toted hypersonic missile capabilities, China's defense budget continues to ramp, and the middle east is becoming an increasingly tense region, a factor we do not see changing given President Trump's decision to withdraw troops from Syria."
Guilfoyle weighed in on his favorite defense pick. Kratos Defense (KTOS) - Get Report is his preferred defense stock and he breaks down why here.
Check out what they saying about defense stocks over on Real Money. Not a member? Sign up here.
Need some help picking stocks? David Miller, chief investment officer at Catalyst Funds, broke down five of his stock picks, which included a defense pick.
Talking Tech in 2019
Tech shares have gotten beaten up perhaps the hardest in the wreckage that began on Oct. 9, 2018. The tech-heavy Nasdaq, which was up 16% year through October, is now down 7% for the year. The FAANG stocks, which powered a large portion of the 2017 through the late 2018 rally, have gotten it the worst.
Apple Inc. (AAPL) - Get Report has shed 29% in the past three months. In that span, Facebook Inc. (FB) - Get Report has lost 21.84%. Amazon.com Inc. (AMZN) - Get Report has lost 26%. Netflix Inc. (NFLX) - Get Report has lost 31%. Even Microsoft Corp. (MSFT) - Get Report is down 12% in the last three months.
But investors need to know this: It hasn't fully been earnings that have hit those stocks. Heading into what could be a rough 2019 for the entire economy, investors de-risked their portfolios. So they've shifted from growth to value stocks. This has compressed earnings multiples.
Netflix had a trailing one-year earnings multiple of 250 earlier in 2018. Now that multiple is 184. Apple, which has gotten hurt as demand for the iPhone has clearly waned, is now valued at 12 times earnings. Facebook trades at 19 times earnings. Amazon used to be valued at 170 times earnings, and is now down to 78.
Wall Street thinks these names will smoke the market in 2019. The average analyst price targets for each FAANG is as follows:
Facebook: $187. That's 47% above its current level. As Facebook has gotten hammered over repeated data privacy and security mishaps, investors have turned their attention away from the promising upside from Instagram monetization and user growth.
Apple: $217. This is 43% above the stock's current level. Similarly to Facebook investors, Apple investors have flocked to the stock without much regard for its next growth driver. Many are concerned about global smartphone demand, but it is services revenue that remains the key growth driver for Apple.
Morgan Stanley analysts summed up the bull case for Apple in two lines.
"Strong iPhone installed base growth and increasing penetration of services and wearables make iPhone shipments less relevant," analysts wrote.
Plus, "We believe the evolution of the Apple investor base is lagging the evolution of Apple's financial model," they added. In short, the market is slow to price in Apple's new model: Sell services using the iPhone's premium operating system.
Amazon: $2,161. That's 55% above the stock's current level.
Netflix: $388. That's 58% above the current level. Netflix has almost topped out in subscriber additions in the U.S. It's the international opportunity investors are hanging their hats on. Video streaming is becoming widely adopted, and platforms like Amazon Prime, or even Chinese ones like Tencent Holding's (TCEHY) platform and IQIYI Inc. (IQ) - Get Report are posing a threat. Netflix is known for offering large sums to attract the best talent and put up the best original content. Questions remain over its ability to accomplish that oversees.
Here's Netflix's pitch to investors: We'll keep raising more debt. Netflix just issued $2.16 billion of debt. "We believe this further reflects Netflix's content strategy, particularly as the company continues to build out internationally, and that continued investment will drive net subscriber additions above consensus," said a Goldman Sachs note.
Google: $1,346 (It's owned by Alphabet (GOOGL) - Get Report , which is really the stock we care about). This is 35% above the current level.
Ready to make some tech predictions going into 2019? Eric Jhonsa, TheStreet's tech columnist, put together his predictions for the sector in the new year. 
Apple, Amazon, Facebook, Microsoft and Alphabet are all holdings in Action Alerts Plus. 
Commodities and Industrials Going Into 2019
Steel prices and shares of steel manufacturers have moved in opposite directions. Let's parse out what's going on before getting into the good stocks in the industry.
Steel prices rose because Trump's tariffs got some Chinese steel out of the U.S. market. In January, the market price for hot rolled coil in the midwest was around $660 per ton. That rose to above $900 in July, before settling at around $760 in December. The shares of those companies have gotten hammered.
Steel Stocks
U.S. Steel Corporation (X) - Get Report shares are down 50% this year. Nucor Corp. (NUE) - Get Report is down 22% this year. Steel Dynamics Inc. (STLD) - Get Report is down 33% this year. Schnitzer Steel Industries (SCHN) - Get Report is down 31% year to date. Those are just a few.
So why have steel stocks tanked? There are three reasons.
Investors say the price increases have topped out, and can only fall from here on out. "Investors have looked past what they understandably have seen as peak pricing and peak earnings with substantial uncertainty on what normalized steel prices and steel margins look like in a policy-driven market," Goldman Sachs analysts wrote in a note out to clients.
Secondly, U.S. steel manufacturers simply haven't had the aggregate capacity to meet the downstream demand, which means steel buyers have to import some amount of steel from China. The portion of the U.S. steel market penetrated by imports in 2018's first half was 30%, compared to 31.3% for the same period in 2017, according to the U.S Department of Commerce. That's not a huge drop off. Even though U.S. steel manufacturers have seen profits explode this year on the back of higher prices, they haven't been able to expand operations to the extent many may have anticipated in March, when tariffs were announced.
Also, steel buyers like automakers have had to raise prices on cars to keep gross margins in shape. That hurts demand for those products, in turn hurting demand for materials like steel.
Wall Street sees a buying opportunity. The average analyst price target on U.S. Steel Corp. is $34.80, about 46% above the stock's current level. Nucor's average price target: $69.71, 32.5% above the current level. Steel Dynamic's average price target is $47.12, 56% above the current level.
"We see substantial upside in high-quality companies across much of the group," the Goldman analysts wrote in a note to clients. Goldman rates Nucor and Steel Dynamics as buys.
Steel Dynamics is indeed expanding capacity, potentially muscling competitors out. And prices could resume their rise as well.
"We see it more likely than not that Steel Dynamics will build its new mill," Goldman said in its December note. Plus, "tariff/quota policies on the back of a substantial trade cases will lead to higher-than-historical levels of U.S. steel pricing," the analysts said. Not only could Steel Dynamics increase its sales volumes through expanded production, but rising prices would increase its EBIT to ton ratio, meaning every ton of steel made could produce more in earnings-before-interest-and-tax. The analysts did note that pricing power could erode somewhat, in time, as expanded operations would increase supply.
Nucor is also expected to execute much of its expansion process. Plus, the types of steel it produces are particularly positioned well for price hikes. "Plate and long products such as rebar, MBQ, and beams have maintained price momentum, which benefits Nucor," the note said.
Oil
Understand this about oil: Falling oil prices have spooked stock investors, leading to stock losses. The Brent Crude Oil Index is down 37% from its yearly high, moving from $86.29 in early October to $54.40 in late December. This has moved in direct correlation with the equity market, which started seeing a nasty, prolonged selloff in early October through the end of the year. As oil has fallen, investors have feared that global economic demand, at large, is waning.
As for buying oil commodity contracts? Be careful. A global supply glut could continue to put price pressure on the commodity, TheStreet's Martin Baccardax wrote. Many oil sellers around the globe have produced an abundance of the substance this year, spoiling OPEC's party, in which the cartel restricts supply to bring prices upward.
The Cannabis Conundrum
Cannabis stocks had a breakthrough in 2018 as several Canadian companies publicly debuted on American exchanges during the year. But those stocks have been burdened with high volatility and overpriced valuations that have kept some mainstream investors away. So if Wall Street's mantra for pot stocks in 2018 was "not yet," cannabis bulls are hoping the industry takes the next step into the mainstream in 2019 and entices those investors sitting on the sideline to get in on the ground floor.
The biggest problem facing cannabis is that it is still illegal at the federal level, and as long as Republicans control the White House and the Senate, that problem won't be going anywhere anytime soon. The good news, however, is that cannabis legalization has been gaining traction at the state level, and that trend should continue into the foreseeable future. As of the end of 2018, 10 states have legalized adult use of cannabis with another 33 allowing medical use. States like Connecticut, Illinois, New York, New Mexico, New Jersey, Rhode Island and others are expected to produce legislation legalizing some aspect of cannabis in 2019.
Cannabis has not arrived yet, but 2019 could be another big step in the process for the fledgling sector.
Follow us on Twitter @TheStreet; TheStreet: Investing Strategies on Youtube or check out our podcasts on SoundCloud at TheStreetLive.