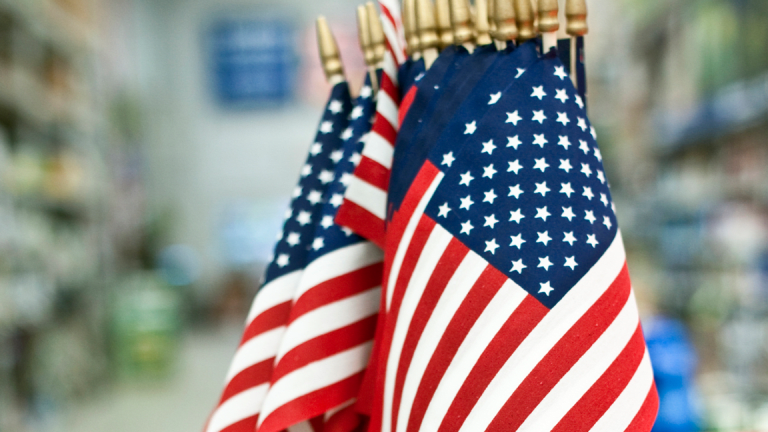 Financial Independence: Celebrate Fourth of July with Red, White and Cramer!
What better way to celebrate July 4th than with Financial Independence? Watch 25 Rules for Investing.
Fourth of July is here! Wow. Where has the year gone?
The holiday - also known as Independence Day - has been a Federal Holiday since 1941. The tradition, of course, dates all the way back to 1776 and celebrates the birth of American Independence.
That got me to thinking as I sat down to write this week's Rewind Newsletter.
What better way to celebrate your independence than with financial and investing literacy? Without it - you become an acronym of those words - FAIL! Don't FAIL! Get educated.
Since I began working at TheStreet, my mission for the multimedia team has been to DO GOOD.

The gang really hit it out of the ballpark with this project! They created a video version of Action Alerts Plus portfolio manager and TheStreet's founder Jim Cramer's 25 Rules for Investing!
For the past month, TheStreet has been releasing a Cramer Rule a day. The video series has been hugely popular and it's no wonder! Jim Cramer helps you avoid the novice pitfalls that even he fell into on occasion.
Got a little # FOMO? No worries! We've got you covered.
Daniel Kuhn, our Digital Content Strategy Editor, has created a special gift for YOU this Fourth of July. He's calling it Red, White and Cramer.
What is it? Well, it's ALL 25 Rules for Investing! You can find them throughout the day on our Twitter feed! All you have to do is just follow us @TheStreet. Be sure to share these videos with your loved ones!
If you're reading this Rewind Newsletter, you're in luck! You're getting an advance preview of 5 of those Rules of Investing! Plus, I'm sharing a way for you to watch all 25 -- advertisement free!
All you have to do is sign up for Jim Cramer's 25 Rules for Investing here!
Basically, don't be greedy. Cramer said that pigs are greedy and then they get slaughtered.
So how do you know if you're being a pig? Are you "intoxicated" with gains? You need to watch the video to find out.

Folks hold onto stocks for too long just to avoid the tax hit, only to watch prices crumble and their gains disappear.
So don't be afraid to pay capital gains tax. It just means you made money! "Stop fearing the tax man; start fearing the loss man," said Cramer. Watch here.
"Stage your buys and work your orders to get the best price over time," said Cramer. So watch now as Cramer talks about how at one point in his career he bought in bulk and was "an arrogant son-of-a-gun."
So how do you know if there actually is something wrong with the company and not just the stock?
Cramer tells you in this video.
Sector risk is one of the biggest mistakes investors make. If you have all your eggs in one sector, you get scrambled, said Cramer. "If you can mix up enough different sectors in your portfolio, you can't be hit by one of the myriad perfect storms that come our way far more often than you would think," he said.

That's why Cramer believes that diversification is the only investment concept that truly works for everyone. Watch this clip to hear why!
And That's a Wrap...
The most important lesson: get actively involved in your portfolio and your financial future!
Ok, that wraps things up this weekend. Be sure to watch our Twitter feed this Fourth of July and our special gift to you: Red, White and Cramer!
Sign up and watch Jim Cramer's 25 Rules for Investing here!
And remember, you don't to #FAIL when it comes to financial and investing literacy!
Happy Fourth! Follow me on Twitter @JulesVideo and on Instagram- JulieIannuzzi