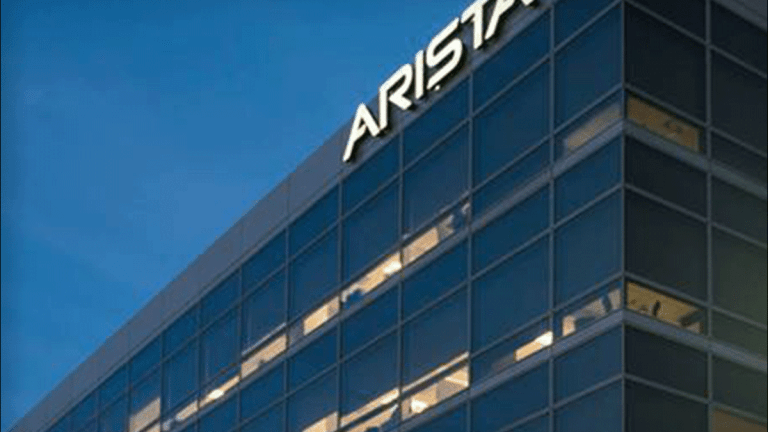 Arista Plummets on Poor Guidance: What Wall Street's Saying
Analysts drastically lowered their price targets on Arista after the networking hardware company said it had lost business from a major cloud customer.
Arista Networks (ANET) - Get Free Report issued extremely poor guidance for the current quarter as it revealed it lost business from a major customer, and analysts wasted no time moving their estimates down sharply. 
The stock plunged 24.54% to $184.59 a share Friday. Earnings per share for the third beat analysts expectations, but Arista guided for fourth quarter 2019 revenue of just $540 million to $560 million, below analysts forecast of $595 million. "Wewererecentlyinformedofashiftinprocurementstrategywithamaterialreductionindemandfromasecondcloudtitan [who reduced] theirforecastdramaticallyfromoriginalprojectionsforbothQ42019andforcalendar2020," said CEO Jayshree Ullal on the earnings call.
Here's what analysts had to say about the unwelcome news: 
Goldman Sachs, Buy, Price Target Reduced From $290 to $245
"We are cutting our 2020 expected EPS by 16% but note that Arista indicated that it intends to see how business progresses and then will provide an update on the 2020 outlook by Q1. Our EPS reduction is based on a much lower 2020 sales growth estimate of only 4%. Given the magnitude of the guidance cut and lack of visibility, we are removing Arista from our Conviction List, but we retain our Buy rating as we believe this is a shorter-term setback for a company with material technological advantages over its next nearest competitors as well as a talent pool in networking that is second to none." 
- Rod Hall
Bank of America, Downgrade to Neutral, Price Target Reduced From $360 to $245
"We are downgrading Arista from Buy to Neutral due to the reduced 4Q guidance and negative outlook on Cloud spending for 2020, related to a shift in spend from networking equipment to infrastructure, as well as new expectations for 400G products to ramp in 2021 versus previous expectations for a 2020 ramp in production. We reduce our estimates and lower our PO [price objective] from $360 to $245, now based on roughly 28 times our 2020 EPS versus prior 34 times due to the reduced spending from key customers compared to peers." 
- Tal Liani
JPMorgan, Downgrade to Underweight, Price Target Lowered From $290 to $180
"We expect the path forward for ANET shares to be extremely challenging following an updated outlook for limited purchases from one cloud titan customer (Facebook, in our view) starting 4Q19 through to end-2020, as well as only stable spending outlook from Arista's largest customer, which in combination with weak demand from Tier 2 cloud providers and service providers is limiting Arista's growth outlook in 2020. In addition, we believe: 1) the substantially higher volatility in spend from Arista's primary customers; as well as 2) the lack of visibility into Arista's growth given limited correlation to broader cloud capex trends, will limit investors from continuing to attribute a premium earnings multiple to the shares. Valuing our new 2021 EPS of $11.20 (vs. prior $13.20) at 16 times price-to-earnings multiple. We believe a 16. times P/E is appropriate, given: 1) in line with the ~16x multiple for the Networking Equipment peer group; and 2) it represents a discount to the one-year P/E of ~27x." 
- Samik Chatterjee
Cowen, Outperform, Price Target Reduced From $295 to $212
"Significantly reduced operating forecasts reflect painful impact of delayed Facebook server refresh -- reminder that success at Cloud Titans invariably entails significant downside risk. We acknowledge it will take time for ANET to regain investor confidence. But reduced earnings power still appears impressive. And we see strong potential for upside to 2021 from significant recovery following fallow 2020." 
- Paul Silverstein
Save 57% during our Halloween Sale. Don't let this market haunt you; join Jim Cramer's Investment Club, Action Alerts PLUS. Click here to sign up!