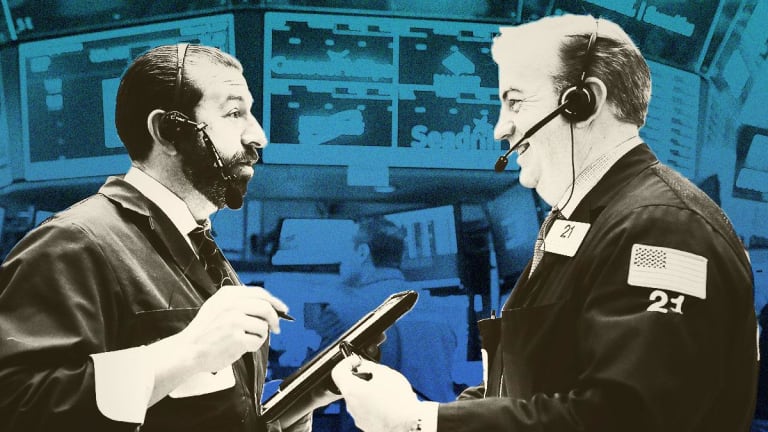 What Investors Need to Know About the Trade War, What It Means for Retail - LIVE
It's time to tackle the markets, and earnings from Macy's, Tilray and Aurora. Join Katherine Ross, Jeff Marks and Kevin Curran as they discuss the biggest market headlines.
It's been a busy week...
But, hey, at least it's hump day!
Let's dive into the markets, Real Money's Stock of the Day Macy's (M) and the cannabis sector.
What's Going on in the Markets?
After all of the trade news we've gotten this week, and the market reaction, it's time to take a look at what to expect from the markets going forward. 
Over on Real Money, Jim Cramer broke down his current position on the state of the markets: 
Now, I want to be careful to point out that the selloff may not be totally over. We are oversold, which is a nice springboard. And it does seem like there is an intermission in the trade war. The problem is that President Trump is so determined to get everyone to buy outside of China that it's become a foot race that not everyone can win. Those that are too linked will find their stocks getting hammered again on the next down day.
But is the market actually oversold? Action Alerts Plus senior analyst Jeff Marks breaks it down. 
Macy's Impressive Earnings Beat
Macy's (M) is Real Money's Stock of the Dayfollowing the release of its earnings before the bell Wednesday. 
Macy's said earnings for the three months ending in March came in at 44 cents per share, down 8.3% from the same period last year but 11 cents ahead of the Street consensus forecast. Group revenues, Macy's said, slipped to $5.504 billion and were just shy of analysts' estimates, but same-store sales rose 0.7% thanks in part to the group's Growth50 turnaround strategy.
"Macy's is off to a solid start this year, delivering our sixth consecutive quarter of comparable sales growth and making progress against the North Star Strategy. As an omnichannel retailer, we are focused on growing our customer base by providing a great experience across all channels and taking market share category by category," said CEO Jeff Gennette.
"Our brick & mortar sales trend improved sequentially in the first quarter, supported by the Growth50 stores and Backstage. We had another quarter of double-digit growth in our digital business, and mobile continues to be our fastest-growing channel."
Does Macy's signify the beginning of a stronger retail season despite weaker April sales data? 
Related. Macy's Remains in a Longer-Term Downtrend, Earnings Beat Notwithstanding
Cannabis Earnings
Tilray  (TLRY) said first-quarter revenue rose 195% from a year earlier to $23 million, as sales in Canada surged following the country's decision to legalize cannabis for recreational use. The adjusted loss in the quarter was 27 cents a share, wider than analysts' estimates, after a 5.7% drop in the average price per kilogram sold.
CEO Brendan Kennedy also said Tilray was looking to further its partnerships with U.S. and international companies as the potential $150 billion global market for cannabis undergoes a generational change in both regulation and consumer acceptance.
On the other hand, Aurora Cannabis (ACB) posted fiscal third-quarter revenue of C$75.2 million, missing Wall Street forecasts of C$77.2 million and consumer cannabis sales were just under C$30 million as provincial regulators limited the number of retail outlets.
The company reported a loss attributable to shareholders in the quarter of $C158 million said Aurora Cannabis said it was "well positioned to achieve positive EBITDA beginning in fiscal Q4."
What will it take to send the legal cannabis industry higher? 
Watch Jim Cramer's Daily NYSE Show and Replays Below
Related. Jim Cramer: Trump Has Decided That China Is Failing and He Will Never Relent